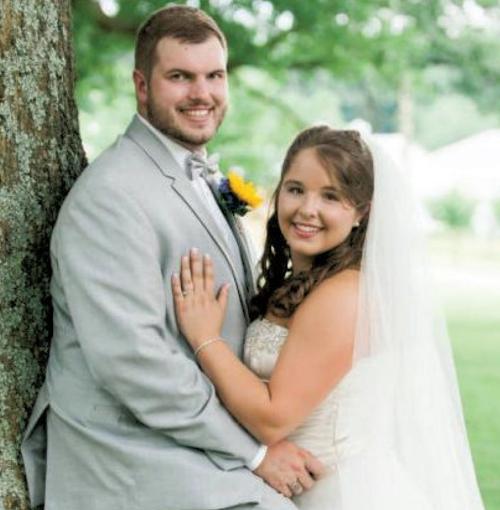 Ashley Paige Riddle and Andrew Garrison Racer were married June 24, 2017, at Oak Haven Farm in Pelham, NC, by Reverend Rusty Mullins. The reception followed at Oak Haven Barn.
Kristen Light of Seneca, SC., was the maid of honor.Amie Reedy of Roanoke was the matron of honor. Bridesmaids were Ling Guo of Washington, DC, Kelsey Riddle, Tori Wright, and Kayla Hawkins all of Danville, and Kailee Parynik of Chesterfield.
Register attendant was Abigail Edwards of Danville.
Kevin Racer of Aroda, the father of the groom, was the best man. Groomsmen were Jonathan Fields of Aroda, Matt Flint of Radford, Matthew Riddle, Daniel Riddle, and Dawson Anderson all of Danville, and Justin Ridgway of Virginia Beach.
Ashley is the daughter of Mr. & Mrs. Bruce Riddle of Danville. The bride is a graduate of GeorgeWashington High School, and Radford University with a B.S. degree in Elementary Education and a Master's in Special Education. She is employed by Montgomery County Schools. Ashley is the granddaughter of Mr. & Mrs. Doug Haraway of Danville, Mr. & Mrs. Frank Riddle of Blairs, Ms. Susan Meadows of Blanch, NC and the late Jerry Meadows.
Drew is the son of Mr.&Mrs. Kevin Racer of Aroda.
The groom is a graduate of Madison High School and Radford University with a degree in Computer Science. He is employed by Solers, Inc. in Blacksburg.
Drew is the grandson of Mr.&Mrs. Herman Racer, Sr. and Mr. & Mrs. Melvin Garrison both of Aroda.
After a Caribbean cruise honeymoon, the couple will reside in Christiansburg.