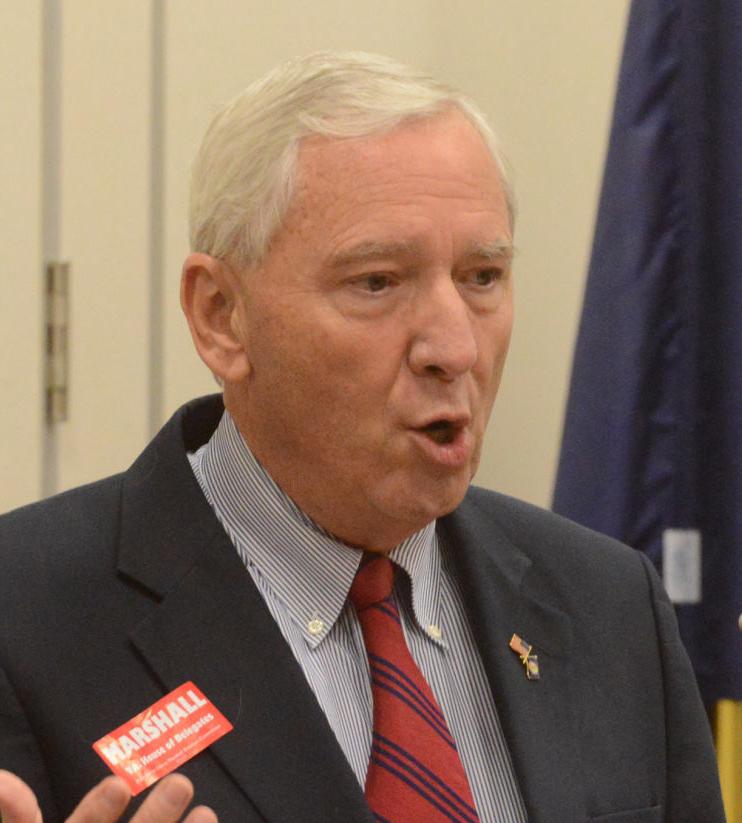 There was a "last minute" meeting of the New College Institute Board of Directors on Thursday that was announced in a limited way and included two new delegates appointed this week by the legislature — much to the surprise of at least one of the board's original members.
Two Republicans who represent the area around Martinsville were replaced two days before the meeting by two Democrats from farther away, but one of them, Del. Danny Marshall (R-Danville), said he didn't know about the change until minutes before he was to sign in for the virtual meeting.
Del. Rodney Willett (D-Henrico County) and Del. Kathleen Murphy (D-Fairfax/Loudon) have replaced Marshall, who represents Danville and parts of Henry and Pittsylvania counties, and Del. Charles Poindexter (R-Franklin), who represents Patrick County and parts of Franklin and Henry counties.
NCI Interim Director Karen Jackson said the shuffle in board members came with a change in political control of the General Assembly.
Democrat Eileen Filler-Corn recently replaced Republican M. Kirkland Cox as the speaker of the House of Delegates, "and she has the right of appointment for House members," Jackson said.
Neither Jackson nor anyone else explained why Willett and Murphy were chosen and why Del. Les Adams (R-Chatham) was retained on the board and Marshall and Poindexter were not.
Members of the board are appointed either by the speaker of the house, the governor or the state senate, and their term "is generally concurrent with their elected service in the House of Delegates," Jackson said. The change of board members "pretty much happens every time there's a change of power."
NCI Assistant Director of Finance and Operations Christina Reed said that board members who participated in the virtual meeting conducted using the Zoom platform, were Richard Hall, Tanya Foreman, Sen. Emmet Hanger Jr., Weldon Hill, Naomi Hodge-Muse, Treney Tweedy, state Sen. Bill Stanley (R-Rocky Mount), who is its chair, Adams, Willet and Murphy.
As of Friday afternoon — three days after their appointment and one day after their first meeting — Willet and Murphy were not listed on NCI's website as being members of the board, but Poindexter and Marshall still were.
Janice Wilkins, who also is listed on the website, also did not participate.
The new board members were announced by letters from Filler-Corn sent to Adams, Willet and Murphy, all dated June 9. Copies of those letters were provided to the Bulletin.
But Marshall said he was not notified that he was off the board until two days later, an hour before the meeting started.
"I have been on the board of directors since Day 1. That's 15 years," he said.
"There was a scheduled meeting Thursday at 2:30. I am sitting at my computer getting ready to show up and go online. I get a notice from the speaker of the house at 1 o'clock saying, 'Thank you for your service but as of today you are no longer a member of the board.
"That was kind of a shock at the 11th hour. Poindexter was taken off, and I was taken off."
Telephone calls, text messages and/or emails sent to Murphy, Willett, Poindexter and Stanley between 7 a.m. and 10 a.m. Friday had not drawn response as of Saturday morning.
An automatic reply from Willett's email address read, "Due to the high volume of email inquiries that our office receives, we are only able to respond to constituents from the 73rd House District." (Martinsville and Henry County are in the 16th, 14th and 9th Districts.)
Meeting posted in 'proper channels'
But all that happened before a meeting that Reed said was "posted on the proper avenues and on our website."
There is an entry for the meeting in the "News" section of NCI's website but not on its "Events Calendar," and apparently no notice was sent to any media outlets, as had been the practice.
She defined "proper avenues" as the "Commonwealth Calendar."
The Virginia Open Meetings Law requires all public bodies to post notice of all meetings at least three working days before a meeting. Apparently, the answer to why the meeting was "announced" this way lies in the definition of what it means to "post notice."
Traditionally, all boards of public entities have sent notices of meetings to local media where they are published in community calendars for public consumption.
However, "we got some board guidelines from our attorney's office and state attorney's office, and the guidelines were kind of lax because of the pandemic," NCI Human Relations and Board Relations Coordinator Chris Niblett said when asked why the meeting was not announced through any sort of public channel. "I know it may have been a little difficult to find on the website."
When asked to send notices of future meetings to the Bulletin, Niblett replied, "This was a kind of a last-minute board meeting, to be truthful about it. Next time, I will make sure" to send notices to the media. Jackson that no date has been set for the board's next meeting,
Jackson and Marshall said the NCI does not meet on any regular schedule.
"Press releases on the board meetings aren't required," Jackson said. "We're just required to make public notice on those. That's just a standard practice for public boards. The reason it wasn't sent out is we aren't required to send it out. I don't remember if it's a change in practice.
Marshall said he would send notice to Stanley that board meetings should be announced to the media.
"We certainly want the press to participate," Marshall said. "NCI is a state organization run with state money, so I always felt like it was the right thing to do.
"We followed what's required of the state in order to declare it a public meeting: Post it more than three days in advance. Because these are virtual right now, they are slightly different."
When asked if the meeting had been recorded and will be able to view, Reed replied that it was recorded and will be posted on the internet within, but probably sooner than, the 10 days required by law.
What happened in the meeting
Jackson said there were two main points to the meeting: The board gave her the "authority to transact some of the business" related to the purchase of NCI's building, and it approved next year's budget.
The Virginia Department of General Services is buying the Building on Baldwin, the building that houses NCI, from New College Foundation. The purchase price is $7,469,005, Reed said, and Jackson said closing should occur by the end of June or start of July.
Also at the meeting board members:
Heard from Stanley, the board chair, announced that "he's very happy with the direction that NCI is going," Jackson said. He also predicted that the economic effect of the COVID-19 pandemic would take a toll on the state budget, which would be reviewed again in August.
Heard a marketing report about "Six Pillars of Success." They are corporate training, academics, workforce training, community engagement, career exploration and "seeing the future." A seventh one, "COVID-19 Response," was added. Additionally, new logos for NCI will be introduced in a couple of months.
Heard a report about how NCI handled the pandemic response, which went well, because many of its programs are handled online already, Jackson said.
Heard a report about how NCI and Cannon, a company in Newport News, partnered to provide 1,700 pieces of Personal Protective Equipment to essential workers.
Learned an information session about a program with The College of William and Mary will be June 17.
Holly Kozelsky is a writer for the Martinsville Bulletin; contact her at 276-638-8801 ext. 243.
The business news you need
With a weekly newsletter looking back at local history.