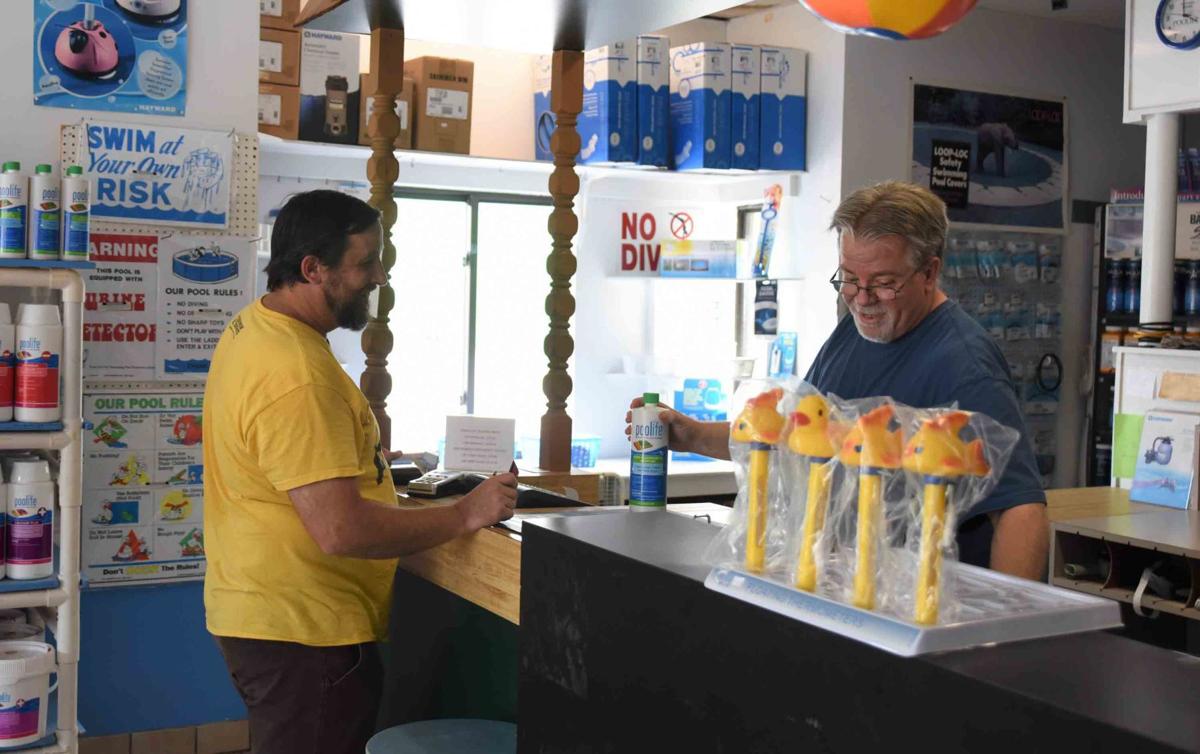 Over the past several months, pool stores in and around the Dan River Region have reported call volume more than double what they would normally get.
Hannah Beck Derrick, a store associate at Crystal Bay Pools in Altavista, said they are fielding more than 20 calls a day about pool installations, compared to the roughly five to 10 that they would get under normal circumstances.
"With the quarantine, with everybody at home, everybody wants to have their own place to swim now," Derrick said. "That's probably one of the main reasons we're having so much more interest right now."
But due to heightened demand for residential swimming pools across the country and the resulting supply chain issues, the wait times for those pools continues to grow.
"The biggest problem now is the supply chain is empty," said Bobby Ragsdale, manager of Swim World Inc. in Danville. "There's nothing left to buy. We have more demand than we have product."
There are seasonal trends in pool installation and construction. Usually there is a spike in interest between April and May, and that increase was even more intense than normal this year, store owners and manager said.
This trend of increased demand isn't isolated to the Dan River Region, said Sabeena Hickman, president CEO of the Alexandria-based Pool and Hot Tub Alliance. There have been increases in pool construction rates throughout the country during the past three months — which is when the restrictions meant to slow COVID-19 have been in effect — Hickman said pool construction permit data across the country shows.
The growth has been much more prominent in Sunbelt states like Florida, Arizona and Texas, Hickman said, but said many of the more northern states are just now coming into pool construction seasons.
Between January and May, the Pittsylvania County Office of Community Development has approved 18 permits for residential pools, both in-ground and above ground, according to permitting records. During that same time frame last year, there were only nine.
Seven of those applications this year came in February, with the majority put in by Tune & Toler Inc., a construction company that operates Dominion Pool & Spa in Blairs. Representatives from both organizations did not respond to Register & Bee requests for comment. Several Pittsylvania County residents who recently obtained a building permit to build a pool also did not respond to requests for comment.
The Danville Department of Community Development rarely sees more than two applications for residential pools in a year, said Charles Fulcher, inspections supervisor for Danville. This year, the city approved two in February but hasn't had any since then, Fulcher said.
Amy Edwards, owner of The Pool House, a pool store in Bassett that serves surrounding localities including Pittsylvania County, said she has an endless line of customers looking for new pools.
"I won't say more than we ever have, but more than we have in years," she said, noting that at least 25 people call daily. Under normal circumstances, she would expect that number to be closer to five.
She attributes the heightened demand to the restrictions put in place to lessen the health impact of the coronavirus, which had caused people to stay home much more than normal.
"[My customers] are like 'well we can't take a vacation, or even if things are opening back up we don't want to go,'" she said, noting that many customers said they had considered buying a pool for years anyway.
Due to the volume of sales and difficulties obtaining pools from suppliers, pools that would normally take just a few weeks to have delivered or installed are on back order. Pool stores have backed up demand and waiting lists for their products now. For an above ground pool kit, which people can purchase and put together themselves, the usual wait time is about two weeks at Crystal Bay Pools, Derrick said.
"We're so booked up with installations that even if we were able to get the pool, it would be next year before we could get it set up," she said.
There is a heightened interest in both in-ground and above-ground pools, per the store owners and managers. In the past few days, Ragsdale, who sells only above ground pools and hasn't been able to get any new ones since late April, has asked his suppliers if they had any pools at all that he could sell. They had none.
"Many families, especially those with smaller backyards and shorter summers, are opting for an above-ground pool so that they can enjoy many of the benefits of a backyard pool but on a smaller budget," Hickman said.
Allen Scearce, who has been in the pool industry for more than five decades and operates Pelham, North Carolina-based Allen's Pools and Repairs, said that he hasn't seen much increase in demand for in-ground pools, which he custom builds. In a normal year he would put together several above ground pools as well, but he hasn't been able to find any this year.
"I have never seen it when they have completely sold out of stock on an above-ground swimming kit," he said.
Hickman thinks the supply chain might also be another consequence of the coronavirus, with the manufacturing side of some businesses getting caught in the shutdowns.
And it's not just the pools themselves that are in high demand and hard to find. Other equipment — like pumps, filtration systems, and ladders — are hard to find due to increased demand.
"As the pools dwindle down so does all the equipment," Ragsdale said.
Ayers reports for the Register & Bee. Reach him at (434) 791-7981.
The business news you need
With a weekly newsletter looking back at local history.