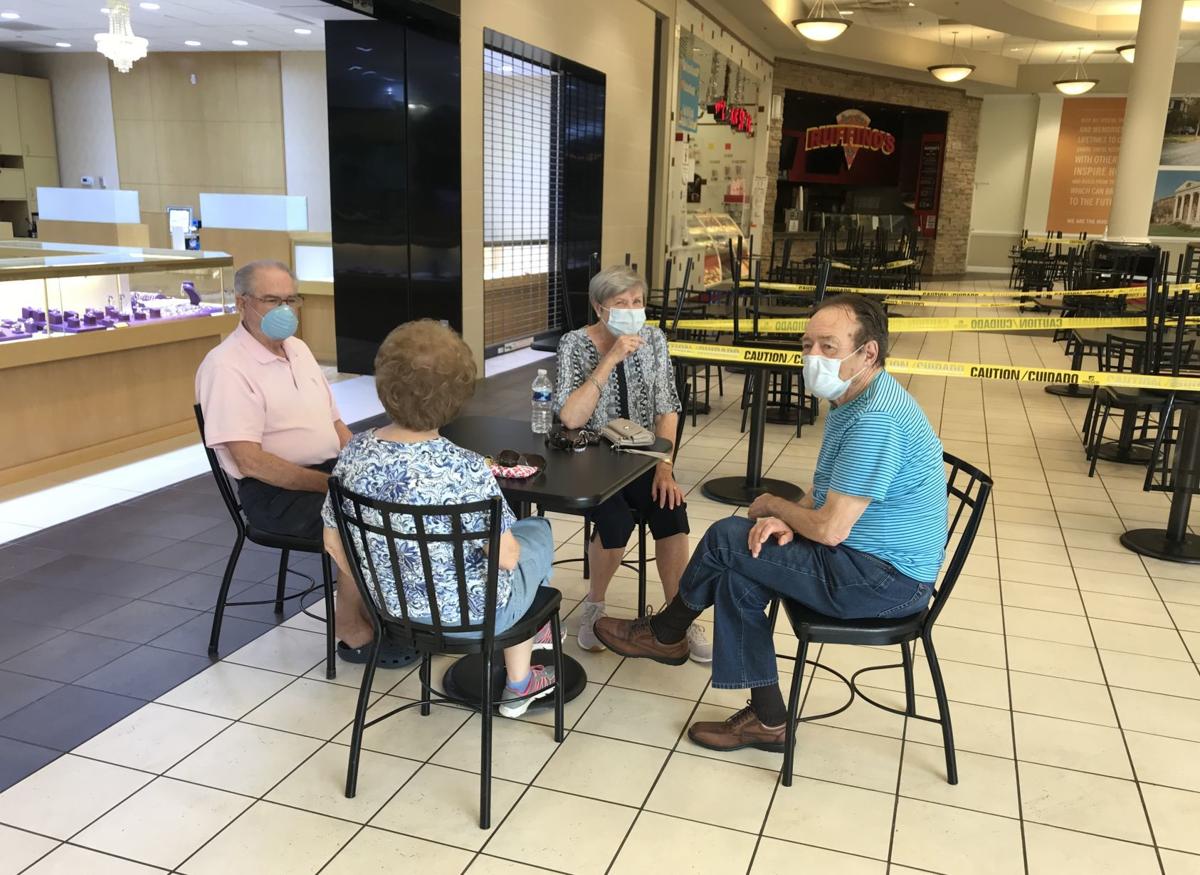 Wayne Whitt, of Danville, and Bob Sullivan, of Tunstall, used to walk in the Danville Mall with their wives and other friends from church almost every morning.
As many as 12 of them would walk throughout the mall and then sit together and eat in the food court.
After taking a few months off during COVID-19 related shutdowns, the Sullivans and Whitts began walking in the mall again recently, but many of their friends still haven't returned as the food court remains mostly closed and many health guidelines remain in place. Sullivan thinks that people refusing to follow health guidelines — including wearing masks — has extended the timeline of the virus.
"I think they'd get this thing under control if [people] would follow the directions and wear the masks," he told the Register & Bee while sitting at one of the few open tables in the mall food court on Tuesday.
Even as Virginia Gov. Ralph Northam announced Tuesday that Virginia will move into Phase Three of reopening in the middle of next week, health officials have said that relaxed behavior has contributed to a recent spike in cases, and local government leaders are encouraging everyone to wear a mask and follow the guidelines.
"For the benefit of everyone, wearing a mask when in public and practicing social distancing are small things to ask of someone when the price of not doing so may mean more cases and a slower economic recovery," Danville City Manager Ken Larking wrote in an email to the Register & Bee.
Added Pittsylvania Danville Health Director Scott Spillmann: "We can look forward with greater confidence if everyone will practice the hygiene and social distancing behaviors."
Over the past two weeks, the number of cases in Pittsylvania County has jumped from 50 to 88, while those in Danville have gone from 60 to 73. Over the last two weeks, new cases have been reported sporadically, with some days seeing no new cases in either locality while other days have multiple. For instance, on Saturday, 10 new cases were reported in the health district, while there were no new cases reported the day before.
"As for the numbers [cases], an apparent jump in cases might be a result of when the cases were reported in relation to the timing of the daily announced numbers. Sometimes numbers from late one day do not appear until the second or even early on the third day," Spillmann said.
Spillmann also noted that the variances are caused by some other factors.
"There will be fluctuations based upon timing of reports, circumstances of exposures [families, congregate settings], changes in one's health, attention to health behaviors of Hygiene and Social distancing," he wrote.
Larking said he has been pleased with the slow growth of cases in Danville, but is encouraging people to continue wearing masks. Pittsylvania County Administrator David Smitherman said he is concerned about having to move backward a phase if guidelines aren't followed, but he said he doesn't "think Pittsylvania County is any more or less vulnerable than the rest of the country.
"I don't know that we're doing any better or worse at following the guidelines," he said.
As of Tuesday, there were five outbreaks — four in congregate settings which can include places like homes, businesses and day care centers. The fifth outbreak was at Brookdale Danville Piedmont in April. A total of 18 cases are associated with those outbreaks in the district and seven are in health care workers.
In an email, Spillmann explained that the virus spreads easily within congregate settings.
"That is why it is critical for those facilities to have and follow strictly their hygiene, isolation and quarantine plans, and test residents and staff," he said.
Tim Duffer, deputy emergency coordinator for Danville, said that numbers circulated internally to emergency managers include the number of active cases. In Danville, the number of active cases stands at 35, but Duffer said that some old cases haven't been taken out yet, so the actual number is probably less than that.
"They give me new cases every day, but they don't necessarily go back and take the old ones off every day," he said.
Added Pittsylvania County Public Safety Director Chris Slemp: "They don't really update us on who's off the list."
Slemp said that his department is taking their list, which still has cases from mid-May, and assuming that the last three weeks' worth are active.
On Tuesday Northam announced that Virginia will enter Phase Three of reopening on Friday, July 1, which will allow gatherings of up to 250 people, entertainment venues to open at 50% capacity, and restaurants, bars, and retail stores to open at full capacity.
Cynthia Jones, owner of Jones Enterprise in Danville, talked to the Register & Bee while in downtown Chatham on Tuesday. She complimented business owners for doing a great job sticking to the guidelines, but feels that individual citizens are often not taking the restrictions seriously enough.
"The business owners, I really feel that they're complying," she said.
Alisa Davis, director of the Reid Street Gallery in Chatham, said that she has "seen the full spectrum" of customers since reopening on Thursday.
"I have seen some pope that come in with no mask and are completely at ease being around other people," she said. "In the middle I see people that come in and wear their mask and observe social distancing… I have some people that order online and pick up at the curb. And then we have some people that I haven't seen yet."
The gallery is spacious and rated to hold more than 170 people, so distancing everyone has been easy, Davis said. People will usually wear their mask while walking around the gift shop and looking around before taking it off to eat their meal.
In Danville, Sarita Gusler, manager of River District Artisans on Main Street, said that they have had few problems enforcing the mask rule, as anyone who comes in without one is given a disposable mask.
"We've seen a mixture," Gusler said. "Some folks will have them on and some folks will not."
The store, which sells a variety of handmade goods, has also been selling masks since late March.
Davis said she thinks it's extremely important for everyone to be nice to each other, whether or not people are wearing a mask.
"I think it's important for us all to respect each other's comfort level," Davis said. ​
Ayers reports for the Register & Bee. Reach him at (434) 791-7981.
The business news you need
With a weekly newsletter looking back at local history.