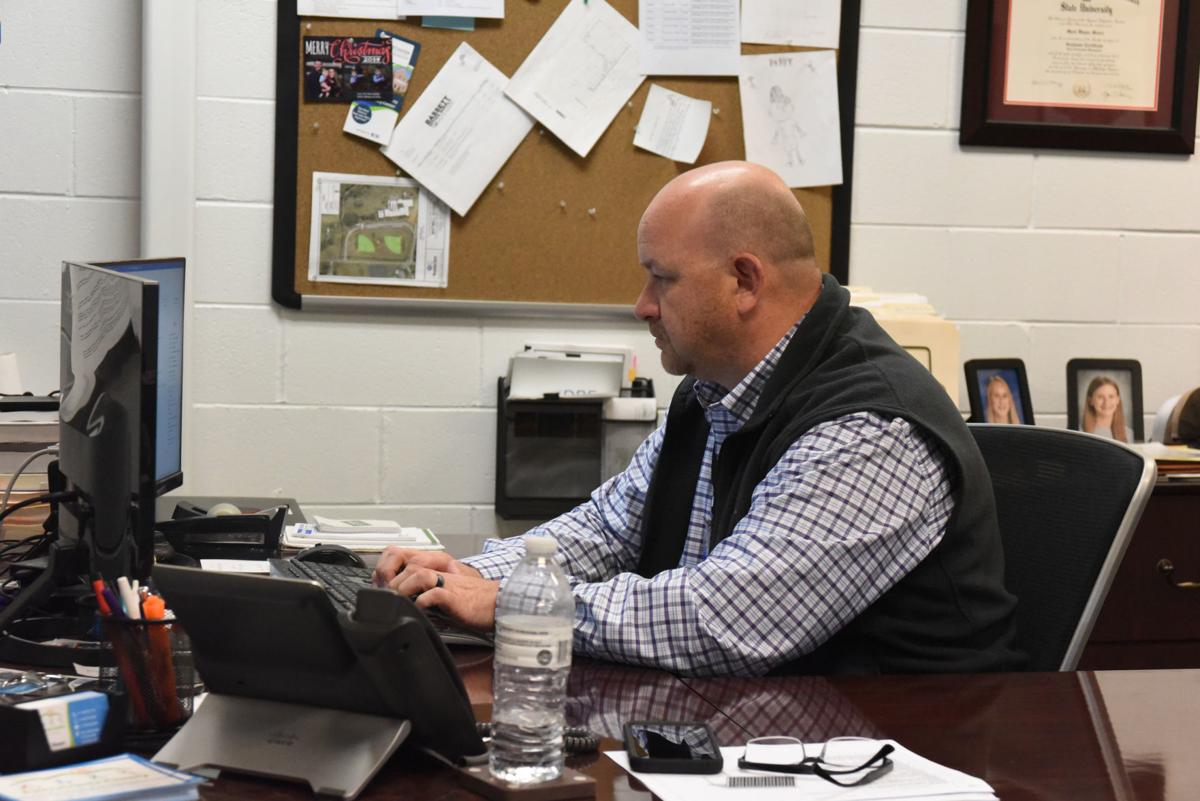 Mary Britton's job as a crossing guard was suddenly obsolete when Gov. Ralph Northam mandated Virginia schools close for the rest of the academic year.
She normally directs traffic at four different Danville schools.
While the other four crossing guards elected to remain at home for the time being, Britton has taken on an entirely new role: assisting Penny Bryant, the quartermaster with the Danville Police Department, in locating cleaning supplies and personal protective equipment, which are difficult to find right now, as well as stocking the vehicles.
"I'm just glad for the opportunity that I have to help the department during this time of crisis," she said.
As the coronavirus has shut down many businesses and rendered some jobs obsolete, it also has pushed employees of both Pittsylvania County and the city of Danville to fill immediate needs by shifting into temporary new positions.
Right now, the county does not have a centralized department or person responsible for sending out information to residents. Instead, each department has to provide their own updates, or no information is distributed at all.
In their budget considerations for the upcoming fiscal year, the Pittsylvania County Board of Supervisors had expressed a desire to set aside funds for a public information officer. If the current iteration of the budget passes, that position will be available in July.
But as the coronavirus caused mass, wide-ranging effects across the world and in Pittsylvania County, county leadership decided they needed someone in the meantime.
As the director of Pittsylvania County Parks and Recreation, normally Mark Moore spends his time writing grants, planning events and youth sports and making sure the county parks are in good shape.
But during the current pandemic, Moore has been tapped for an entirely different role: emergency public information officer.
"It's just a marriage of me wanting to do more and there's a need for someone to do more," he said.
"We just thought he was well-versed and had done well putting information together," added Richard Hick, Pittsylvania County assistant administrator.
As part of his new role, Moore has sat in on lots of meetings with county leadership and worked with them to craft news releases.
"You're trying to make sure that you don't generate more questions than answers," he said.
While the youth sports programs have been suspended indefinitely and other elements of the parks and recreation department have been put on hold for the time being, Moore still has been dealing with multiple capital projects: the Gretna town trail, which was completed on Monday, and the continued renovation of Wayside Park.
With restrictions on the number of people that can gather at one place and recommendations for social distancing, Moore also has been tasked with hosting meetings for the board of supervisors at the Community Center.
Throughout this shift, Moore's wife, Allison, who works in public relations for the Institute of Advanced Learning and Research, has provided some guidance.
"I have been glad to offer general best practices on news releases and media relations, but he has taken ownership of the role by his own merit and has really run with it," Allison Moore said.
Though his shift is the most drastic, Moore isn't the only one in county government who has taken on new responsibilities during this time, Hicks said.
"We're all kind of doing what we need to do once things pop up. … We just have to react when something arises," he said.
By canvassing retailers and other sources, Bryant and Britton have ensured every officer in the Danville Police Department has a COVID-19 kit, which includes an N-95 mask, protective suits, biohazard bags, gloves and safety glasses.
"We've all kind of been pressed into things that we normally wouldn't," said Lt. Paul Deel.
While Britton has shifted roles entirely and Bryant has seen additional workload because of the coronavirus, most city employees have retained their same positions.
"While some roles have changed, the most significant shift is in how we provide services and carry out the day-to-day business," Danville spokesperson Arnold Hendrix wrote in an email.
For instance, community development has moved much of their building permitting process online and is even allowing contractors or permit holders to FaceTime for inspections, while the library is offering curbside pickup for books.
Ayers reports for the Register & Bee. Reach him at (434) 791-7981.
Ayers reports for the Register & Bee. Reach him at (434) 791-7981.
Concerned about COVID-19?
Sign up now to get the most recent coronavirus headlines and other important local and national news sent to your email inbox daily.