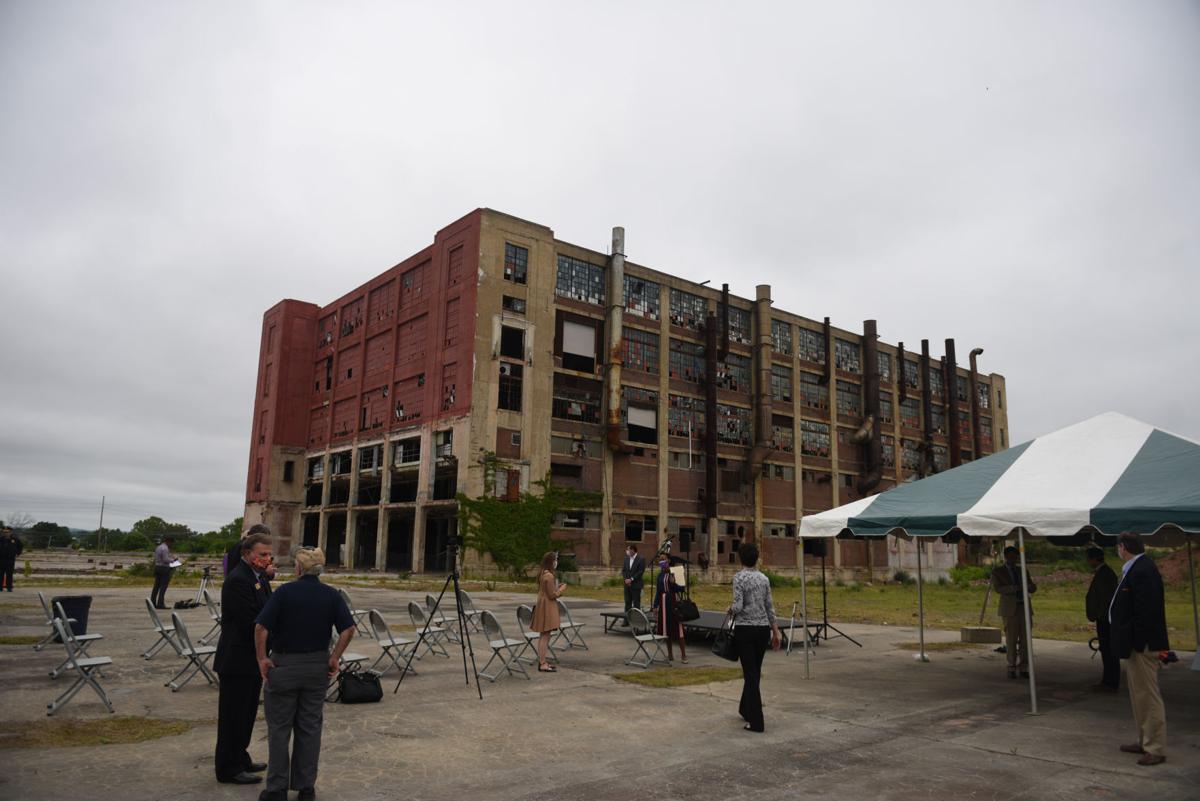 Some city officials like the idea of an such an iconic name as Caesars Entertainment casino coming to Danville and possibly resurrecting Schoolfield and the area farther down West Main Street toward the North Carolina border.
"That's an instantly recognizable name and brand," Vice Mayor Lee Vogler said. "People throughout the world know they've got top-notch casinos."
Caesars is the lead contender from among four finalists hoping to bring a casino resort to Danville. City officials and a representative from the company announced during an event at the Schoolfield site May 18 that Danville leaders are in negotiations with Caesars for a possible project there.   
A casino development at Schoolfield — the property that currently includes the former Dan River Inc. finishing building — would bring more traffic to that part of the city and attract additional businesses, said City Councilman Fred Shanks. 
"West Main from the Schoolfield area to the interchange [with North Carolina] ... that would be redeveloped," Shanks said. 
As for the White Mill, another site that has been considered a prime location for a casino in the River District, councilmen wanted to spread some of the growth to a different part of the city besides downtown.
"We're very proud of what our River District has done, but we need to rebuild our entire city," Vogler said.
Mayor Alonzo Jones agreed.
"Oftentimes, citizens say, 'when are you going to move [economic development] from the downtown area to the other areas?'" Jones said. 
Caesars was the only company to propose a casino at the Schoolfield location, Jones said, adding that he toured the site before deciding whether to favor that company's proposal. 
"I felt like the citizens and the community would be more amicable to this area versus the White Mill site," Jones said. 
Caesars Entertainment hopes to bring a casino resort to the Schoolfield site — city leaders are in negotiations with the Paradise, Nevada-based company to be Danville's casino operator.
If Danville City Council selects the company from among four candidates, Caesars would be expected to invest more than $400 million and create 1,300 jobs with competitive benefits packages and average pay between $35,000 and $47,000 annually, officials announced May 18 at the site.
The company has plans to build a facility with 500 hotel rooms, a 35,000-square-foot conference center, a 2,500-seat live entertainment venue, restaurants and bars, 2,000 slot machines, 75 table games, 16 poker tables and a sportsbook to wager on various sports competitions.
"We need conference facilities and the ability to have conference facilities," Shanks said, adding that a music venue is critical for a resort atmosphere. 
The project is expected to be complete in 2023 and is anticipated to generate 900 construction jobs.
Four casino companies — out of seven that initially responded to a request for proposals put out by the city of Danville in December — pitched their plans for projects during a series of closed meetings in early March. Those companies include Caesars. Another company, Peninsula Pacific Entertainment, which also owns Colonial Downs, the parent company of Rosie's Gaming Emporium, was one of those seven companies.    
Peninsula Pacific published an ad in the Danville Register & Bee on May 17 detailing its proposal for a casino resort at the White Mill property. Colonial Downs, which also has an eye on Danville for a possible Rosie's Gaming Emporium, pushed for a referendum in November 2019 for the off-track betting facility in the city, which voters approved. 
When asked in March whether Colonial Downs would build a Rosie's in Danville if a casino were to come to the city, Colonial Downs spokesman Mark Hubbard would not comment.  
Schoolfield is significant as one of the largest textile mill villages in Virginia and the South. The village was founded as an independent company town in 1903 by Dan River Inc., which owned all the houses and other buildings in the town. The city of Danville annexed Schoolfield in 1951.
The industrial site in Schoolfield covers about 85 acres and roughly 700,000 square feet of structures, including the 617,000-square-foot former finishing plant, which can be seen from West Main Street in Schoolfield.
The proposed casino project — which must be approved by Danville voters before it could be built — would be an opportunity to redevelop what has been an eyesore in the city, Vogler said. 
"It's visible from so many points in our city," Vogler said of the site, referring especially to the three prominent smokestacks on the property. "It almost looms over the city like a ghost. To have it reopen into something truly top-notch with what they're proposing to do is an exciting opportunity."
But not every councilman contacted Tuesday by the Danville Register & Bee would comment too much on the negotiations with Caesars. 
"I don't have a preference at all," said City Councilman Sherman Saunders, adding that he is glad the voters will choose whether to allow a casino. "The only preference is that whoever we get, the voters will decide."
Council has done a lot of research to decide which company to pick, said City Councilman James Buckner. 
"I can't go any further than that," he said. 
Councilmen Adam Tomer and Madison Whittle did not return calls seeking comment for this story. 
Caesars Entertainment has more than 55 million members in its reward loyalty program nationwide, councilmen Gary Miller and Larry Campbell pointed out.
The program offers incentives and benefits for members, including ways to earn complementary hotel stays, access to special events and other amenities. 
There are 1.8 million cardholders within 200 miles of Danville, Miller said. 
"We need the Caesars name to attract people from Charlotte, Raleigh and Greensboro," Miller said. 
Also, Schoolfield needs the development, and the White Mill property has a better chance of being developed in the long run anyway, Miller added.  
Having a casino like the one proposed by Caesars would provide some stability when it comes to economic development, Campbell said. 
The company also plans to provide plenty of opportunities for minorities, Campbell pointed out. 
"This is going to bring heavy prosperity — my concern is that it is shared among all sections of our community," he said.   
Crane reports for the Register & Bee. He can be reached at (434) 791-7987.
The business news you need
With a weekly newsletter looking back at local history.