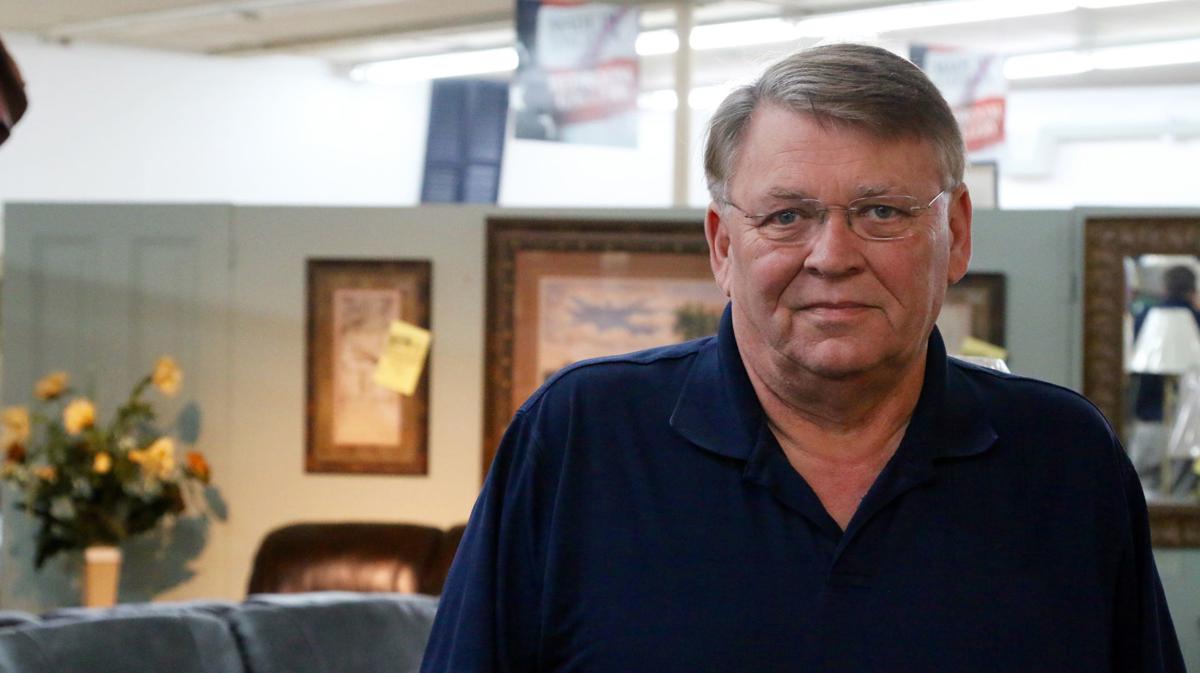 After 46 years, Sherwood House Furniture is closing its doors.
What started out as a business venture for the late Charles Perry, a former manager for Rhodes Furniture of Atlanta, Georgia, turned into a family-owned and operated company in Danville.
The founder's son, George Perry, took over Sherwood from his father and served as the company's owner until a short bout with cancer claimed his life earlier this year.
That's when the business decided to close. George's widow, Marti Perry, called consultant liquidator Gary Bryant to help sell the remaining furniture. Bryant owns GB Promotions Inc., a furniture consulting company that serves the southeast region of the United States. Based out of North Carolina, Bryant specializes in going-out-of-business, retirement and moving sales.
For the past several weeks, Bryant's focus has centered around the Danville furniture store, where a big yellow going-out-of-business sign takes up the front windows.
"In this case, it's a sad case because there were no money problems, business was great and George just passed away," Bryant said. "It's really sad."
Having mourned the owner's July death for several months, store officials recently announced it will close after nearly four decades.
With a sale now in full swing, extreme savings — with some items more than 50% off retail price — have drawn in a crowd every day.
"We took an invoice on everything in here and marked it down as low as we could sell it to just try to break even on everything," Bryant said. "We're just trying to sell everything we can."
From beds to dining room sets to accent lamps, Sherwood has a broad selection of merchandise still available.
Angela Bradsher and Roy Jordan went out looking for a reclining chair for Jordan.
"We're looking for a nice leather one with some compartments where he can sit and relax," Bradsher said.
It was their first time in the store, but Bradsher said they may go back before Sherwood closes.
"I think they have a great selection," Bradsher said. "They do have a lot of stuff marked down. I hate to see it go."
Another individual who hates to see the business close is Pat Talbott, who's worked at Sherwood since 1973 when it opened in its current location, 120 Arnett Blvd. in Danville.
Over the years of working the storefront and going to furniture markets, what originally started as a challenge eventually became a four-decade career.
Now, she's the only original employee of the business left.
"They were good people I worked for, the father and son," Talbott said.
Bryant never met George Perry, but hears about him almost every day.
"George had a great reputation. Everybody knew George," Bryant said. "So many people come in here. I hear stories constantly, all the time. Not just every now and then. Almost every customer who comes in here says, 'I remember when George did this.' That man had a great reputation."
After hearing so many positive things about the former owner, Bryant said he felt honored to be part of the liquidation.
"It's really a privilege for me to come in behind him and hear the wonderful stories," Bryant said. "Everybody thought the world of him."
With the business now drawing to a close, Talbott said she's not sure what she's going to do next.
"I'm old enough to retire, but I'm not going to retire," Talbott said. "I'm going to take a little breather and rest a little while. Then I'm going to go out scouting and see what I can find."
There's no official closing day on the calendar yet — that'll be determined predominantly by the buyers.
"We'll close as soon as we can sell everything," Bryant said. "He had a huge inventory. We're just trying to sell as quick as we can."
The business news you need
With a weekly newsletter looking back at local history.