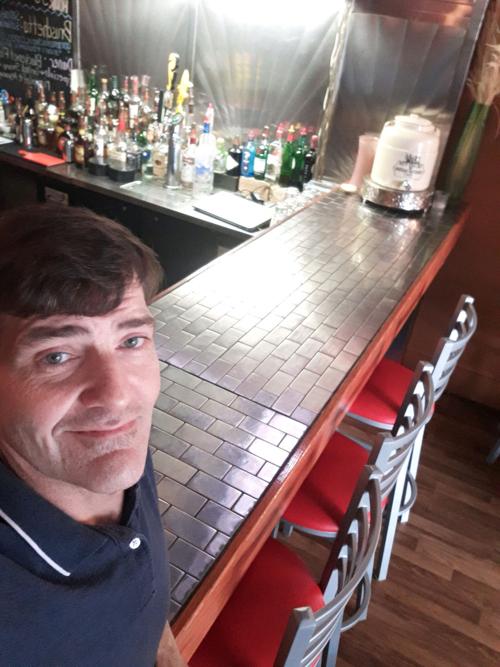 With some restaurants, it's just the food that commands attention. For others, it's the decor or the location.
With the Schoolfield Restaurant in Danville — especially in the time of the coronavirus — it's the disease-zapping ultra-violet lighting.
One of the first restaurants in the country to utilize UV lighting, the eatery recently received acclaim on a European television network program featuring an interview with a co-owner's physicist father, who proposed the idea and used the Danville establishment as a model.
"There's more people in Europe that know about our restaurant now than in Danville," restaurateur John Shutts said. "It's very funny."
When Shutts came to Danville to care for his mother, the Baltimore, Maryland, resident didn't plan on staying in the Virginia city for long.
"But of course with the son around, mom got real well very, very quickly," Shutts said. "So I had to do something."
Along with being radio personality Johnny Bodacious in Maryland, Shutts also had experience working in the restaurant industry, where he landed his first job at age 15. He went back into the business in Danville, but recognized a hole in the field.
"I worked at some restaurants here and I said, 'You know what? There's a need for this type of dining. There's a need for high-end, linen dining here,'" Shutts said.
He connected with his best friend from high school, Scott Sliney, a chef with years of experience creating in-home meals for wealthy families. 
"I said, 'With your resources and my resources, we can make this happen,'" Shutts said. "And we decided to do the restaurant."
In October 2016, the Schoolfield Restaurant opened for upscale dining at 1009 W Main St. Diners at the Schoolfield Restaurant are greeted with nostalgic memorabilia and décor from the area, which Shutts still actively collects.
Business didn't boom immediately, but had steady growth leading up to the best month in the restaurant's history — February.
"Out of nowhere, February was actually one of our best months ever and then the coronavirus hit," Shutts said.
Heeding Gov. Ralph Northam's executive orders, the Schoolfield Restaurant switched to takeout dining initially, but had a trick for reopening the dining room.
During the height of the pandemic, Scott Sliney's father, physicist Dr. David Sliney, pitched the idea of installing ultraviolet lighting in the restaurant, an idea the co-owners quickly implemented.
"The design of our restaurant is actually perfect for this technology," Shutts said of the high ceilings and ceiling fans set in a row.
That leaves plenty of room for the UV lights.
"So the blue lights cut through the entirety about 6 to 7 inches down from the roof, so there's just blue beams of light," Shutts said. "So if you're at the restaurant and if you're not even wearing a mask and you cough, the air's going to circulate up and it's going to zap it instantaneously, minimizing the spread and the risk."
Shutts and his team are ready to welcome diners back to the Schoolfield Restaurant with some added pandemic precautions, like instating extra cleaning and temporarily halting the use of linen accouterments.
"I'm not going to lie to you. I would love some more business," Shutts said. "I'm not going to sugarcoat it."
Growing pains are a part of any restaurant, especially in the first year or two, he said.
Moving forward past the pandemic, Shutts has some changes in store for his establishment. This month, the Schoolfield Restaurant will offer Wednesday lunches from 11 a.m. to 3 p.m., complete with a menu addition of the location's famous, nostalgic red hot dog, a favorite of mill workers and locals decades ago.
"We're just trying to give some old world service and American cuisine," Shutts said.
Additionally, the restaurant's hours have changed. The Schoolfield Restaurant will be open for dinner on Thursdays from 5 to 9 p.m., on Fridays and Saturdays from 5 to 9:30 p.m. and on Sundays from 5 to 8 p.m.
A different approach
Across the Dan River, another Danville restaurant took a different approach to the pandemic. Ruben's Restaurant, a mom and pop diner in the area since the early 1960s, initially closed its doors.
Originally named Wimpy's after William "Ruben" Moore's business partner and restaurant co-owner Raymond "Wimpy" Jones, the diner formerly located at the intersection of Ingram Road and Riverside Drive was renamed Ruben's Restaurant when Jones sold his half to Ruben in 1972. In 1983, the business moved to 5000 Riverside Drive, where it's been ever since.
In nearly six decades in business, there have been a few times the restaurant closed, but never for long. Maybe half a day for a power outage, or a few hours to allow prom-going high school staff an opportunity to get ready for their big night. And of course there was the April 2018 tornado that caused damage to the building — but even then, the restaurant was back up and going three days later.
When the COVID-19 pandemic hit, Brad Moore, Ruben's son and current co-owner of the diner along with son Kyle Moore, didn't waste any time spreading news of his decision to close the restaurant indefinitely.
"It was the right decision for my employees at that time. We closed voluntarily before the mandate," Brad Moore said. "We closed voluntarily just to protect my customers and employees."
Instead of going the takeout route like many area restaurants or offering delivery, the diner not only remained closed from March 23 as the pandemic started spreading in the area, but also throughout both Phase 1 and Phase 2 of that state's reopening.
"We just waited for the threat to demise for the same reason we closed in the first place," Brad Moore said.
Implementing more cleaning, operating at 50% capacity, putting signs in place about mask regulations and following other Centers for Disease Control and Prevention coronavirus guidelines, Brad chose to quietly open the diner last month. He told a few friends that the restaurant would reopen on Aug. 5, but news spread faster than he expected.
"We did not advertise, he said. "We wanted a soft opening because we weren't sure — we've been doing things a certain way for so long, and then we had to do things a different way with so much more labor involved, such as sanitizing and cleaning, having people wait to be seated — we wanted to figure it out before we got a mob, and it didn't work."
While he laughed about the failed attempt at a staggered reopening, Brad Moore was excited to see that type of response from the community.
"It's great for us and great for them as well, he said. "It's been a real joy to see our regular customers on a regular basis again."
Pressing forward amidst the pandemic, Brad Moore is prepared to take all the precautions necessary to ensure a safe environment for both his staff and customers.
"We're going to continue to operate, and if we have to operate under CDC guidelines from here on out, that's what we'll do," he said. "We're here for the community and we're here for the people and we'll do whatever it takes to keep it rolling."
Operating under new hours, Ruben's is currently open for dine-in and takeout from 7 a.m. to 7 p.m. Monday through Saturday.
Help from Facebook
In April, the National Restaurant Association revealed that four in 10 restaurants closed during the height of the pandemic. When local mortgage lender Ellen McGregor saw area restaurants and diners struggling amidst the changes, she created a Facebook group designed to help.
"Honestly, when the pandemic first started, I kept thinking, 'What could we possibly do to help folks?'" McGregor said. "I've been here quite a long time and Danville is one of those towns where everybody goes out to eat."
She also noted that nearly everyone, it seemed, had a Facebook account, and she had the idea to merge the two. On April 8, McGregor launched Danville VA Curbside/Takeout Options.
The group highlights local eateries. For example, several posts over the past few months highlighted Santana's Restaurant's curbside service, Western Sizzlin's chicken specials and restaurants offering free meals to children. Business owners and customers alike came together to post which restaurants were open, closed or working under altered hours.
The group quickly grew in popularity to hosting more than 3,300 guests — a number McGregor didn't expect.
"It was pretty much a shock. I thought we would be doing well to have a couple thousand. I don't know if I ever put a goal on it, but I thought, 'Wow, if I could get two thousand,' I felt like I would be helping some folks," McGregor said. "I've just been amazed by how it's grown."
The unexpected popularity prompted McGregor to seek out a second page administrator to help manage the posts. She found that in long-time friend and local teacher, April Hawkins.
"April stepped up and she has been fantastic," McGregor said. "She has been the biggest help."
Even though many restaurants have reopened dining rooms, group members still post multiple times a week about specials or share messages about the service they've received.
"We've just continued to stay in front of folks," McGregor said. "I think it's been a good avenue. Some of the businesses who really needed some exposure, it's been really good exposure for some of them."