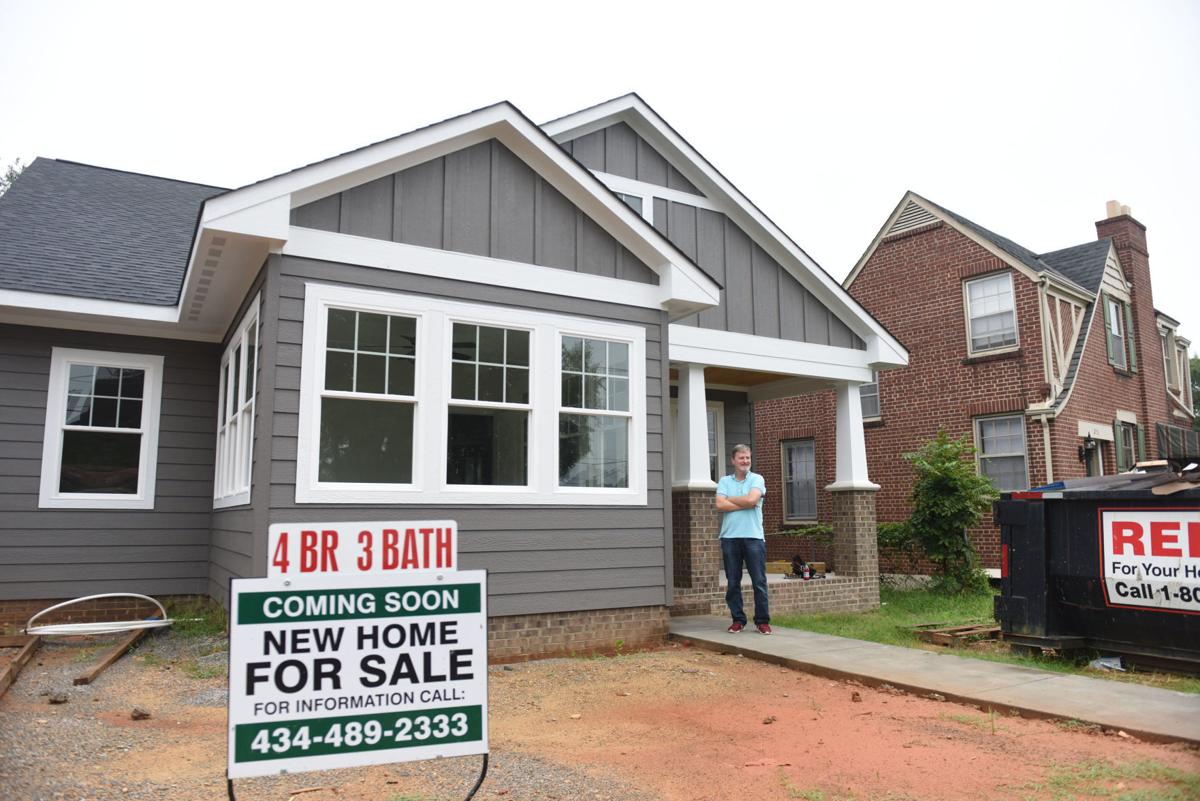 Out with the old, in with the new. 
Local designer Gus Dyer is just about finished building a Craftsman-style spec house in place of a blighted home that was demolished by the city at 255 Howeland Circle, at the corner of Brockton Place and Howeland just off West Main Street. 
It is the first and only re-use so far of a blighted property by a private developer under the city's blight eradication program that began in fiscal year 2011-12. 
"I have taken great care to design and construct a home that is sympathetic to the character of the neighborhood," Dyer said, adding that most of the homes on Howeland Circle were built between 1900 and 1940. 
"I get my enjoyment out of building things," Dyer said from inside the home on dark and cloudy Tuesday morning.
Another project built on blighted property includes manufacturing homes offered by the Danville Redevelopment and Housing Authority — a public entity — in the neighborhood of Franklin, Beauregard and Lee streets. 
Other public projects include the city rehabbing homes in the Old West End in the area of Main Street's Millionaires Row, including the streets surrounding it. 
Dyer has been building the Howeland Circle home under his business, Dyer Development Company, since February and expects to finish it up by mid-September. His sister, Bond Mathews, who lives in South Carolina, owns the home and the property under her firm, MAT7, LLC.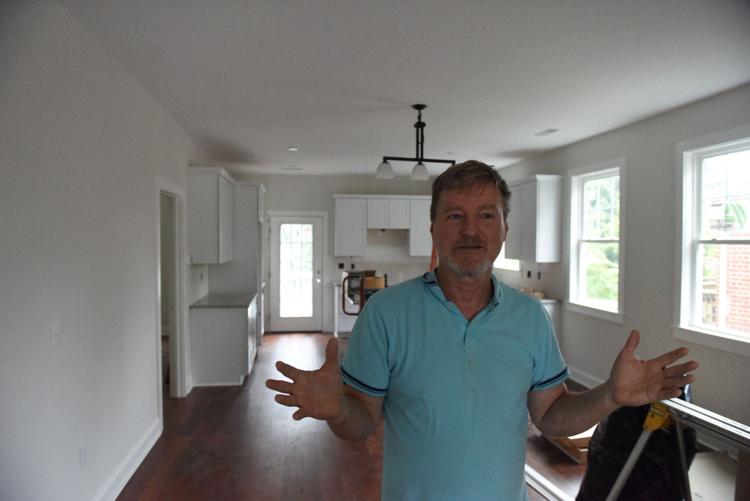 Dyer was halfway through the home's framing when the COVID-19 pandemic hit in mid-March. They were able to continue construction because he had a small crew of a maximum of five workers at one time, he said. 
"We were able to muddle through," Dyer said, adding, however, that the availability of materials has been a challenge during the pandemic.  
As for Mathews, Howeland Circle holds a special place in her heart. Her and Dyer's father, before he was married, lived in a home on that street with a friend, Mathews said. 
That friend's daughter, who lived on Howeland, and Mathews were best friends while growing up in the 1970s and early 1980s. 
"I spent a lot of my youth on Howeland Circle," Mathews said by telephone Tuesday. "We just thought that was a great part of town."
Mathews bought the property about eight months ago. 
"Howeland Circle is a great example of putting it [blighted property] back into productive use," said Danville Community Development Director Ken Gillie. 
City Manager Ken Larking said of the project, "Having a developer invest in building a home in an area that has had blighted conditions is a positive for our community. We like to see more re-investment in Danville. Anytime it happens, it should be applauded."
The 2,000-square-foot home has 1,600 square feet on the main floor and about 400 on the second floor. It includes four bedrooms and three bathrooms. 
Plumbing fixtures including faucets and toilets still need to be installed and electrical service must be connected, Dyer said. 
The dark gray, stick-built home has Louisiana Pacific smart siding, with PVC coating, Dyer said. 
The house previously at 255 Howeland Circle was torn down in June 2017 under the city's blight eradication program. The property owner paid the city back for the cost of demolition, which was $14,277, Gillie said.
Dyer said the new home will go on the market for $239,900 and he has received dozens of inquiries about the house. 
Under the city's blight eradication program, 722 houses have been demolished since it started about nine years ago. Some were torn down by the city, while others were demolished by private owners, Gillie said. 
In some cases, the city has sold lots to neighbors so they could expand their homes, he said. 
Currently, there are about 13 homes out for bids to be demolished by the city this year, and about 34 more are ready to be put out for bids after those, Gillie said. 
"We demolish about 30 homes each year," Gillie said, adding that does not include those torn down by private owners.  
The city has about $400,000 budgeted in its blight eradication program for the upcoming year, Gillie said. That money goes for demolition and redevelopment. 
The business news you need
With a weekly newsletter looking back at local history.