Vince Puccio stood in the center of his distillery — a warehouse of brick walls clad in fading white paint, dangling fluorescent lights and a handful of squat steel vats and chest-high fermentation tubs strewn between support columns — and explained that tweaking the process from making spirits to hand sanitizer was not at all complicated.
Now, his Dry Fork Fruit Distillery is one of dozens of distilleries in Virginia churning out hand sanitizer to help during the COVID-19 pandemic.
He began producing it April 1 and offers it free to area first responders and law enforcement.
For businesses and individuals, he is selling it for $40 per gallon jug and $200 per 5-gallon container.
He started making it after getting questions about whether the distillery would offer it.
"We had too many people asking us about it and we thought about it," Puccio said Tuesday.
Dry Fork Fruit Distillery makes 100-proof corn whiskey, 80-proof fruit-infused moonshine whiskeys, 33-proof apple pie whiskey, apple brandy and peach brandy.
The distillery has sold about 100 gallons of hand sanitizer so far, he said.
There are 27 distilleries making hand sanitizer in the state, said Taylor Thornberg, spokeswoman for the Virginia ABC.
"We have seen anecdotally that most are eager to help out where they can in a time of need," Thornberg said via email Wednesday.
Of the distilleries making hand sanitizer, at least four in the state are selling it. Some make it only for health care workers and first responders, she said, while other distilleries throw in a bottle with the purchase of spirits or other products.
Alexis Ehrhardt, president of the Danville Pittsylvania County Chamber of Commerce, called Puccio's efforts "great news."
"This move by Dry Fork Fruit Distillery is indicative of the adaptability and spirit in our community," Ehrhardt said.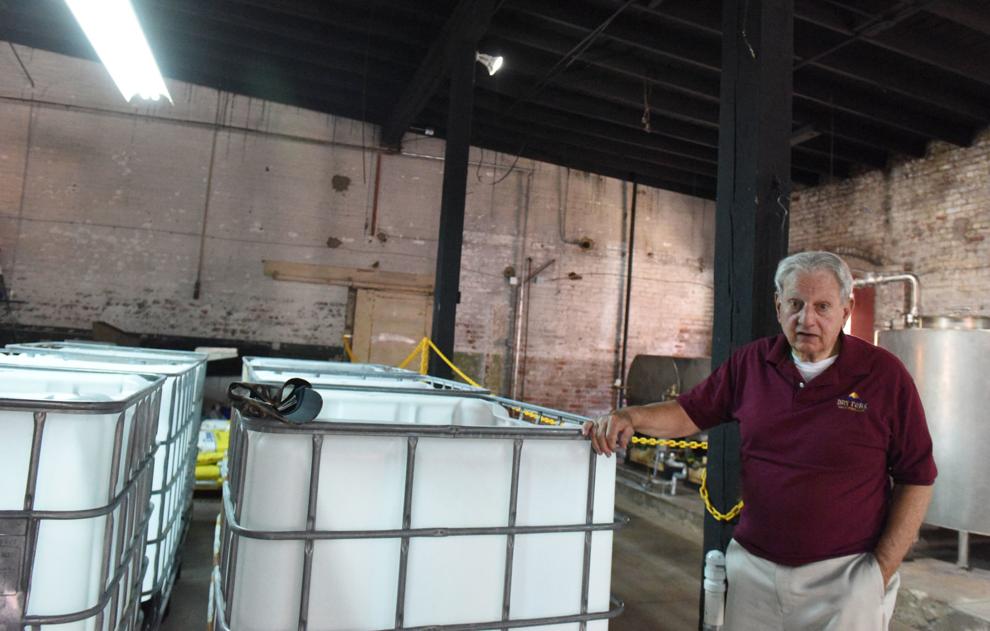 To make the alcohol for the sanitizer, Puccio puts the mash — corn, malt, sugar and yeast — into fermentation tanks. After it ferments into alcohol, it's pumped from the tanks into nearby stills.
The alcohol is then taken out of the still and mixed with glycerine before hydrogen peroxide and denaturizer — a toxic or foul-tasting substance that makes alcohol unfit to drink — are added. The sanitizer is then poured into 5-gallon buckets.
It includes the same alcohol-production method is used for the alcohol that goes into whiskey.
"It's a simple process," said Puccio as he rested an arm on a fermentation vat.
His sanitizer solution is 80% alcohol and 20% glycerine — the Centers for Disease Control and Prevention recommends using hand sanitizers that include at least 60% ethanol or 70% isopropanol.
Making the sanitizer is easy for distilleries, Thornberg said.
"The type of alcohol needed to produce hand sanitizer involves a similar process to that of distilling spirits," she explained.
Last month, the Virginia ABC changed its regulations to allow distillers to make hand sanitizer to sell or give away as long as it's rendered unfit for consumption.
Puccio said he hasn't given away any hand sanitizer yet. Anyone interested in obtaining a container can call the distillery at (434) 857-2337.
Pittsylvania County Sheriff Mike Taylor said he has received an offer of free sanitizer from Puccio but hasn't needed it so far.
"We will take him up on it when we need it," Taylor said Wednesday.
The county sheriff's office got its first batch of hand sanitizer from Silverback Distillery in Nelson County and also received some from Springfield Distillery in Halifax.
God's Pit Crew also provided some for the sheriff's office.
"We've been really blessed with people," Taylor said. "This is the best of America. That's what we do, even in these hard times."
Crane reports for the Register & Bee. He can be reached at (434) 791-7987.