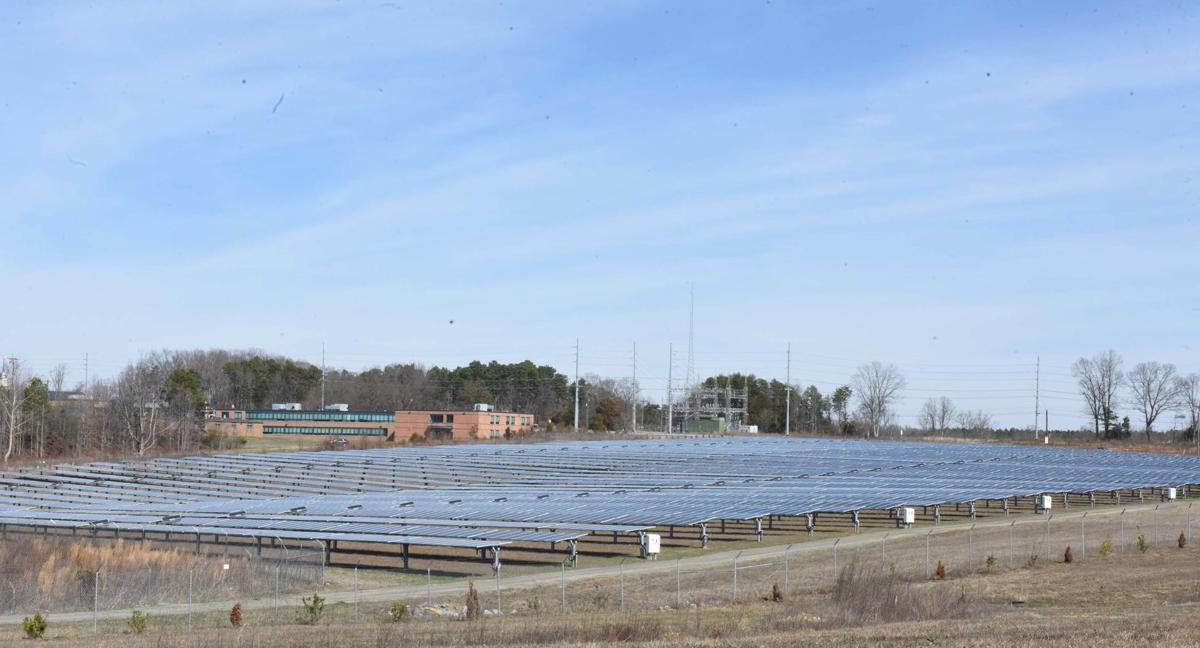 After pushing for changes to the tax exemptions and schedule for utility-scale solar projects in Virginia, Pittsylvania County leaders are now mulling whether they should adopt the newly allowed taxation structure of $1,400 annually per megawatt of energy generated.
The legislative committee of the Pittsylvania County Board of Supervisors will meet later this month to weigh the pros and cons of taxation structures and decide whether to adopt it. 
"We have learned a lot about solar and its impacts to the community over the last couple years," Pittsylvania County Administrator David Smitherman said. "We want to make sure going forward we can use those lessons to improve our regulatory environment."  
Even though the projects do generate significantly more real estate taxes than the farmland they often occupy, leaders of several Virginia localities had pushed back against the tax exemptions, which some legislators had proposed be be extended until 2030. Under laws that came into effect in 2016, solar projects under 20 megawatts are completely exempt from machinery and tools taxes, while those larger than 20 megawatts are still 80% exempt. 
Under new legislation that was adopted into law on July 1, Virginia localities will have the ability to switch their tax structure to $1,400 annually per megawatt of energy generated, in what is being referred to as revenue sharing. They can also stick with the partially exempted machinery and tool tax if they choose. 
The decision between the two taxation models is a complicated one that depends on a wide range of factors, including the locality's tax rates and the size of the solar projects that come to the locality. The rates would likely be very similar in the beginning, said Joe Lerch, director of local government policy for the Virginia Association of Counties, but the revenue sharing would remain flat while the machinery and tool tax would decrease over time as the value of the equipment depreciated. 
"It's a lot of moving parts," Lerch said.
If Pittsylvania County leadership elects the revenue sharing option, they would have to hold a public hearing before changing the ordinance, and it would not apply to any of the projects with already-submitted applications, including several in the past few months. Two new utility-scale projects totaling 210 megawatts — enough to power roughly 50,400 homes — are working their way through the permitting process right now. 
The Pittsylvania County Planning Commission sent a 60-megawatt project to the board of supervisors for rezoning. If the zoning is approved by the supervisors, it will then have to go back before the planning commission and the board of zoning appeals to obtain a special use permit. 
The other proposal would be the largest approved in Pittsylvania County yet: A 150-megawatt project which would cover over 1,400 acres was recommended to receive a special use permit, a case that the board of zoning appeals will hear at its meeting on Tuesday. 
In its application for the project, Recurrent Energy, which is the American subsidiary of Canadian Solar, contends the project would create more than 400 construction jobs and $43.5 million in economic output during the development phase, as well as an annual economic output of nearly $930,000 during its operational phase. In terms of local revenue, that equates to $1.2 million in state and local taxes during the development phase and a total of $7.5 million in local revenue over the 40-year lifespan of the project. 
The company also said such a large utility-scale solar facility would help attract such high-tech industries as data centers to the region, something that has happened over the last couple years in Spotsylvania and Accomack counties.
"I think that if it's marketed the right way, we could certainly view this positively. We would welcome a data center partnering with a solar farm to our region," said Susan McCulloch, project manager for Pittsylvania County Economic Development. 
Company spokespeople did not respond to requests for comment, and several landowners who have agreed to allow the project on their land would not comment. 
Lerch does not anticipate any major impacts on the solar industry because of the new taxing structure for Virginia localities. 
"I don't think it's necessarily going to slow or speed it up, one way or the other," he said. 
The Virginia Clean Economy Act, which was approved by Virginia lawmakers earlier this year, requires utilities and competitive suppliers to generate 100% of their energy from renewable sources by 2050, is expected to fuel continued solar development, Lerch said. 
Projects that generate less than 5 megawatts do not need DEQ approval, and there are several that have already received a special use permit from Pittsylvania County. Right now, three large Pittsylvania County projects have received the all clear from DEQ: a 12-megawatt facility in Ringgold, a 50-megawatt facility in Gretna and Maplewood Solar, an 120-megawatt facility that is being developed by Dominion Energy, which will sell the energy to Amazon.
Dominion did not respond to a request for comment.
Two projects — the 10-megawatt Whitmell project and the 12-megawatt Danville Farm project in Ringgold — are slated to be completed and operational sometime this month, said Danville Utilities Director Jason Grey. When combined with the Kentuck project, which is the only operational solar facility in Pittsylvania County to date, those will combine to generate 8% of the power needed by Danville Utilities. While the Virginia Clean Economy Act does not technically apply to Danville Utilities, a locality-owned utility, Grey said Danville Utilities will still likely follow the guidelines. 
"We do tend to follow [State Corporation Commission] guidelines and will likely meet or exceed the State's goal of having 100% renewable electric generation by 2050," he said. 
Regardless of what happens with the taxing, several other adjustments to the Pittsylvania County solar ordinance could be in the cards, including changing the requirements for a decommission bond put forward at the beginning of the project, Smitherman said. 
Ayers reports for the Register & Bee. Reach him at (434) 791-7981.
The business news you need
With a weekly newsletter looking back at local history.