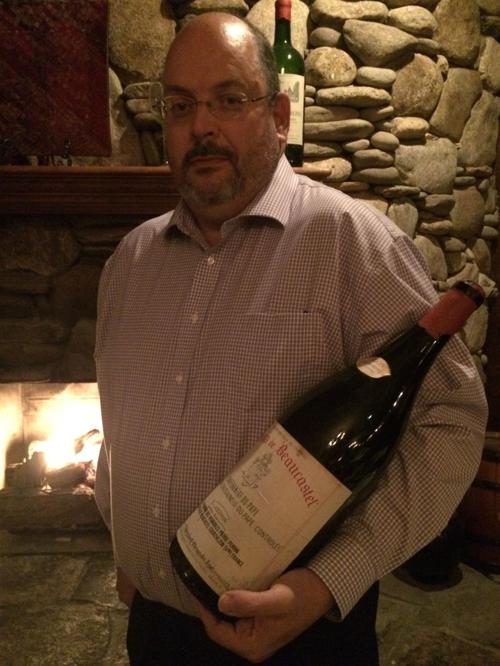 Brian Moore never completely closed Chez Max, his French restaurant on Patterson Avenue in western Henrico County, and he gave all of his employees the opportunity stay on payroll during a pandemic that has crippled his industry.
Now Moore finds himself caught between two federal emergency programs that have given relief to unemployed workers, stricken businesses, and the economy they help to sustain.
He said he offered jobs to five employees who had chosen to be laid off and become eligible for enhanced unemployment benefits under the federal CARES Act - $600 a week on top of the state unemployment insurance they collect, or a maximum of $378 a week.
But when they all refused the offer, Moore reported their decisions to the Virginia Employment Commission under the terms of an $86,000 loan he received under the same federal law in order to be eligible for the loan to be converted to a grant he doesn't have to repay.
"I didn't want to do it," he said, "but if I want to make sure the business survives this pandemic and the loan the government provided turns into a grant, it puts me in this position."
Congress is preparing to debate the continuation of an enhanced unemployment benefit considered critical to the economy. The enhanced benefit otherwise will expire with the past work week unless lawmakers strike a deal to balance the need for emergency relief with the urgent demand for workers to return to restaurants and other businesses struggling to reopen and regain their footing.
Senate Republicans were preparing Monday to put on the table a new $1 trillion relief package that would continue the enhanced unemployment benefit - but at $200 a week, or one-third of the current payment. It also would fund a new round of forgivable loans for small businesses under the Payroll Protection Program.
Virginia's restaurant and hospitality industry contends that a reduced benefit will help businesses bring back the workers they need as the economy slowly reopens from a public health threat that hasn't gone away.
"We support a reduced number moving forward as the best thing to do," said Eric Terry, president of the Virginia Restaurant, Lodging and Travel Association. "At $600, that really creates a problem."
'It's definitely causing us some shortages of employees," Terry said.
But lowering the benefit also would affect more than 357,000 Virginians who continued to file for unemployment benefits last week, even as the number of initial jobless claims rose for the first time since May. That includes more than 79,000 people employed in the "accommodation and food services" businesses, according to the employment commission.
The Federal Pandemic Unemployment Compensation program, created under the CARES Act adopted in late March, also supports consumer spending that has helped prop up the economy in the face of business shutdowns to contain the spread of COVID-19.
'There's no doubt that if consumers stop spending, it's going to cause a bigger hit on the economy," Virginia Secretary of Finance Aubrey Layne said Monday.
Gov. Ralph Northam supports the continuation of the unemployment compensation program, but he hasn't taken a position on how high the supplemental payment should be.
"The governor has no position on what the amount should be," said Megan Healy, the governor's chief workforce development adviser. "He knows that many families need extra support."
Congressional Democrats generally support extended the current $600 weekly benefit at least through the end of the year.
"Tens of millions of Americans are facing potential evictions and foreclosures after eviction protections have expired, expanded unemployment benefits are expiring this week, state and local governments are in budget crises, and the health crisis continues unabated," Sen. Tim Kaine, D-Va., said Monday. "Yet among the Republicans' top priorities in this bill is protecting businesses from lawsuits, as if lawsuits were the biggest threat right now."
"I'm advocating very strongly in conversations with Democratic and Republican colleagues that the core of this bill should be helping Americans deal with the hardships they're facing, he said.
Rep. Don Beyer, D-8th, introduced legislation on Monday with Rep. Derek Kilmer, a Democrat from Washington state. The Worker Relief and Security Act would extend the current enhanced unemployment benefit through the end of the public health emergency, then reduce it to $450 a week and tie it to "automatic stabilizers, including a state's unemployment rate.
"You're turning a federal unemployment insurance benefit on and off as it's needed," Beyer said.
Virginia officials want whatever Congress passes to be easy for the beleaguered state employment commission to carry out.
"Make a decision and make it simple so we can implement it," said Healy, Northam's workforce development adviser.
Senate Minority Leader Tommy Norment, R-James City, said the size of the unemployment benefit is "a real issue" for the Historic Triangle around Williamsburg, which he said "economically thrives or dies on the hospitality industry."
"There are two major concerns: I can draw unemployment plus $600, which is more than when I work; and I am concerned about contracting the virus," Norment said in a text message on Monday.
For Brian Moore, the right solution would be to restructure the unemployment benefit to help people replace a portion of their income, but not more than they're already making.
"Unemployment was always structured so you would make less money than when you were working," Moore said. "It should be weighted according to what you were making."
When the coronavirus crisis began, he offered his 14 employees the option to stay on salary as the restaurant was forced to rely on carryout and delivery, which represented about 20% of its revenues.
Nine stayed, although two of them left later for different reasons that Moore said he believes were about "all the money they make on unemployment versus what we're paying them."
As the restaurant returned to indoor dining and reduced hours, he offered to rehire the five he said had chosen to be laid off. They refused and he reported to VEC that they had declined the offer, as he is required to do under his PPP loan for it to be converted to a grant.
He's in the 12th week of an-eight week loan, so they money already is gone, spent almost entirely on payroll.
Moore said he also worries about the people who chose not to return to work.
"A job provides people more than just a paycheck," he said.
(804) 649-6964
Karri Peifer contributed to this story.
The business news you need
With a weekly newsletter looking back at local history.