For Karen's Hallmark Shop owner Karen Johnston, the recent easing of mask requirements in Virginia is a little premature.
"I think it's a little too soon," Johnston said during an interview in her store at Danville Mall on Monday.
Though Gov. Ralph Northam announced the lifting of certain restrictions last week, "We would ask that our guests wear masks."
New CDC guidelines state fully vaccinated individuals do not have to wear masks in most indoor settings, except on public transit, in health care facilities and in congregate settings.
Businesses can still require masks in establishments. Workers in certain industries — including restaurants, retail, fitness, personal care, and entertainment — must continue to wear masks unless they are fully vaccinated, according to CDC guidance.
"This is a must for our staff," Johnston said.
Owners and managers who spoke to the Danville Register & Bee said they will still ask customers to wear masks in their businesses, but will not strictly enforce the request.
"We'll continue to keep signs out that ask customers to wear masks, but we don't want to fight about it," said Olivia Richardson, associate at The Gingerbread House on Memorial Drive.
Staff at the store will wear face coverings until further notice, Richardson said.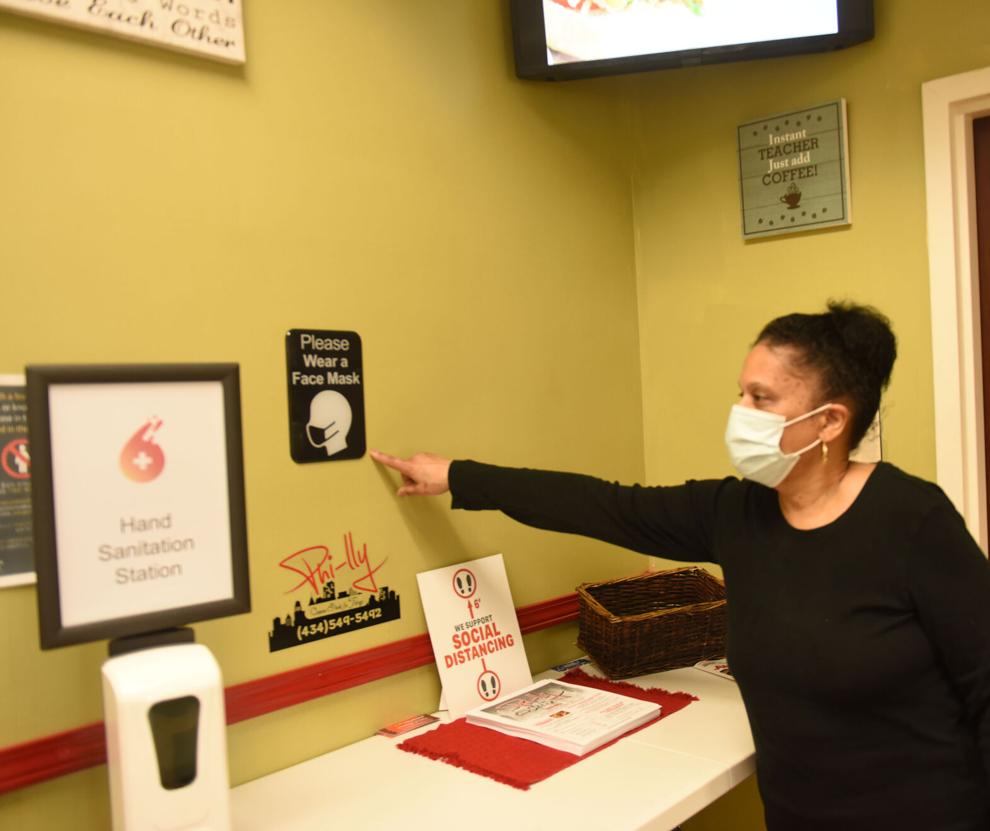 Deborah Parks, co-owner at Phi-lly Cheese Steaks & Things on Riverside Drive, said they are continuing to space customers and groups a table apart from each other and ask them to wear masks.
Most customers continue to wear masks in the restaurant, she said, adding that she and her husband, Donald, will also keeping using the face coverings.
"I don't yet feel comfortable with not wearing a mask in a public restaurant," Deborah Parks said.
Back over at the mall, Blairs resident Jackie Smith said of the easing of restrictions, "It's great that they've lifted it."
However, she is now unsure whether to don a mask.
"I don't know whether to wear it or not," said Smith, adding that she has been vaccinated.
She attended a family birthday celebration Sunday night. Everyone who attended was vaccinated and did not wear masks, she said.
Those who are unvaccinated need to get their shots, Smith added. It is for that reason that Martinsville resident Brenda Yellock will keep wearing her mask.
"I'm still going to be covering up," Yellock said. "Some of these people haven't been vaccinated."
At Dell'Anno's Pizza Kitchen on Main Street, director of operations Christie Miller said they are letting customers determine whether to wear masks.
"We're not going to ask them to wear masks," Miller said. "It's going to be up to them. We're not going to push it."
Employees are still wearing masks, she said.
"Our staff and I will continue to wear them," she added.
As for Johnston, wearing masks, cleaning and taking other precautions are essential.
"Why not be pro-active about your health?" she said.
Also, lifting the requirements too early will lead people to "start jumping into crowds," she added.
To Deborah Parks, being conscientious about public health is also about community.
"It's a matter of regard and respect for the other person," Parks said of wearing masks.
"We'll continue to keep signs out that ask customers to wear masks, but we don't want to fight about it."

Olivia Richardson, associate at The Gingerbread House