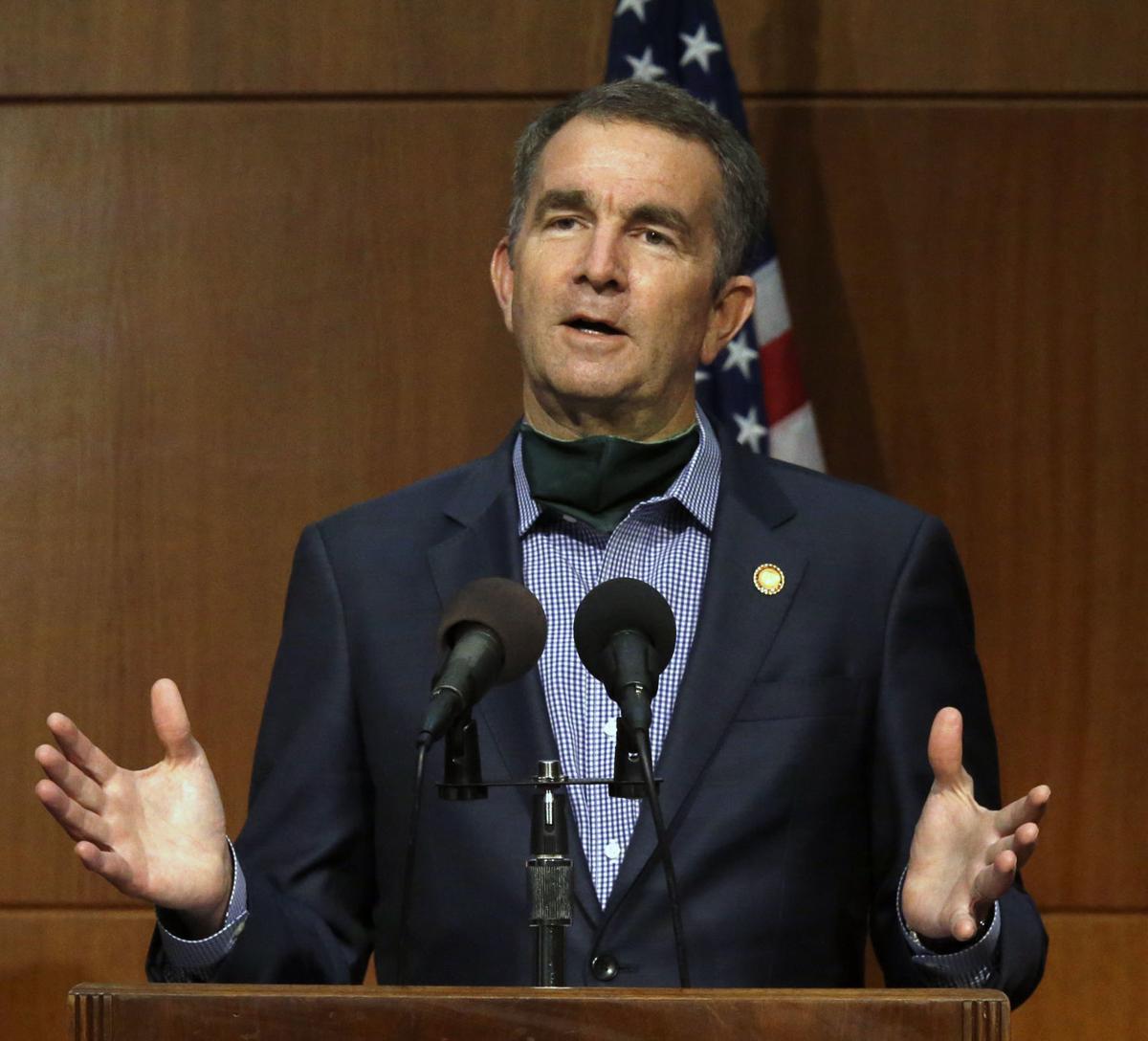 Virginia will move onto the third phase of the state's gradual reopening from COVID 19 on July 1, state officials announced Tuesday.
Phase Three will allow for social gatherings of up to 250 people from the current limit of 50 people, and will also allow for restaurants and retail businesses to operate at full capacity.
Gov. Ralph Northam said Tuesday that Phase Three will still carry some restrictions necessary to prevent the number of COVID-19 cases from spiking, as has occurred in other states.
"It still means you're safer at home, especially if you're vulnerable. We're still strongly encouraging teleworking," as well as social distancing and facemasks, Northam said.
In defending his decision, Northam said that the rate of positive cases among those tested hovers at 6.4% and continues on a downward trend. Northam added that testing in the state has surpassed the goal of 10,000 tests per day on average.
Last week, Northam said that in Phase Three gyms and fitness centers will be able to operate at 75% capacity, as will swimming pools. Entertainment venues, including amusement parks, can open at 50% capacity, or a maximum of 1,000 people.
Hair salons and barbershops will be allowed to open completely. So can child care centers. Overnight summer camps will remain closed, Northam said during a news conference in Northern Virginia. Teleworking will also continue to be strongly encouraged.
The state's guidelines recommend continued social distancing of 6 feet. Face coverings will also still be required, Northam said.
Northam's announcement was met with relief from the state's business community.
Nicole Riley, the state director of the National Federation of Independent Business, which has roughly 6,000 members in Virginia, said the decision to enter the third phase before Independence Day is "welcome news."
"Retailers and restaurants were unable to open and lost significant revenue on Easter, Mother's Day and even during the graduation season, so these business owners hope the community will come out and support them by going out to celebrate on the 4th of July as the limited capacity rules are lifted," Riley said. "It will still be a slow road back for small businesses, and many in Virginia believe it could be next year before they fully recover."
The Virginia Department of Health reported Tuesday that the statewide total for COVID-19 cases is 58,994 — an increase of 529 from the 58,465 reported Sunday.
The 58,994 cases consist of 56,452 confirmed cases and 2,542 probable cases. There are 1,645 COVID-19 deaths in Virginia — 1,542 confirmed and 103 probable. That's an increase of 25 from the 1,620 reported Monday.
The VDH defines probable COVID-19 cases as people who are symptomatic with a known exposure to COVID-19, but whose cases have not been confirmed with a positive test.
In the Richmond area, there are 7,540 cases: 2,651 in Chesterfield County, 2,448 in Henrico County, 2,031 in Richmond and 410 in Hanover County.
Also, the region has 242 deaths attributed to the virus: 138 in Henrico, 49 in Chesterfield, 30 in Richmond and 25 in Hanover.
Fairfax County, the state's most populous locality with more than 1.1 million people, has the most cases with 13,579 and 445 deaths.
Only Bath County doesn't have confirmed cases.
As the overall number of positive COVID-19 test results in Virginia grows, data from the VDH coronavirus dashboard shows the percentage of positive results from testing is down. The seven-day average for percentage of positive test results was at 6.14% as of June 15, which is the most recent figure provided by the VDH. That's down from a peak of 22.2% on April 19.
VDH data shows most cases (78.7%) are occurring in adults between the ages of 20 and 69. The majority of deaths (76.2%) are among Virginians over the age of 70.
The VDH said there are 433 outbreaks in the state, 231 in long-term care facilities. Such facilities account for 1,013 of the state's deaths attributed to the virus.
State health officials have said there's a lag in the reporting of statewide numbers on the VDH website. Figures on the website might not include cases or deaths reported by localities or local health districts.
(804) 649-6254
Twitter: @MelLeonor_
(804) 649-6012
Twitter: @jmattingly306​
The business news you need
With a weekly newsletter looking back at local history.