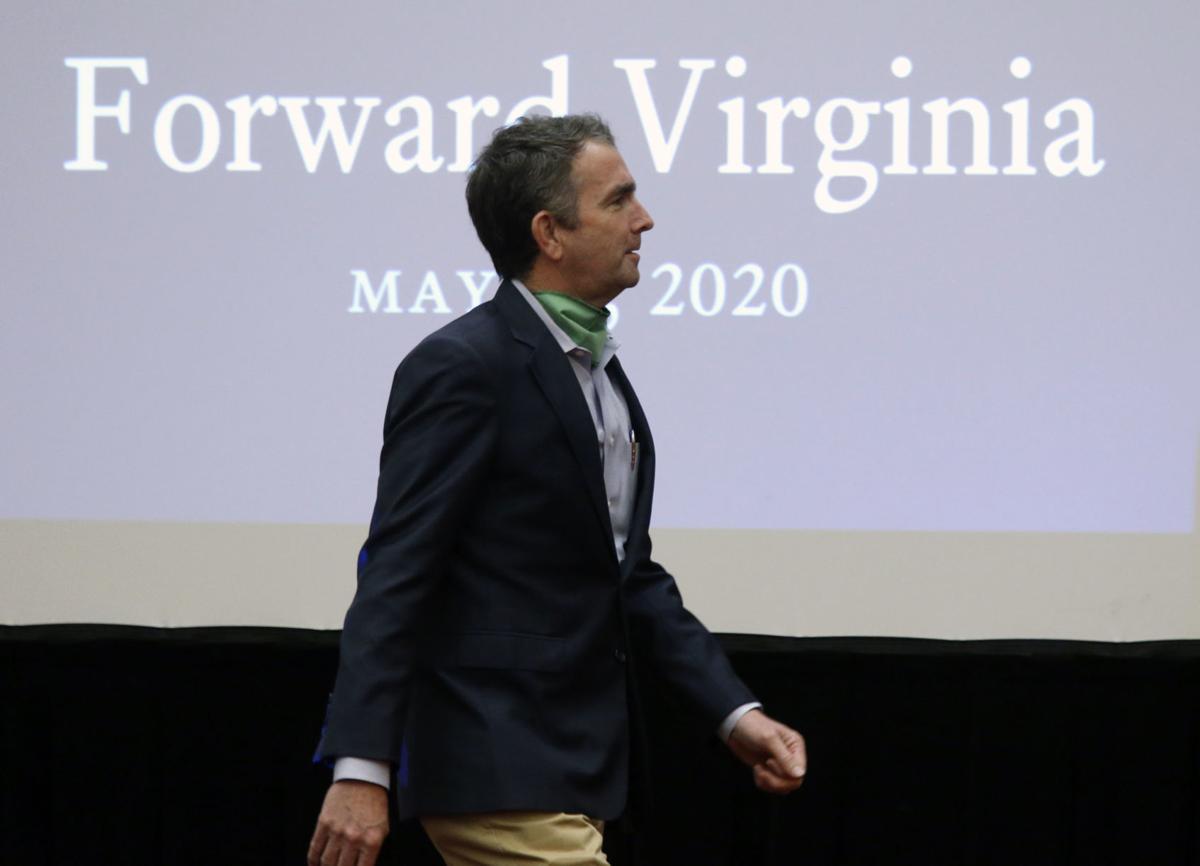 Gov. Ralph Northam announced Tuesday that the state will require anyone over the age of 10 to wear a face mask while inside a public building or business establishment to help mitigate the spread of COVID-19.
The new guidelines will go into effect on Friday and apply to any indoor place where people congregate, including all brick-and-mortar retail, personal care and grooming businesses. The guidelines also apply to public transportation and government buildings.
"Everyone will need to wear a face covering when you're inside a public place starting this Friday," Northam said. "I am taking this step because science shows the virus spreads less easily when people wear face coverings."
The federal Centers for Disease Control has urged people to wear face masks to protect those around them. Research shows masks can help prevent the spread of COVID-19 by keeping droplets from the lungs and mouth from becoming airborne.
Takes responsibility for not wearing mask
Northam on Tuesday also publicly apologized for not wearing a mask while interacting with beachgoers while in Virginia Beach on Saturday, as captured in photos circulating on social media.
Northam said he was caught unprepared when he was approached by people on a boardwalk; he said his mask was in the car.
Northam said he has not been tested for COVID-19, but said he plans to procure a test soon.
"I take full responsibility for that. People held me accountable and I appreciate that. In the future, when I'm out in the public, I will be better prepared," Northam said. "We're all forming habits and new routines. We're all adjusting to new normals."
Health department enforcement
The new guidelines will not be enforced through the criminal justice system, Northam said, and there does not appear to be an enforcement plan for individuals.
"I am not looking for people to get in trouble for not wearing a mask. But I am looking for people to do the right thing," Northam said.
He added that when the General Assembly convenes for a special session in July or August to take up state revenues, he would ask lawmakers to consider creating a civil penalty for individuals violating the new guidelines.
As they apply to businesses, Northam said the guidelines will be enforced through the Virginia Department of Health, though he declined to immediately share more details about how the agency will do so.
Clark Mercer, Northam's chief of staff, said health inspectors at the agency had the power to "pull a license to operate" if a business is found out of compliance with health regulations.
The Virginia Association of Chiefs of Police earlier Tuesday "strongly" opposed a face mask requirement, arguing that it could force businesses to enforce it, potentially exposing them to dangerous encounters. Republican leaders in the General Assembly also opposed the guidelines.
The police chiefs association said the order turns "good advice into a mandate" that will be enforced with trespassing citations and by physically removing violators from businesses.
The group argued it "destroys police/community relations and puts business owners in a no-win situation: either be prepared to confront people you value as customers, or avoid the risk of a potentially violent confrontation by keeping your business closed."
People in Virginia will be exempt from wearing face masks while exercising, eating or drinking.
The guidelines require people to wear face masks inside food and beverage establishments, which right now are closed for indoor dining.
The guidelines also exempt anyone with a health condition that would make it difficult for them to wear or remove their face mask.
Northam said that while the guidelines only apply to children over the age of 10, he said he strongly recommends them for children over the age of 3.
Northam said masks "don't need to be medical grade," and suggested homemade coverings as needed.
"All you need is a piece of cloth and a rubber band," Northam said.
At the same time, he acknowledged compliance will still be "difficult for some of our most vulnerable populations."
"Throughout this pandemic we've seen community groups step up to help out, and I hope that will be the case here," Northam said, adding that his administration will also work to provide face masks to "targeted, at-risk populations."
Workplace safety
Also Tuesday, Northam said he has directed the Virginia Department of Labor and Industry to develop new workplace safety regulations around COVID-19. The new regulations for businesses will include new protective equipment and sanitation requirements for all workplaces, including those with limited public interaction.
Mercer said the new regulations will be offered up for public comment in the coming weeks.
Republican leaders in the Virginia House and Senate argued that the mask order will be an undue burden on residents and businesses and they accused Northam of hypocrisy.
"Requiring Virginia's businesses to enforce this mandate under threat of action by the Department of Health only adds to the incredible and stifling burdens placed upon them by the Democrat majority and the governor this year," Senate Republicans, led by Minority Leader Tommy Norment, R-James City, said in a statement.
The House GOP caucus, led by Minority Leader Todd Gilbert, R-Shenandoah, said in a statement: "It is unconscionable to require businesses to enforce a government mandate under threat of sanction from government agencies. … Virginians would be much more likely to follow the suggestions of a leader who instills confidence and leads with consistency."
(804) 649-6254
Twitter: @MelLeonor_
Paul Whelan contributed to this report.
The business news you need
With a weekly newsletter looking back at local history.