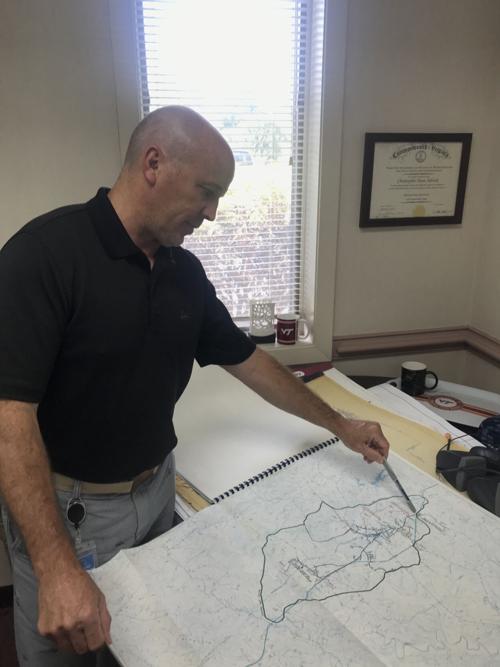 DRY FORK — The last master plan for water and wastewater services in Pittsylvania County was developed in 1991.
Most of the proposed projects have either been completed or are no longer relevant due to changing population needs. For instance, an expansion in Motley was left behind, while an expansion of water and wastewater systems along U.S 58 actually extended all the way to the Henry County line, past the original recommendation.
After absorbing the Pittsylvania County Service Authority into a newly formed public works department on July 1, the county is seeking companies that can develop a new master plan for wastewater and water. The plan should evaluate the "capacity and condition of existing" systems, develop a range of short-, mid- and long-term goals, and analyze whether any changes in rates are needed, according to the request for proposals.
"This study will help look at the areas that people desire to live in and that will help push us in a direction to expand our infrastructure down the road," said Chris Adcock, director of the service authority who has also taken on the role of public works director. 
The request for proposals, which was first released earlier in July, will expire Aug. 17. Adcock said the company that will develop the plan should be chosen sometime in September.
At this time, there are four primary providers of water and wastewater service in Pittsylvania County. The largest of the four, Pittsylvania County Service Authority, has roughly 3,400 residential customers and has service that largely follows the U.S. 29, U.S. 58, and Va. 41 corridors. More of those customers have water than wastewater service, Adcock said, which is a reflection of the previous era when setting up a septic system and drain field didn't involve as many regulations.
The other three providers are the towns of Chatham, Gretna and Hurt, each of which have smaller systems that service the towns and sometimes connect with the Service Authority's infrastructure. For instance, both the towns of Hurt and Chatham sell water to the Pittsylvania County Service Authority.
Both the presence and quality of water and wastewater infrastructure plays a major role in attracting businesses to the county, said Pittsylvania County Economic Development Director Matt Rowe.
"At the end of the day, the company wants to have the assurance that infrastructure is there or can be there in a certain amount of time," Rowe said.
Rowe said he has several sites in mind where water and wastewater expansions would be helpful, but he would not say where they are. 
Over the last 15 years, the service authority has not done very much residential expansion, Adcock said, mostly because there has been minimal residential development. For the new plan, Adcock imagines that the Twin Springs area will be a target for expansion projects. 
"That area is very popular with new residential [growth]," Adcock said. 
Two multi-million dollar expansion and interconnection projects that have been discussed have been put on hold largely due to concerns with COVID-19. Hurt officials were mulling a $5 million expansion of their municipal wastewater system, one that would add roughly 199 customers from the southeastern section of town, but that project has been put on hold, said Hurt Mayor Gary Hodnett. 
A new water line proposed by the Pittsylvania County Service Authority last year would run along Stony Mill School Road, Stony Mill Road, Mount Cross Road and incur a total price tag of between $11.6 million and $13.6 million, but that project has been on hold due to the coronavirus, Adcock said.
Three Pittsylvania County schools — Stony Mill Elementary, Tunstall Middle School and Tunstall High School — would connect to the line if it were to be installed. Funding the line, which would cost between $19,000 and $22,000 per each of the 600 new customers that could be serviced, would require obtaining loans from the Virginia Resource Authority and raising rates.
The average monthly water use for residential homes connected to the service authority is about 4,500 gallons. The current rates of $23 for the first 4,000 gallons and $7 for every additional thousand gallons have been in place since 2013.
Decisions regarding rate increases won't be made until after the results of the master plan come back, Adcock said.
The business news you need
With a weekly newsletter looking back at local history.