"This recipe checks all the salty, sweet and spicy boxes for a binge-worthy, party-ready snack mix," quips chef Alekka Sweeney out of Pittsburgh, Pennsylvania. "Though the recipe doesn't call for much of the Thai red curry paste, it's definitely worth it for its complexity of flavor." Sweeney finds the mix stays fresh up to two weeks if tightly sealed. If necessary, any leftovers can be returned to a 350°F oven 5 to 10 minutes to return its crunch.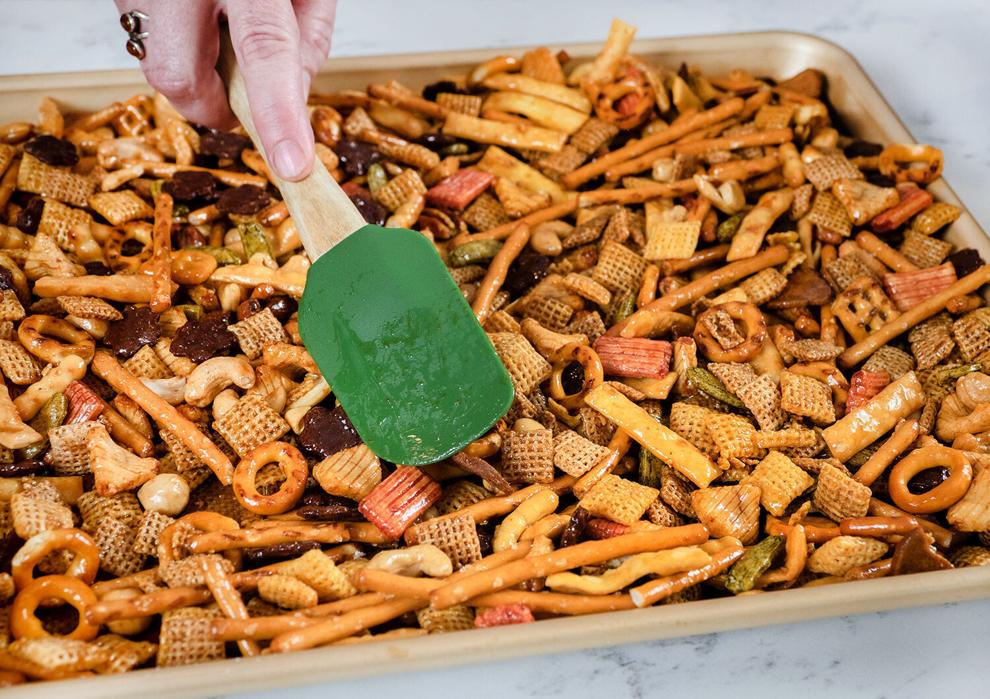 ---
Maple & Soy Snack Mix
½ cup unsalted butter (1 stick)
¼ cup maple syrup, preferably dark robust- or strong-flavored syrup
3 Tbsp soy sauce
1½ tsp Thai red curry paste or sambal oelek
12 oz mixed roasted, salted nuts, such as almonds, cashews, pistachios and peanuts (about 3 cups)
6 cups rice Chex cereal
1½ cups Asian rice cracker mix
1½ cups pretzel nuggets or mini pretzels
1½ cups sesame sticks
freshly ground black pepper
kosher salt
Preheat oven to 275°F. In small saucepan, heat butter, maple syrup, soy sauce and curry paste over medium-low heat until butter melts and mixture simmers, whisking to dissolve curry paste. Meanwhile, in large bowl, toss nuts with cereal, rice cracker mix, pretzels and sesame sticks.
Pour syrup mixture over nut mixture and toss well to coat completely. Add salt and pepper to taste and toss again. Line 2 large cookie sheets with silicone baking mats or parchment paper sprayed with nonstick cooking spray. Spread mixture evening on pans. Bake 35 minutes, stirring 2 or 3 times and rotating cookie sheets halfway through baking. Bake until nearly dry and mixture browns slightly. Cool mixture completely on baking sheets, stirring occasionally; mixture will crisp as it cools. If not serving right away, transfer to airtight containers and store at room temperature up to 2 weeks.