Ah, Crème Brûlée. With its traditional combination of flavors: eggs, heavy cream and sugar you're always guaranteed a delectable dessert. But this dish doesn't have to be stuck in the dessert-only category. Why not have it for breakfast, too?
Today I'm sharing my all-time favorite (yes, I said it!) brunch recipe. Crème Brûlée French toast is perfectly sweet and hearty, as well as pleasing to the palate. Let's dive in.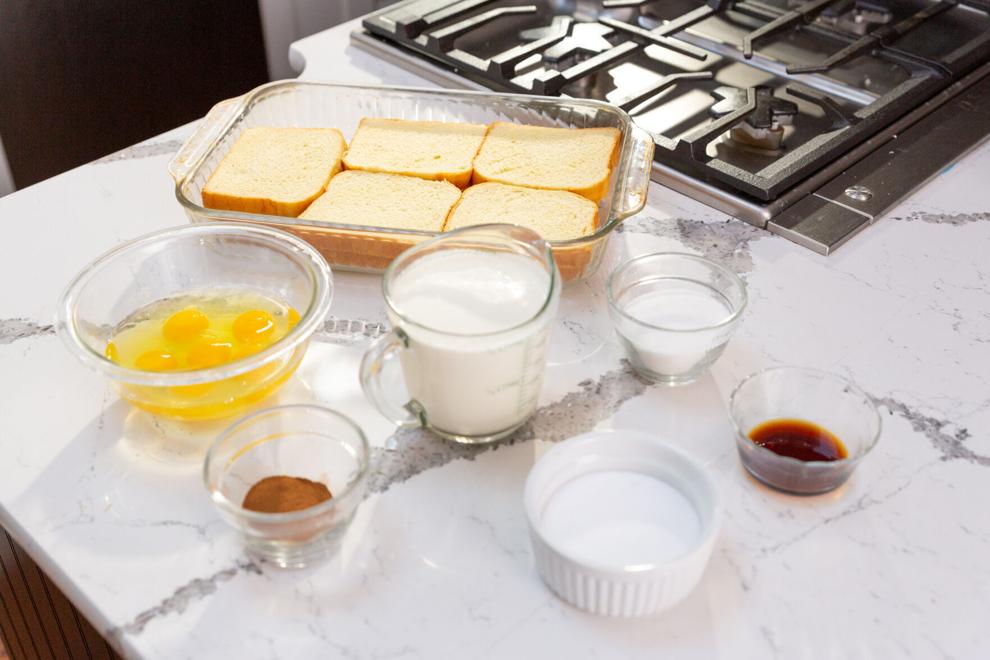 Start by whipping your eggs until combined. You'll add cinnamon and nutmeg into your egg mixture – and don't be shy. These two seasonings go a long way and are often hard to overdo. Next, the heavy cream, sugar and a pinch (not too much!) of salt. Combine all of these ingredients together and let the flavors get to know each other a bit.
Now for the star of the show: brioche bread. This particular bread is ideal for our Crème Brûlée French toast because it is soft and sponge-like, which ensures optimal absorption and texture. Brioche soaks up all of the creamy goodness before it makes its way to the oven.
Chef's tip: Buy an uncut brioche loaf. That way, you are in control of the thickness of each slice.
It's dipping time. Each piece of bread will take a dunk into our wet mixture, front and back. I suggest really getting your hands in there! After coating each piece, add them to a greased baking sheet and have your oven ready.
Flipping is key – do so with every piece halfway through. Once the brioche is looking golden brown, we're ready to add the signature part of every great crème Brûlée: a caramelized crust!
After all, the crunchy topping is what takes this dish to the next level. Sprinkle sugar on each slice and pop them back in the oven on broil and let the oven do its job. The result is a crunchy top that makes for the perfect bite.
Lastly, toppings! Go crazy – add nuts, berries and of course, maple syrup. Feel free to serve this at your next holiday brunch, or simply indulge all to yourself. Either way, there's a chance you'll never want your traditional French toast ever again.
Creme Brûlée French Toast
1lb loaf brioche bread, thick-sliced
6 whole eggs
2 cups heavy cream
1 Tbsp cinnamon
Pinch of nutmeg
Pinch of salt
2 Tbsp vanilla extract (or substitute vanilla paste)
1 Tbsp butter or cooking spray for greasing the pan
1/2 cup granulated sugar
Additional sugar for caramelization
|Preparation| Preheat oven to 375°F, bringing it to desired temperature before inserting the French toast.
Combine eggs, heavy cream, cinnamon, nutmeg, salt, sugar and vanilla in mixing bowl; whisk vigorously until all ingredients combine. 
Lay bread in a shallow baking dish; pour mixture over slices. Let sit for 10-20 minutes, flip over for another 15 minutes to coat both sides evenly. Most of the liquid should be absorbed.
Grease pan with cooking spray or butter. Add soaked slices to pan and place in the oven for about 10 minutes, flipping only once until golden brown on each side.
To add caramelized sugar layer, add thin layer of sugar to the top of each piece of cooked French toast and caramelize until golden brown in the broiler. You can also use a cooking torch if you have one. Then, add whatever toppings you like.