The portly and petite French bulldog is an ideal canine companion: They don't bark much, prefer snuggles and indoor play to long walks or games of catch and retain their puppy-like stature all their lives.
Their popularity makes them a frequent target for theft, though.
Perhaps the highest-profile case of French bulldog theft happened this week, when two of Lady Gaga's dogs were stolen after unknown assailants shot her dog walker in the chest.
"This is a particularly horrific incident," dog trainer Victoria Stilwell told HLN's Elizabeth Prann on Friday. "But unfortunately, dog theft is not."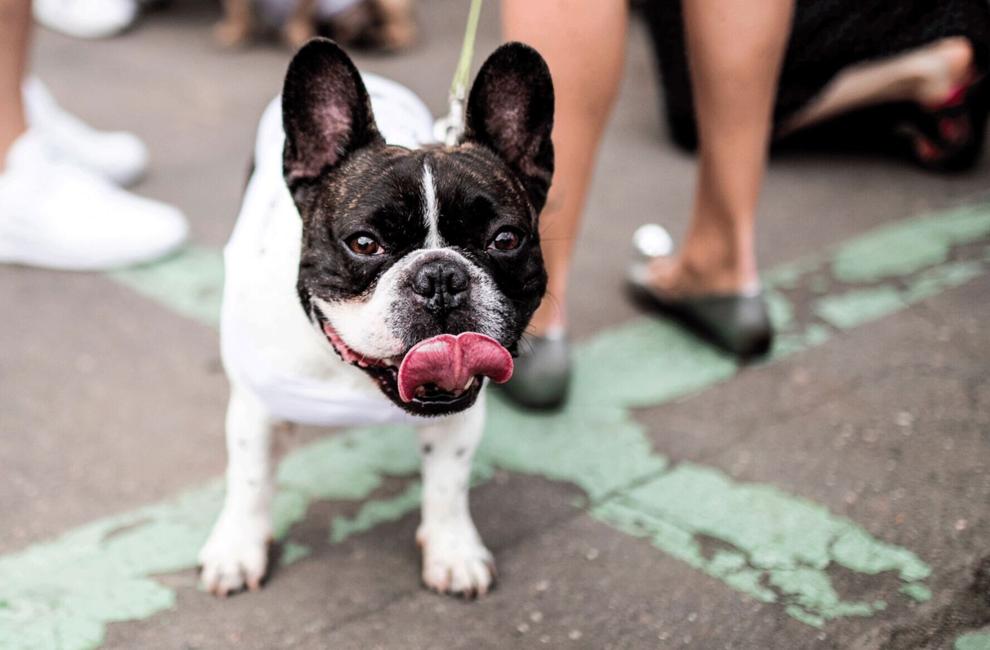 French bulldogs, the fourth most popular dog breed in the U.S. (and the smallest breed among the top five), are often preyed upon by dognappers for the same qualities that make them such beloved pets. The best way to keep them safe is to stay vigilant and within your sight, canine experts say.
They're in high demand
French bulldogs are one of the "it" breeds of the 21st century: Their adorably flat faces and affectionate attitudes endear them to owners and breed admirers.
But the higher their demand, the more likely theft becomes, said Brandi Hunter, vice president of public relations and communications at the American Kennel Club.
"Smaller breeds are more appealing for theft, and French bulldogs are wildly popular right now," Hunter told CNN. "The demand for the breed is higher than the supply so they are often a more targeted breed."
They're small and easy to steal
The breed's size makes it a relatively easy target. According to the AKC, Frenchies can weigh up to 28 pounds and don't grow more than a foot in height.
"They're just easy to access; they're easy to grab," Stillwell said. "So if people leave their dogs of any breed in the front of backyard, unattended, that's an easy grab."
They're expensive
Because the breed is so in demand, French bulldog puppies can fetch between $1,500 and $5,000 or even higher, a restrictive price range for many prospective French bulldog owners, Hunter said.
"Thieves generally know how popular these dogs are, what they cost, and how much people are willing to pay for them," Hunter said.
Their value also leads some to steal French bulldogs for breeding purposes, Stilwell said.
"If they're not spayed or neutered, they will make good breeding stock, so people can make money for their puppies," she said.
How to keep your Frenchie safe
Watch your dog. Dogs are easier targets when they're left alone, even if they're just in your yard. Keep an eye on them at all times, Hunter said.
Microchip your pup. If your dog becomes lost or is stolen, your pet's microchip can tell the people who find it or the veterinarian who treats it that it belongs to you, Stilwell said. It's also a good idea to keep an ID tag on your dog.
Spray or neuter it. To prevent a stolen dog from being used to breed, spray or neuter your dog when it's old enough, Stilwell said.
Use social media carefully. Try not to disclose any identifying information on your social media platforms, Hunter suggests. People who prey on French bulldogs could find your dog this way.
Keep your dog leashed on a hiking trail
Here are six reasons you should keep your dog leashed on a trail, plus more tips for a safe hike and some dog-friendly historical walking tours.
6 reasons to keep your dog leashed on hiking trail
To protect your animal from predators
Sure, your poodles might be descendants of the mighty wolf, but allowing them to travel the trail off-leash in a natural space still poses a number of threats. One major threat is that domesticated animals often tend to be targeted by predators.
While coyotes have been known to attack leashed dogs, keeping them close to you can act as a good deterrent. This also helps you avoid the risk of your dog triggering a predator while off-leash before fleeing to you with the predator behind in tow.
To protect your animal from trail hazards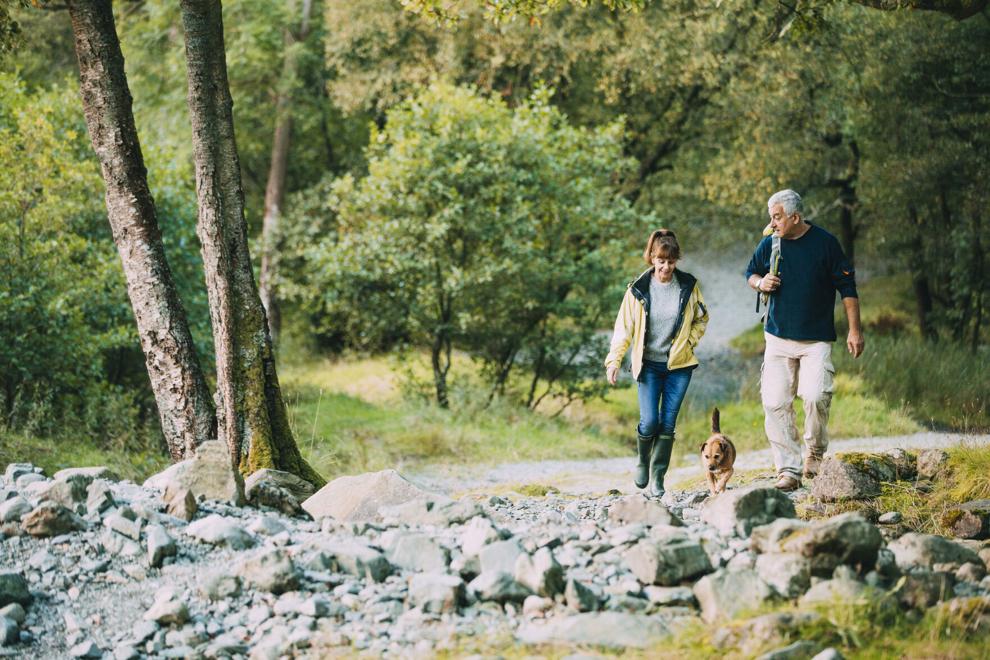 Multiple times a year there are dog rescues that could be avoided entirely had the animal simply been kept on a leash in a dangerous situation. This begs the question: How many dogs die due to trail hazards, but simply aren't covered in the media?
From hidden mine shafts to raging rivers to massive cliff-drops and beyond, keeping your dog on a leash helps keep them away from these hazards that they may not fully understand with their canine brain.
For the safety of other hikers
While all hikers seem to think their dog "isn't aggressive," exploring a new trail can sometimes result in a dog displaying uncharacteristic behaviors, especially if they encounter a new situation that makes them feel threatened. When an unleashed dog on the trail displays aggressive or overly excited behavior, many hikers perceive this as a danger and respond accordingly, sometimes even shooting dogs that are off-leash.
If your dog is off-leash, it also will be likely to go off-trail. On some terrain, this can pose a major rockslide risk that can seriously injure or kill you or other hikers.
For the safety of wildlife
If a dog spots wildlife, there's a good chance it will want to chase it. When this happens, it stresses out an animal, something that can lead to death in itself. Keep your dog on a leash to prevent interactions that may result in wildlife being maimed or killed.
To preserve the local ecosystem
Because dogs aren't eating a diet that's made up of what's found within an ecosystem, their feces poses the risk of introducing foreign bacteria and germs to an area. An off-leash dog is more likely to poop in an area where it's unsafe or irresponsible to retrieve their feces. However, by leaving it behind, it can introduce things that may harm the local ecosystem.
Introducing off-leash dogs to an area can also cause wildlife to flee for good. Most wildlife is more likely to leave an area if there's an added risk, rather than stay and adapt. When wildlife leaves an area, even a single species, it can impact an entire ecosystem. For example, consider that a local squirrel population may be eating seeds that help keep a certain invasive plant species under control. When the squirrels leave because of the dogs, this invasive species may be able to gain the foothold it needs to spread, limiting native plant life in an area for generations to come.
For the sake of other dogs
Your dog might be friendly, but that leashed dog approaching on the trail might not be. While that owner is following the rules, the approach of your unleashed dog may trigger the other animal, resulting in a negative experience and possible injury or death.
Yeah, yeah, yeah ... they shouldn't have an aggressive dog on the trail in the first place. But they do. And now your dog is in the emergency room fighting for its life because you were unable to pull your animal away. No one wants that.
Getting the Most Out of Hiking with your Dog
Dogs love walks, and they love the outdoors, which make hiking a truly great activity to do with your pup. You'll both get exercise, enjoy the beauty of nature, and, best of all, make irreplaceable memories. Before you grab your hiking gear and head out, however, there are a few things to consider. To ensure your hiking trip is a great adventure, you and your dog must be capable and prepared. Here are our tips to help you gear up for a safe and happy hiking experience.
Shape up!
Unless you know with absolute certainty that you and your pup are in the right condition to do so, it's a bad idea to start off with an epic 20-mile hike up steep inclines. Instead, make the 20-mile hike your end goal, and work up to it.
If you and your pet are hiking newbies, take it slow and build up your strength and endurance together. Keep in mind that to do a five-mile hike, you should both be capable of walking ten miles with minimal distress. Start off taking incrementally longer walks on local bike trails, where you can easily set a time limit and head back to your car when you're done. Then try short, easy hikes on park trails.
If you're a hiker, but your dog is a newbie, consider his fitness level, temperament, and age before starting. Is your pooch a couch lounger in serious need of more exercise?  If so, start him off slowly on short trail loops. Make it fun; let him pause to sniff or look at anything he finds interesting, and give him praise and treats for cooperating. Then slowly build him up to longer, more difficult hikes.
Is your pooch a backyard dynamo in need of a place to burn some energy? Make sure he is under voice and/or leash control, and start him out at a slow pace on local bike trails to see how well he does staying by your side and accommodating your stride. If he struggles to restrain himself, pulls at the leash, or is constantly distracted, he may need more training before you hit the trails. The last thing you want is to lose control of a high-energy dog in the middle of the woods. If he does well, and you're reasonably fit, you can probably start out with a trail that's a little more challenging than your average short loop.
Dogs should be up-to-date on vaccinations and in good health before going on extended hikes.  Being familiar with pet CPR is recommended for all pet parents. However, it's essential when hiking or partaking in similar adventures.  Also, it's important to note that brachycephalic dog breeds don't make the best hiking partners, as they are prone to breathing issues.
Be weather-ready
Before setting out on any given trail, it's important to be aware of any weather conditions that could cause issues during your hike. Checking the weather and planning accordingly is key to avoiding a ruined, or even disastrous trip. 
Heat exhaustion is real, and it's dangerous. During hot weather, do intensive hiking during the coolest parts of the day, and plan a picnic in the shade or a dip in a stream for the hottest part of the day. Or, time your whole hike for the early morning or late afternoon hours. Be sure to bring enough water for you and your pup. Dress properly for cold weather hikes, and bring a jacket for your dog if necessary.  Carry ponchos in case of rain, and have a safety plan in place for an unexpected thunderstorm.
Select an ideal trail
Most dogs are not well-adapted for rough terrain. Choose well-traveled, dirt-packed trails for sure footing. In addition, choose trails with clearly visible signs, blazes and markers to avoid getting lost or accidentally wandering off-trail. State parks, nature preserves, managed forests, and green belt systems are usually well-maintained, well-signalled, and designed for easy navigation. National parks can also be a good option, but only a few allow dogs on the trails, and those that do require leashes.
Don't lose your way
Don't ever assume a trail loop will be simple.  Even the smallest parks can have several intersecting trails, as well as paths that look like trails, but aren't. Print out a trail map to take with you, or grab one at the park office when you arrive. Study it carefully, and if you're not proficient with trail maps, this is your chance to learn to read them!
Stay on marked paths, and if you do lose your way, turning around and going back the way you came is better than venturing onto a new, unfamiliar path. If there's a sign-up sheet for a trail you've chosen to hike, jot your name down, say hello to the staff, and introduce them to your dog.  Do your best to be memorable--it will help ensure you'll be missed and looked for if you don't return in a reasonable amount of time. 
Choose your gear wisely
Be sure to pick a comfortable harness that works best for your dog. The right harness should also help you lift your dog if necessary. Hydration is the most important safety factor for hiking, so be sure your pack can accommodate at least 3 liters of water along with snacks, and a first aid kit. 
If you choose to outfit your pooch with a backpack, keep in mind that he'll need to get used to it before he goes on a real hike with it. Introduce it slowly over time, and add weight incrementally until he can carry heavier loads, while keeping in mind that dogs can only carry a maximum of 15 percent of their body weight. Make sure the pack's weight is distributed evenly on each side. If you add water to his pack, have him drink that water first, rather than any water you're carrying, to ensure his load gets lighter with time. 
Dog booties sound silly at first, but protection for your dog's feet is a wise investment. They aren't necessary for everyday hikes, but they're invaluable if your dog gets a paw injury. Make sure you get your dog used to wearing them so he doesn't resist when you try to put one on. 
Always bring your phone, with the location tracker switched to on, and bring a portable battery pack.
Train your dog in hiking etiquette
Make sure your dog is up to snuff when it comes to loose-leash training. Giving him enough slack to explore and have fun is impossible if he lacks discipline. Most people know the importance of voice recall training, but training your dog to "check in" with you when you pass distractions or other hikers is essential, too, as it will keep him from chasing interesting things or intruding on other people's space. 
An off-leash trail is not an etiquette-free trail. It doesn't mean your dog is welcome to approach another person or dog, chase after wildlife, or roam freely anywhere he likes. To ensure that he maintains appropriate boundaries, consider using a long-line leash instead of letting him go completely off-leash.
Be courteous on the trails
There is an etiquette system on trails, and it's important to know and follow it. Pedestrians have the right of way to bicycles. People going uphill on a trail system have the right of way to people going downhill. Always move to the side of the trail and let people pass you easily. If you are coming upon fellow hikers in either direction, announce the presence of you and your dog. They will very much welcome this act of courtesy.
Following these simple tips will help ensure that you and your pet have happy and healthy hiking experiences for many years to come.  Have fun and stay safe!
About TripsWithPets
TripsWithPets has been helping pet parents find pet friendly accommodations since 2003. TripsWithPets provides online reservations at over 30,000 pet friendly hotels & accommodations across the U.S. and Canada. You'll find thousands of pet-friendly destinations like Bismarck, ND, Waco, TX, and Lake Geneva, WI. When planning a trip, pet parents go to TripsWithPets.com for all they need to book the perfect hotel for their pet -- including detailed, up-to-date information on hotel pet policies and pet amenities.
America's Best Historical Walking Tours (And They're Dog-Friendly, Too!)
Road trips aren't just about dining out and relaxing - they're about exploring something new!  Historical walking tours are a great way to learn about a place and understand its unique history and culture.  Many famous American cities and towns offer fun and engaging tours that take you right into the sights, sounds, and smells of the past. Best of all, many of the tours welcome dogs to join in, making them a perfect activity to enjoy with your furry sidekick!
War Eagle Cavern Tours
Part historical tour, part nature excursion, War Eagle Canyon tour offers a novel experience through a lush Arkansas landscape. Located at the edge of Beaver Lake, War Eagle Canyon is the only Arkansas canyon to feature a lakeside entrance. Follow your guide down wide, easy-to-navigate passageways along stream edges, where you'll see breathtaking cavern formations, and learn how early man (and dog!) lived. The tour is an hour long, and afterward, you and your pooch can try out the attraction's "Lost in the Woods" Maze, or hike the surrounding forest trails.
Skaneateles Historical Walking Tour
This one-of-a-kind, self-guided tour takes people and their pets along the picturesque Skaneateles Lake through the Skaneateles village.  As you wind through the charming old streets, you'll learn about the village's earliest settlers.  There are historic homes, inns, and churches to see while touring, some of which date all the way back to the 18th century.
Oliver Bentley's Historic Dog Walk Tour
Shrouded in history and mystery, Savannah is one of the South's most beautiful and iconic locations. The city offers a number of historic tours, but Oliver Bentley's is tailored to those visiting the Hostess City with their pooches. This mile-long walk through the Historic District begins at Oglethorpe Square, and takes you through 7 of Savannah's 22 iconic squares. These lush green spaces are staggered throughout the downtown area, and feature colorful azaleas, live oaks draped with Spanish moss, and centuries of history to explore. The tour lasts roughly 90 to 120 minutes, and there are plenty of places for you and your dog to stop and rest. And if your pup is feeling peckish, no worries--Oliver Bentley's makes their own premium dog treats!
Tombstone Walking Tour
Tombstone is one of America's most iconic Western sites, and you and your pup can learn all about its fascinating history together! This highly-acclaimed walking tour is popular with visitors, and not just because it explores Tombstone's landmarks, gunfights, and famous residents. The tour's guide, Dr. Jay, has perfected the art of balancing fun and information, by offering visitors a memorable experience in a style he calls "edutainment."
Bulldog Walking Tours
Bulldog welcomes well-behaved, leashed dogs to join in several different outdoor tours of historic Charleston, as long as they are not disruptive to other visitors. Together, you and your pup can uncover centuries-deep layers of Charleston's storied past, and see some of the city's best-loved sites. Bulldog's founders have a deep and genuine love for the people, culture, food, and history of Charleston, and it shows - they were voted best tour company
Moonshine + Whiskey History Walking Tour
This self-guided tour is a memorable trek through one of the South's most fascinating historical periods. You and your pup will learn all about Tennessee's "spirited" past as you visit three distinct distilleries that form part of the Tennessee Whiskey Trail. See how whiskey shaped Tennessee's history before, during, and after Prohibition, and discover the secret to why the Smoky Mountains were so integral to Gatlinburg's moonshine culture. Plus, get a peek into a present-day working distillery to see how the process has changed, and how it has stayed the same!
About TripsWithPets
TripsWithPets has been helping pet parents find pet friendly accommodations since 2003. TripsWithPets provides online reservations at over 30,000 pet friendly hotels & accommodations across the U.S. and Canada. You'll find thousands of pet-friendly destinations like Greensboro, NC, Atlantic City, NJ, and Flagstaff, AZ. When planning a trip, pet parents go to TripsWithPets.com for all they need to book the perfect hotel for their pet -- including detailed, up-to-date information on hotel pet policies and pet amenities.
The-CNN-Wire
™ & © 2021 Cable News Network, Inc., a WarnerMedia Company. All rights reserved.