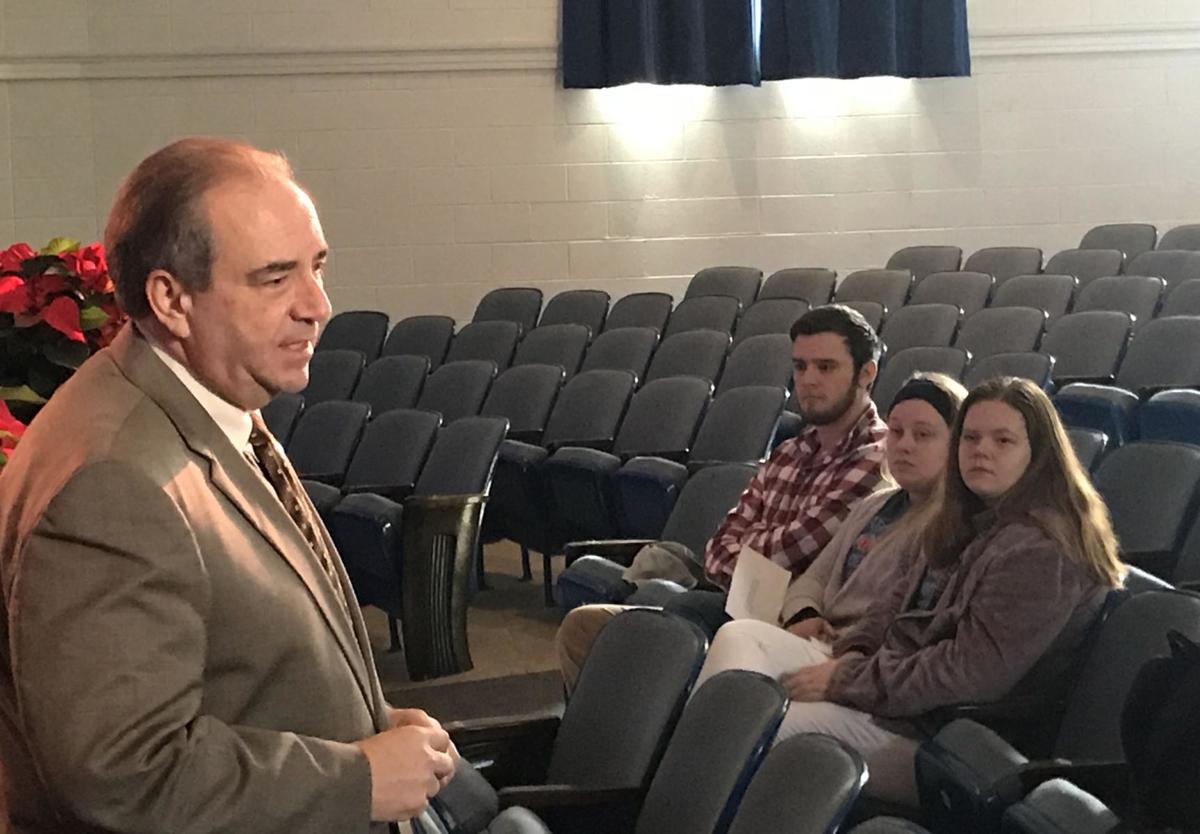 The system of government is broken because of ideological extremism and lack of compromise, former Lt. Gov. Bill Bolling said during a speech Tuesday at Averett University.
"We're really living in a time of broken government," Bolling, a Republican, told about 60-70 Averett students and officials in the school's Frith Fine Arts Center.
That brokenness in government is a reflection of a broader divisiveness in the country, Bolling said.
Bolling's presentation was part of Averett's new monthly Truth Talk Series by Averett's Center for Community Engagement and Career Competitiveness. The center and Averett's Office of Student Life held the event.
Billy Wooten, executive director of the center, said he started the series to create a safe space to tackle controversial topics and talk about how to improve Averett, Danville and society as a whole.
"The way we can create social change is by talking about them," Wooten said during an interview just before Bolling's speech. "Get the issues on the table and we can work toward change."
Bolling served as lieutenant governor under Democratic Gov. Tim Kaine and Republican Gov. Bob McDonnell.
During her introduction of Bolling, Averett President Tiffany Franks said, "Government matters. It shapes how we do business and how effectively we can do business."
But the level of incivility in government and in society has increased greatly.
"Today, we're reaching new heights of discourteous discourse," Franks said.
Bolling, senior fellow-in-residence for public service at James Madison University, said during his presentation that America "is living James Madison's nightmare," a line he borrowed from a recent headline from The Atlantic magazine.
In "The Federalist Papers," Madison warned that if a democracy lost three things — civic engagement, civil conversation and compromise — it would devolve into mob rule with the most extremist elements of both political sides in control, Bolling said.
That is happening in America now, he said.
"In the last decade, our country has seen a seismic shift in our political culture," Bolling said. "It's led to hyper-partisanship."
The country has gone through similar turmoil before — the American Revolution during the 1770s, the Civil War during the 1860s and the civil rights era in the 1960s. During his presentation, he showed slides of the Unite the Right rally in Charlottesville in August 2017 and images from Pittsburg, where the synagogue shooting happened last month.
Republicans and Democrats are selecting the most extreme conservative and liberal candidates to run for office and when they're elected, that results in a wide ideological gap within the government, which in turn brings a lack of compromise, he said.
That has left unresolved issues in the federal government: the federal budget, the national debt and deficit and how to handle immigration, he said. It also affects state government, he added.
"It's beginning to become more and more prevalent in Richmond," he said, referring to it as the "Washingtonization of Richmond."
"We've lost our ability to compromise," he said. "Compromise is the essence of a democracy."
About 40 percent of Americans are on the extreme ends of right and left, with 20 percent on each side, he said. The 60 percent in the middle is the "exhausted majority," he said.
Social media and "advocacy news and advocacy television" have contributed to the divide, he said, pointing to Rachel Maddow and Van Jones on the left and Rush Limbaugh and Sean Hannity as examples on the right.
"This is not news, this is advocacy news and advocacy television," Bolling said.
As for social media, "People say things on social media they would never say to your face," he said.
What would help solve the divide? Becoming more engaged in civil discussion and more informed by reading and viewing a wide variety of news from legitimate sources instead of social media, or "fake news," Bolling said.
Danville City Councilman Madison Whittle asked Bolling what would be a reliable news source. Bolling pointed to Reuters as a balanced outlet.
"The mainstream media has always had bias," Bolling said. "But I think they try to report the news factually."
Bolling presented statistics illustrating the lack of engagement — as well as faith in the federal government — among American citizens.
Nearly 75 percent of Americans believe politicians put their own interests ahead of that of the country, he said. Just 19 percent trust the federal government most or all of the time. About 55 percent believe ordinary Americans would do a better job of solving problems than the current crop of politicians.
The saddest statistic of all? Ten percent of college graduates believe Judge Judy sits on the U.S. Supreme Court, he said.