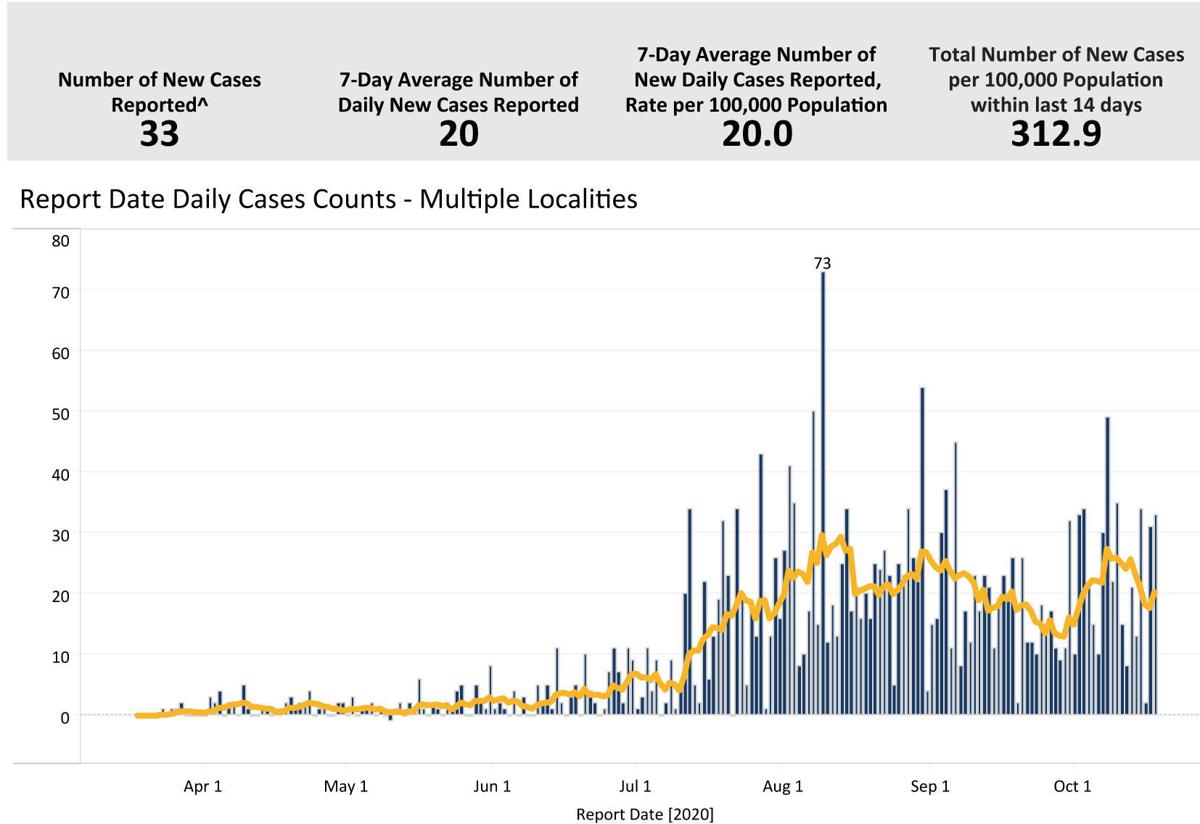 Three more Pittsylvania County residents have died from COVID-19, bringing the death toll to 53 for the Pittsylvania- Danville Health District, online data shows.
So far this month, 15 fatalities have been recorded from the illness caused by the novel coronavirus in the local health district. There were 18 deaths amassed in September, which so far has been the deadliest month for the pandemic.
As of Sunday, 38 deaths were listed for Danville, and Pittsylvania County's toll was at 15.
The latest deaths include two women and one man. Two were in their 70s and the other was 80 or older, according to basic demographic data. The Virginia Department of Health does not comment on individual deaths, and only basic information is recorded online.
It's never clear when the deaths occurred since the health department must wait to receive the death certificate. That process can be delayed by weeks or more, officials have previously noted.
Of the 53 deaths recorded, eight are classified as probable. The health department declares a probable COVID-19 case when someone is showing the signs of the illness and had close contact with someone else who tested positive.
Danville and Pittsylvania County together added 33 new cases in Sunday morning's update from the health department. An online database is refreshed daily by about 10 a.m. and reflects information received by 5 p.m. the previous day. In total since the start of the pandemic, the local health district has recorded 2,341 cases of COVID-19: 1,123 in Danville and 1,218 in Pittsylvania County.
In the last week there were 142 new cases added to the tally.
A trend of increasing cases started with an outbreak at the Danville City Jail earlier this month that infected more than 100 inmates and staff members.
No new outbreaks have been noted for the Pittsylvania-Danville Health District since the one at the jail was officially added in Tuesday's report. Three Danville long-term care facilities — Brookdale Danville Piedmont, Roman Eagle Memorial Home and Riverside Health & Rehabilitation Center — are still classified as having outbreaks in progress, but no new cases or deaths have been recorded online.
One notable uptick is the number of health workers with COVID-19. A dozen more health care workers have been infected in the past week, bringing the total to 136.
As of Sunday, there were 166,128 cases of COVID-19 in Virginia — an increase of 900 from the previous day — and 3,433 deaths.
Concerned about COVID-19?
Sign up now to get the most recent coronavirus headlines and other important local and national news sent to your email inbox daily.