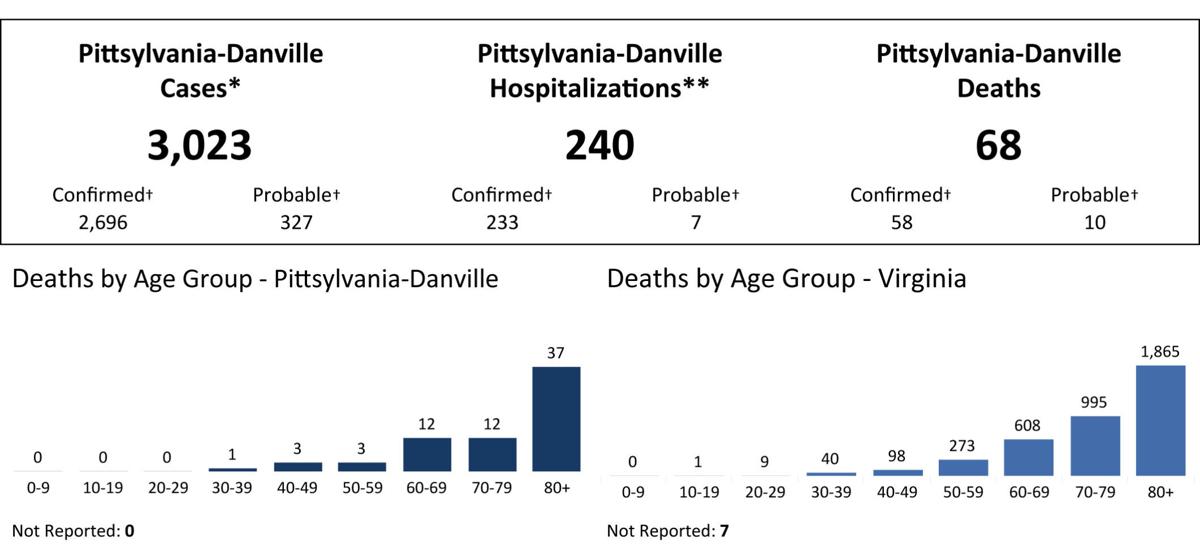 Three more residents of Pittsylvania County have died of COVID-19, the Virginia Health Department reported Thursday morning.
One resident was over 80 and the other two were in their 70s. Two were women and the third's gender was not reported.
Beyond basic demographic information, little is publicly known about an individual when he or she dies from the illness caused by the novel coronavirus. The health department does not comment on individual deaths, and it's never clear when the death occurred. It sometimes takes weeks for a fatality to show up in an official database, because the VDH must wait for a death certificate to arrive before recording the information.
The deaths, just like cases, are recorded in a person's official place of residence.
The three fatalities were among 36 new deaths reported across Virginia in Thursday's dashboard update from the health department.
In all, 68 residents of the Pittsylvania-Danville Health District have died from COVID-19. The majority — 37 — of those deaths were in residents older than the age of 80.
Danville and Pittsylvania County combined surpassed the 3,000 mark on Wednesday for virus cases. As of Thursday there were 3,023.
Outbreaks
Three new outbreaks have surfaced this week in the local health district, and at least one of those is at a long-term-care facility. Two dozen cases were added this week to the tally of infections associated with outbreaks, and 13 health care workers have also tested positive, according to the health department.
Since the pandemic began in March, 22 outbreaks have been identified by health officials locally. Eight of those were in long-term-care facilities.
Data from the Virginia Long Term Care Task Force only lists a current outbreak at Stratford Rehabilitation Center in Danville. In that outbreak, reported Oct. 13, eight people tested positive for COVID-19.
A lag has been previously noted from when the health department lists an outbreak and it appears on the task force's website.
Another eight outbreaks have been reported in congregate settings, which includes a wide range of settings, such as businesses and churches.
Testing
The local district is averaging about 23 new cases a day with a 8.5% positive rate. That figure calculates the number of positive results against the amount of tests administered.
While zig-zagging week to week, the rate has remained about the same since hitting a low of 4.6% in September.
The statewide average has slowly climbed to 7.1%, a trend that's worrying officials around the commonwealth. A rise in the percent positive can indicate an upcoming wave of new cases, officials have previously reported.
There are about 200 tests given a day in Danville and Pittsylvania County, down from about 320 in September.
Thursday's numbers
| Location | Cases | Deaths |
| --- | --- | --- |
| Danville | 1,469 | 47 |
| Pittsylvania County | 1,554 | 21 |
| Halifax County | 752 | 12 |
| Mecklenburg County | 958 | 35 |
| Henry County | 1,652 | 39 |
| Martinsville | 595 | 24 |
| Virginia | 210,787 | 3,896 |