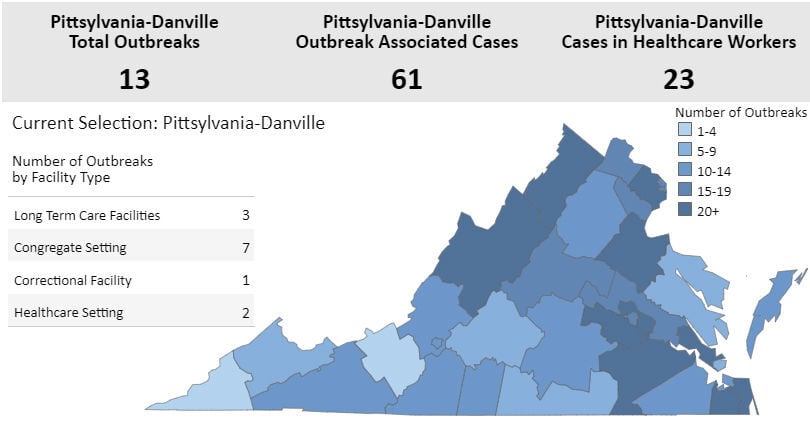 Another facility in Danville has been hit with a COVID-19 outbreak. 
Four clients and four staff members at Southern Virginia Mental Health Institute have tested positive for the coronavirus, according to the Virginia Department of Behavioral Health and Developmental Services. 
In addition, test results are pending for four more staff members at the facility, said department spokeswoman Lauren Cunningham. 
"Temperatures are taken of all staff to ensure they are not running a fever and self-quarantine is mandated for any staff who had to take a test for COVID-19," Cunningham said via email Monday.   
An outbreak is defined as a situation involving two or more lab-confirmed cases in a single location. 
Notice was given to staff within 24 hours of management learning there was a positive test of a staff member, Cunningham said. 
"SVMHI will continue to follow this communication practice going forward," she said. "SVMHI is also attempting to offer staff ongoing communication updates to maintain trust and diminish fear to the degree possible during this evolving situation."
Facility officials are working with the Virginia Department of Health and following its guidelines regarding admissions. SVMHI also is planning to conduct testing on clients and staff under guidance from officials with the health department and the department of behavioral health and developmental services. 
"Since the start of the COVID-19 pandemic, DBHDS and SVMHI staff have worked hard to prevent possible cases and plan for what to do, should there be one," Cunningham said. "This has included following [U.S. Centers for Disease Control and Prevention] guidelines for health care organizations, restricting visitation policies, further increasing infection control measures, and practicing social distancing among patients to minimize risk of exposure."
Dr. Scott Spillmann, director of the Pittsylvania-Danville Health District, would not comment about the outbreak. He referred questions to the facility or department of behavioral health and developmental services. 
"We cannot confirm or provide information on specific outbreaks beyond what is provided on the [Virginia Department of Health] website," Spillmann said via email Monday.
When reached Monday morning, an employee at the facility would not confirm or deny an outbreak there but referred questions to the health department. 
According to Monday morning numbers from the Virginia Health Department, there have been 13 outbreaks in the Pittsylvania-Danville Health District.
Riverside Health & Rehabilitation Center in Danville reported nine more coronavirus cases at its facility as of late Sunday, with six patients and three employees testing positive, administrator Adam Wiley wrote in a letter to employees. 
"With these additional cases, we currently have a total of 23 residents positive for the virus, two of whom are currently in the hospital, and 21 of whom remain in our center receiving care under isolation precautions," Wiley wrote. 
The facility has a total of 34 known cases — including 11 employees — since its first case on July 10, he added in the letter. 
Besides those at Riverside and SVMHI in the district, there have been outbreaks at Roman Eagle Memorial Home, Green Rock Correctional Center and Brookdale Danville Piedmont. 
The Dan River Region was hit with 43 more COVID-19 cases in one day Monday morning as the coronavirus continues to spread. 
As of Monday morning, there were a total of 560 cases in the Pittsylvania-Danville Health District, with 291 in Pittsylvania County and 269 in Danville, according to figures from the Virginia Department of Health. 
So far, there have been five deaths in the district. 
Of the 43 new cases, 22 were in Danville and 21 were in the county. 
Spillmann said some of the surge can be attributed to information being reported as test results come in from testing labs in batches. 
Also, more people are gathering while in Phase 3, giving the virus more opportunity to spread, and many are not taking proper precautions, Spillmann said. 
"There are still a substantial percentage of people not wearing face coverings when out, and social distancing seems to be relaxing," Spillmann said. "For the sake of those returning to school — students, faculty, staff/teachers — it is important that we all help by engaging in the proper healthy/hygiene behaviors."
The health department is planning more community testing, "primarily focused upon aspects of the community that we were not able to do earlier," he added. There are no specific dates scheduled, Spillmann said.
Virginia Gov. Ralph Northam said over the weekend that if COVID-19 numbers do not come down, he would take action.
"We will be watching the public health data closely over the weekend — if the numbers don't come down, we may have to take additional steps to blunt the spread of the virus," Northam wrote on Twitter on Saturday. "Wear a mask and practice social distancing so we don't have to move back. Be smart and stay safe."
Northam and the Virginia Emergency Support Team are scheduled to provide updates on the state's COVID-19 response at 2 p.m. Tuesday in Richmond. The event will be livestreamed on Twitter, Facebook and YouTube. 
As of Monday, there were 86,072 total coronavirus cases in the state, with 7,647 total hospitalizations and 2,082 total deaths, according to the Virginia Department of Health website.  
Crane reports for the Register & Bee. He can be reached at (434) 791-7987.
Concerned about COVID-19?
Sign up now to get the most recent coronavirus headlines and other important local and national news sent to your email inbox daily.