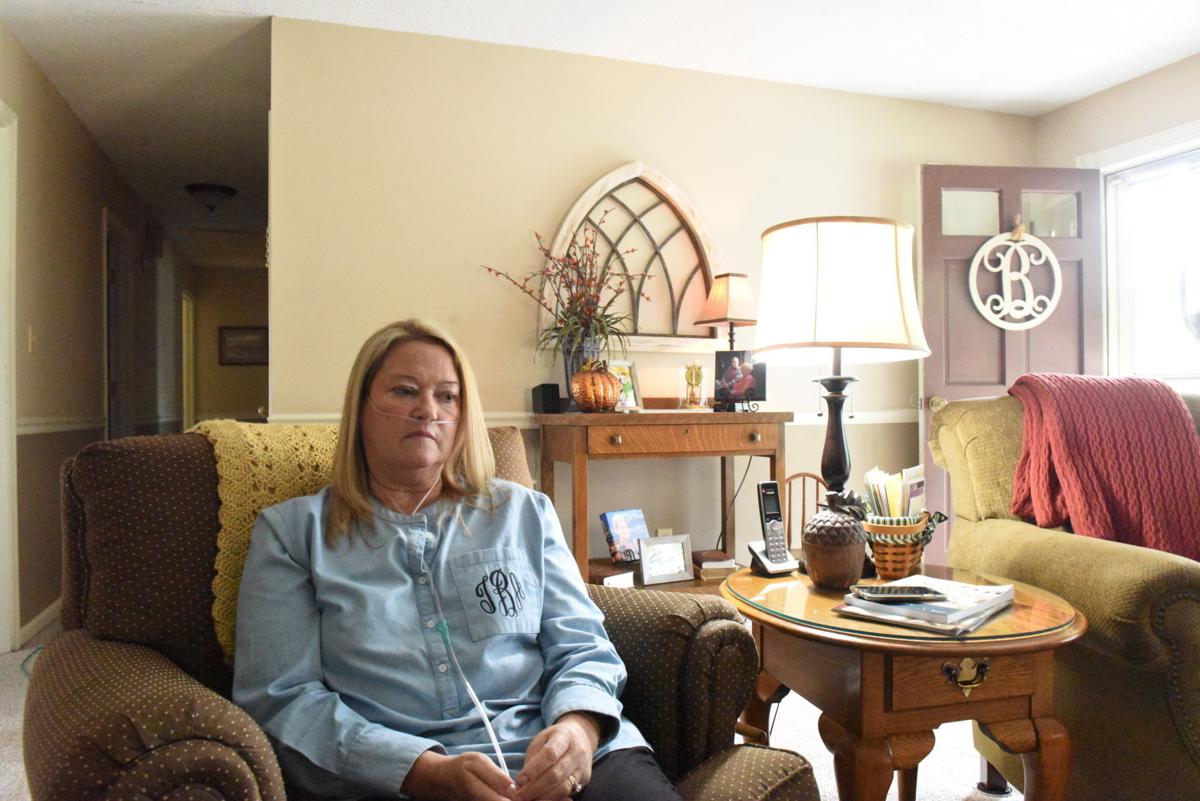 RINGGOLD — Tonya Barker has a rare chronic lung disease that puts her in need of a double-lung transplant. 
She was diagnosed with bronchiolitis obliterans in July and hasn't been able to work at her job at Edward Jones in Danville, where she has been a business office administrator for 18 years. 
"I love my job," Barker said. "I love what I did."
Bronchiolitis obliterans is an inflammatory condition that affects the lung's tiniest airways, the bronchioles, according to the National Institutes of Health. The bronchioles become damaged and inflamed, leading to scarring that blocks the airways. 
Symptoms include a dry cough, shortness of breath, fatigue and wheezing, according to the NIH.
Barker's ordeal began when she could not stop coughing late last year.
"I got sick in December," Barker, 54, said. "I just couldn't get rid of that cough."
So in January, Barker went to Sovah Pulmonology, where doctors decided to set up an appointment for her at Duke University Medical Center in Durham, N.C. 
Her appointment was May 14. She stayed at Duke for several days. She had biopsies, which included removal of a wedge of her lung.
When she finally received her diagnosis, doctors said most people with the condition got it from exposure to harsh chemicals or after they had transplants. 
"They have no idea how I got it," said Barker, who added that she has never smoked or taken drugs.
That's when she was told she needed to replace both lungs.
"I said, 'What?'" Barker recalled. "To say we were blindsided would be an understatement."
Now she is going through the lengthy, phased process of getting her name entered on a waitlist for an organ transplant.
Barker's husband, Kevin, recalled hearing about the diagnosis and his wife's situation. He was at work at UPS. 
"That was kind of a kick in the gut," Barker said during an interview at their Hillside Road home in Ringgold on Monday morning. "Neither one of us knew how to react to it."
Kevin Barker, who has had about 25 surgeries in his abdominal area, back and neck for a variety of ailments in the past dozen years, has seen Tonya act as his caregiver. Now it's his turn to be hers. 
"Now it's time for me to step up to the plate," he said, his arm in a sling after recent shoulder surgery.
They maintain a positive outlook in the face of Tonya Barker's ordeal, putting their faith in God. 
"Our faith pulls us through more than anything," she said. 
"No one is promised tomorrow," her husband said. "You have to leave it up to God. He's the one who has it in control."
However, some days are tough, they said. 
"Everybody deals with it in their own way," he said of Tonya's diagnosis and the process for entrance on the waitlist. "Sometimes, I want to go outside and just scream."
In the meantime, Tonya Barker, who also has lupus, has to take 11 medications and is on oxygen. 
Doctors at Duke told her she could not go back to work. 
COVID-19 also has complicated her situation. Any testing at Duke requires undergoing a test for coronavirus, she said. 
"The paperwork she has had to go through has been tremendous," Kevin Barker said. 
To get on the waitlist for an organ transplant, Tonya Barker went through two days of appointments, testing and observation in mid-September at Duke. She is scheduled for another five days of testing and consultation in January, as well as a heart catheterization. 
The next phase would entail meeting again with doctors, provided everything from the previous tests checks out fine, and scheduling another 23 days of rehab, classes. 
For the final phase, she would also have to agree to move to within 10 minutes of Duke for at least six months. And she would need a volunteer, around-the-clock caregiver, such as a family member or friend. 
"Once that is complete, then they list you," she said.
Between the COVID-19 pandemic and her condition, the Barkers have had to spend a lot of time at home. But they get out when they can, dining at places such as Me's Burgers & Brews and King Cropp Food at odd hours during the day to avoid crowds. 
Tonya, especially, always has to be moving, which has made her condition even more difficult for her.   
"I am a very spastic person," she said. "I like to be doing things outside, mowing grass, doing flowers."
But she and and her husband, who have two children and a grandchild, still see family and friends at their house. 
A graduate of Dan River High School, Tonya Barker worked for American National Bank for 18 years before starting at Edward Jones about 18 years ago. 
Her supervisor at Edward Jones, Chris Eastwood, said, "She's just the most trustworthy, honest individual you would ever meet."
Clients at the firm loved her because she saw them not only as customers but as people, Eastwood said. 
"She's built deep relationships with a lot of people that we serve every day," he said. 
At a time when people are switching to Real ID driver's licenses, Tonya Barker said she encourages everyone become an organ donor.