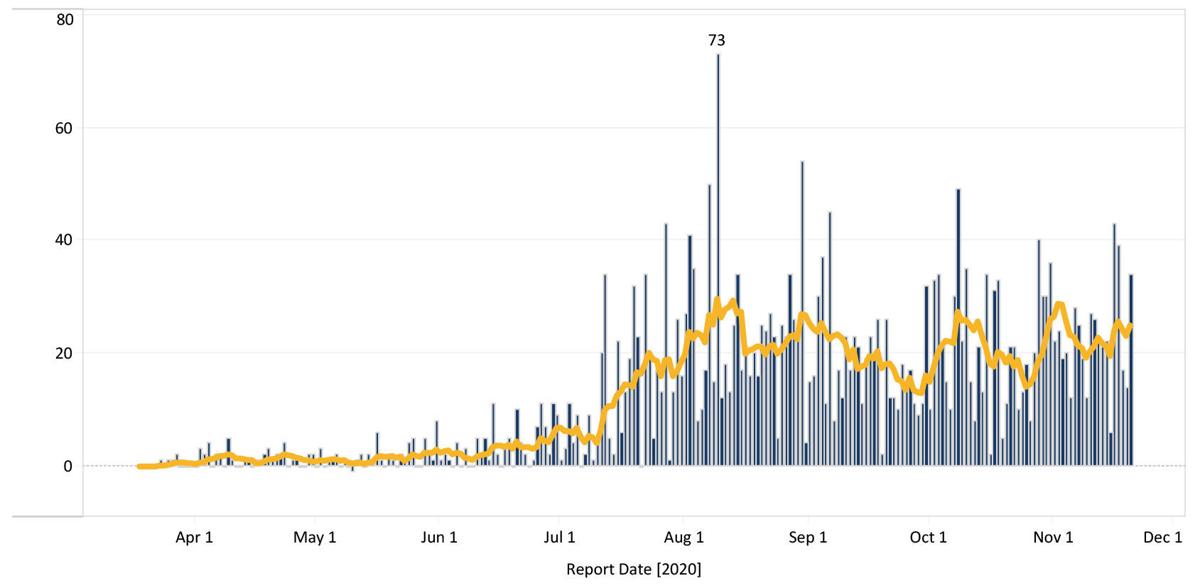 Dozens of COVID-19 cases are spread across three outbreaks at long-term care centers in Danville and Pittsylvania County, according to the Virginia Department of Health.
There are 29 cases at Danville's Stratford Rehabilitation Center, said Robert Parker, a spokesperson for the health department. That outbreak, according to online data, was reported in October.
Another Danville facility is experiencing a second outbreak, with 31 new cases, Parker wrote in an email to the Register & Bee. Previously, 80 people were infected in a July outbreak at Riverside Health & Rehabilitation Center, and 14 died.
At Chatham Health and Rehab, 11 cases have emerged in a new outbreak.
Parker confirmed some employees are infected across the facilities. Since last week the health department reports 23 new cases in health care professionals, but it's not clear if those numbers are linked to the outbreaks.
Because some of the employees live outside Danville and Pittsylvania County, the outbreak numbers may not match local district case data. Simply put, there may be more health care workers with COVID-19 who do not show up on the local dashboard because they live in another locality. Individual cases are assigned to a person's official place of residence.
The health department also notes a case is only recorded once, meaning even if a person tests positive multiple times, it's only counted as one case.
It's not clear how many residents of the centers have contracted COVID-19 since, as a general rule, the health department does not provide a breakdown of that data.
On Friday, 34 new virus cases were added to the toll in the Pittsylvania-Danville Health District. The local district has recorded 3,057 COVID-19 cases and 68 deaths during the past eight months of the pandemic. On average, the city and county combined see about two dozen new cases added each day.
Cases rise in Virginia
The commonwealth recorded its second-highest daily caseload Friday, with 2,544 new cases added. Only Monday's figure of 2,677 was higher, but that's when health department officials said the increase was because of catching up after system maintenance caused weekend delays in entering information.
Although cases have accelerated this month in Virginia, Gov. Ralph Northam noted this week the increase isn't as drastic as other states. Still, the fear remains Thanksgiving gatherings will cause to further spread the highly contagious virus.
"Let's not make this winter any worse than it has to be," Northam, the nation's only governor who also is a doctor, said at a news Wednesday conference.
He urged residents to forgo traditional large family get-togethers for next week's holiday. Instead, smaller celebrations with members of a household are more appropriate — and safer — in a time of swelling caseloads.
This comes after Northam issued new mandates last week, one of which lowered the number of people who can gather in social settings to 25.
Friday's data
| Location | Cases | Deaths |
| --- | --- | --- |
| Danville | 1,492 | 47 |
| Pittsylvania County | 1,565 | 21 |
| Halifax County | 758 | 12 |
| Mecklenburg County | 962 | 35 |
| Henry County | 1,688 | 39 |
| Martinsville | 608 | 24 |
| Virginia | 213,331 | 3912 |