In a span of three days, the Pittsylvania-Danville Health District's COVID-19 death toll grew by 11, and two new outbreaks surfaced.
Five new fatalities were revealed in Monday morning's update from the Virginia Department of Health. Four were added Saturday and another came Sunday but were not made public since health leaders no longer refresh a dashboard of data on weekends.
Only basic demographic details — extracted from day-to-day changes — are known when someone dies from the illness caused by the novel coronavirus. Data show all five of the new deaths were women. One lived in Danville and the others resided in Pittsylvania County. Two women were in their 70s and the other age ranges were 40s, 50s and 60s.
Twenty new virus deaths have been added to the record books so far this month, outpacing the 14 in August. However, just because deaths are recorded on a particular day, it doesn't necessarily mean the fatalities occurred recently.
The health department uses a meticulous process to verify someone died of COVID-19 by waiting for the official death certificate. That can sometimes takes two or more weeks and is delayed further if there's a shortage of staff or high volume of information to process.
So far, COVID-19 has claimed the lives of 263 Danville and Pittsylvania County residents.
From Saturday to Monday, 134 new COVID-19 infections were recorded in the city and county, bringing the 7-day rolling average to 59. That's a slight drop from last week, but compares to a similar time in late February.
All areas in Virginia are in the highest risk zone for COVID-19 transmission, according to the Centers for Disease Control and Prevention. In these areas, the federal agency recommends wearing face coverings while in public indoor spaces.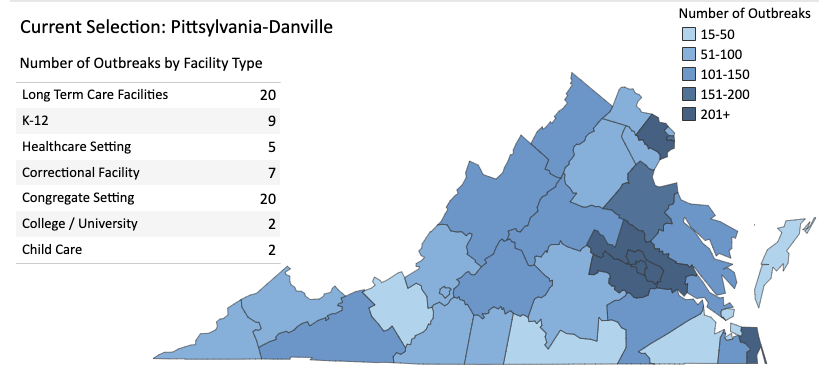 Outbreaks
Two new outbreaks — one in a long-term care facility and the other in a K-12 school — were added in Monday morning's update, but details surrounding those additions are scarce. This marks the second K-12 outbreak in a week.
An online dashboard updated Friday did not reveal school and college outbreaks added last week. When asked, the health department cited numerous reasons the information hasn't become public yet.
"VDH reports real-time COVID-19 data, and there are inherent delays in public reporting as data are collected and reviewed," the state's COVID-19 data team told the Register & Bee via email. "Further, as COVID-19 cases are surging throughout Virginia, VDH may need additional time to review outbreak data due to limited staff capacity."
An outbreak is defined as two or more cases that are linked to a particular setting. While there have been dozens of cases reported in Danville and Pittsylvania County schools, the majority of those infections came from other places. For example, the data team said a gathering — like a birthday party — may be the source of an infection in a student.
It's not until one person spreads the virus to another in one setting that an outbreak is declared.
Last week, Pittsylvania County Superintendent Mark Jones told the Register & Bee his division was not aware of any outbreaks being investigated by the health department. A spokesperson for Danville Public Schools did not respond when asked if there was an outbreak in city schools.
As of Monday morning, 35 students and 11 staff members in Danville Public Schools had active COVID-19 cases, an online dashboard reports. Since school opened in early August, 138 students and 23 staff members have tested positive for the novel coronavirus.
There were two dozen active cases in county schools on Monday morning with 20 of those infections in students. The county school system does not track the total number of students infected this year.
Averett currently has four in isolation and two quarantined for COVID-19, its online dashboard showed Monday. Over at DCC, one employee tested positive for COVID-19, the college announced Friday.