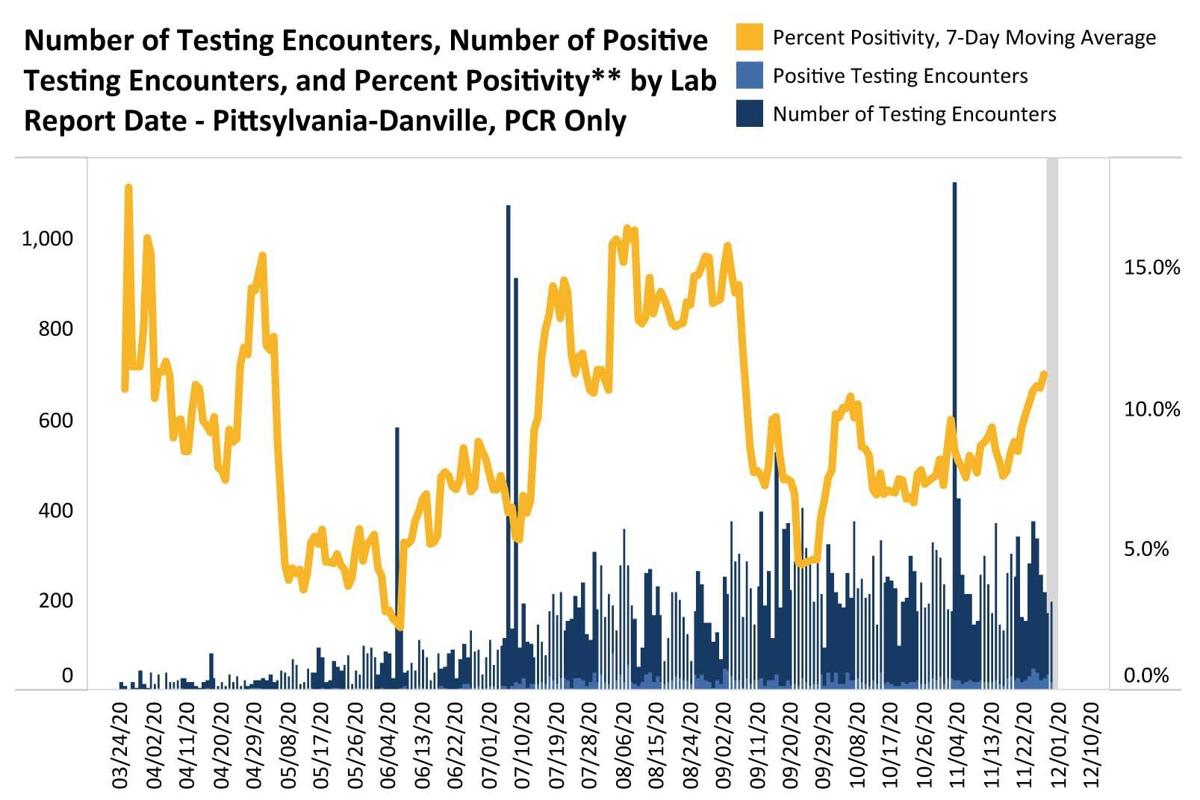 Three more residents of the Pittsylvania-Danville Health District have died of COVID-19, the Virginia Health Department reported, amid a rise in cases associated with outbreaks.
Tuesday's dashboard update also showed 33 new cases of the illness caused by the novel coronavirus in addition to the deaths of two Danville residents and one from Pittsylvania. The local death toll now is at 74.
Demographic data indicates the deaths involved two women and one man; two were in their 80s and the other in his or her 70s.
It's never clear when a COVID-19 death happened. The health department has to wait for a death certificate to arrive before logging the information into an online database. Occasionally, some adjustments are made. For example, the local death toll decreased by one Saturday.
Although no specific reason was provided, health department spokesperson Bernard Hill explained why a change is made.
"Usually it happens for one of two reasons," Hill said in an email to the Register & Bee. "The first would be it was typed in wrong, and the second is sometimes they determine the decedent did not live where they died and therefore the death is assigned to where they live."
With no new outbreaks reported, 39 more cases associated with established outbreaks were added in the last week.
As of Monday, the state reported 31 cases at Riverside Health and Rehab and 19 cases at Stratford Rehabilitation Center, but in Danville. This marks the second outbreak for the Riverside facility.
Chatham Health and Rehab in Pittsylvania County also had 31 cases, according to the Virginia Long-Term Care Task Force, a group that charts outbreak data at state nursing homes.
All three facilities have reported deaths, but the exact number isn't clear. When there are fewer than five deaths, the state shields that information from public view, citing an effort to "preserve patient anonymity."
With an expanding number of daily cases in Virginia, there's now an 8% positivity rate. That's a measure of how many positive results against the number of overall tests administered. In the Pittsylvania-Danville Health District, that number is now up to 11.2% after being near 7.6% in mid-November.
Tuesday's data
| Location | Cases | Deaths |
| --- | --- | --- |
| Danville | 1,644 | 51 |
| Pittsylvania County | 1,783 | 23 |
| Halifax County | 825 | 18 |
| Mecklenburg County | 1,012 | 36 |
| Henry County | 1,933 | 41 |
| Martinsville | 718 | 25 |
| Virginia | 240,063 | 4,093 |