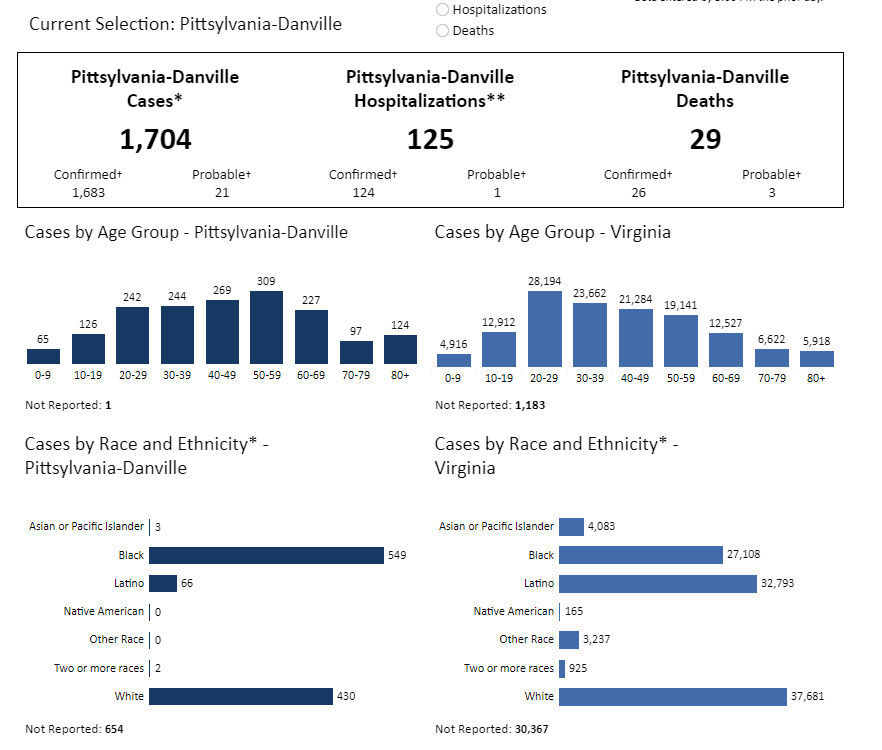 Fourteen residents of Riverside Health & Rehabilitation Center in Danville have died after previously testing positive for COVID-19, administrator Adam Wiley told the Danville Register & Bee on Wednesday.
There are 25 patients being treated at the center and four in the hospital who tested positive for the virus, Wiley wrote in an email. A total of 36 have recovered.
Seven staff members are also positive, and Wiley noted 21 had recovered.
"I would like to thank our dedicated staff for their tireless efforts," Wiley wrote. "I would also like to thank the Danville Health Department for their collaboration with our clinical team."
Overall, two more deaths in Danville from COVID-19, the illness caused by the coronavirus, were recorded in Wednesday's update by the Virginia Department of Health. Of the 29 total deaths in the Danville/Pittsylvania County District, three are classified as probable, meaning someone was showing the signs of the illness and came in contact with someone else who tested positive.
According to demographic data, those two deaths were a man and a woman older than 80, although it's not clear when those two deaths occurred. State health officials have noted a lag in receiving death certificates, which then are used to enter information into a statewide database. 
Although Wiley reported 14 deaths, the Virginia Long-Term Task Force's website lists only six fatalities and 47 total cases at Riverside, which is one of three long-term care facilities in Danville currently experiencing an outbreak of COVID-19. Roman Eagle Memorial Home has 52 cases, according to online data, and no deaths listed. Brookdale Danville Piedmont, a facility that also experienced an outbreak in April, doesn't have any cases or deaths listed for its latest outbreak, which was reported Sept. 6.
"It is often difficult to discern which contributing factors may have caused a death, compared to those deaths that have been directly attributed to the virus," Wiley wrote. "The loss of these lives has been hard for our community and we continue to mourn with their families."
Across its two campuses in Danville and Martinsville, Sovah Health reported a total of about 30 COVID-19 patients on Wednesday. About 20 of those patients are in Sovah Health-Danville. These numbers roughly mirror an update provided on Sept. 2.
As of Wednesday, the Pittsylvania-Danville Health District has amounted 1,704 cases — 783 in Danville and 921 in Pittsylvania County. That breaks down to about 20 new cases reported daily, according to health department data, compared to about 30 cases a day in early August.
Given the slight decrease in COVID-19 cases in the region since a surge in early summer, Sovah Health has eased more restrictions. The hospital now allows one well visitor in the emergency department, a news release reported Wednesday. However, if that patient needs to be admitted, visitors are not allowed to accompany that patient to the inpatient unit, which is currently under a limited-visitation policy. 
When asked if any of the patients at Sovah Health-Danville are associated with current outbreaks, spokesperson Kelly Fitzgerald said she could not comment.
"We are unable to provide specific details about patients treated in our facilities," she wrote in an email to the Register & Bee.
Because of the high level of COVID-19 in the community, Wiley said his facility is testing all staff members twice a week and residents once a week. It's based on new guidance to test patients and staff to coincide with the local prevalence rate, which Wiley said was classified at 16.3%
"The Centers for Medicare and Medicaid Services has noted such strong correlation between community prevalence and cases found in Skilled Nursing Facilities that they have issued new guidance for Skilled Nursing Facilities to test patients and staff at a specified frequency based on their local prevalence rate," Wiley said.
Questions to the VDH concerning procedures for long-term care facilities experiencing outbreaks were not answered by late Wednesday afternoon.
"It is important to remember that as difficult as this disease is to treat in some instances, the vast majority of individuals who test positive ultimately recover," Wiley said. 
He stressed that the "number one correlation between nursing facilities and COVID-19 outbreaks is the level of community spread." He urged residents to take all recommended precautions and to wear masks.
Be the first to know
Get local news delivered to your inbox!