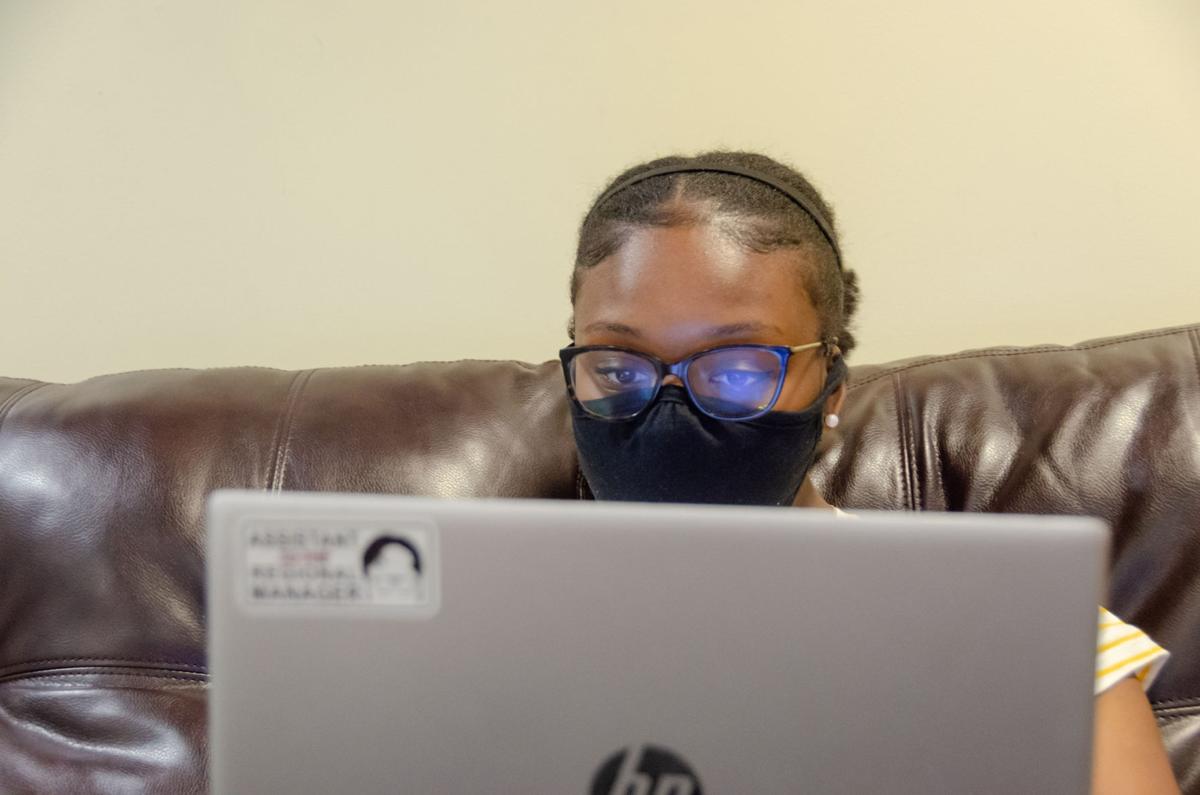 Cameryn Carelock, a senior at Averett University, is worried about the virus in the community.
She knows Danville has had high case counts for COVID-19.
Even a short trip to Walmart reveals people not wearing a mask or social distancing, she pointed out.
"It's troubling," said the Eden, North Carolina, resident. "We really have to enforce the rules set in place on campus."
Those rules amount to a range of changes for college life among students and instructors. In some ways, it's a learning experience for everyone where a myriad benefits of online learning are surfacing.
COVID on campus
Averett University tracks cases of COVID-19, the illness caused by the coronavirus, with an online dashboard. As of noon Friday, Averett had a total of 14 positive cases reported from students and workers since the first day of classes on Aug. 19. Of those, nine are current positive infections and five have already recovered.
The dashboard provides information on individuals who have been studying or working on campus, according to the website.
There are 480 students living on campus this fall, compared to 497 in fall 2019 and 432 last spring. In total, Averett has 888 traditional students and 442 online students this semester.
Among new procedures for students and employees, Averett implemented health self-check — using an app called LiveSafe or an online link — each day before coming on campus or leaving their rooms, said Averett spokesperson Cassie Jones.
The quick evaluation consists of four questions surrounding symptoms and exposure.
Any student who feels ill and does not clear the screening should call the university's health triage line available during business hours for non-emergency cases, Jones explained. There the student will be walked through what they should do next. There's also a residence life on-call number available after hours and on weekends.
"When a student calls, we will help them schedule an appointment with a doctor, find transportation to the health clinic or hospital and coordinate with their professors if they need to miss class," Jones said.
Employees who do not clear the screening are asked to notify human resources and their supervisor. Those workers should not report to campus, but may work from home.
The university has partnered with Sovah Health, Centra and the Pittsylvania-Danville Health Department to coordinate testing and contract tracing of COVID-19 cases.
"This helps identify and notify people on campus who are known to have come into close contact with an infected person," Jones explained. Close contact, as defined by the Centers for Disease Control and Prevention, is when someone has been within 6 feet of an infected individual for more than 15 minutes within the last 48 hours.
When a student is asked to isolate, meaning they have tested positive for COVID-19, they are encouraged to return home, if possible. If not, Averett will establish housing either on or off campus. Those who have been in contact with someone with COVID-19 or are awaiting a test result are asked to quarantine, again, being urged to return home if feasible. 
Instruction
As the pandemic continued to alter nearly every facet of life, faculty members spent the summer prepping for a mix of online and in-person classes, Jones said. 
The classroom layout is different this year to accommodate social distancing, and there are fewer students together at once. And those classrooms, along with communal spaces, are cleaned more often.
For hybrid instruction, half of the class meets face-to-face one day and others are online or joining the classes using the video conferencing software Zoom, said Susan Huckstep, an associate professor of communion.
Jennifer Hughes, an associate professor of English, said she is "definitely looking at fewer faces in each classroom."
"For one of my freshmen classes, for example, I am seeing half of the class at a time while the other half does work online; they take turns doing in-person work with me," she said.
Averett uses an online learning system that allows for discussions, activities and assignments, Huckstep said.
"I believe we are doing a good job of using technology to complement our instruction while maintaining that personal touch we are known for," she said.
Carelock, a bio-medical major, said she loves having hybrid classes.
"I meet once a week in-person so I still have that connection with my teacher and classmates, and I also get to meet via Zoom where I can socially distance myself from everyone while still being able to communicate with my classmates and teachers," she said. "And with my major I don't feel like it would be beneficial for me to have solely online classes."
For some timid students, the online platform has opened avenues previously unavailable and creates an atmosphere where they "really blossom online," Huckstep explained. 
"They are much more comfortable expressing their opinions and even asking questions," she said. "I also find that even students who are not shy about speaking up in a face-to-face class are able to really think about things and give more well-thought-out responses online."
Hughes pointed out that students appear to appreciate the flexibility and always-accessible nature of virtual learning. 
"We miss the immediacy and the relationship building that comes with in-person teaching, of course," she said. "However, I've been happy to discover new ways through virtual learning to accommodate the needs of students who cannot be in person. I'll keep those methods even after the pandemic."
For Hughes, the top benefit right now is safety.
Attitude
When asked about the overall attitude of students on campus, especially with wearing face masks, Hughes has yet to encounter "a truly resistant student," she said.
In fact, she noted most "in the classroom seem content to do their part to keep others safe."
In addition to a more intense cleaning regimen, wipes are available for students to clean their desks and chairs if they want.
"I am very proud of our students," Huckstep said. "They are coming to class with their masks on, keeping them on and being very respectful of those around them." 
A casualty of the pandemic is the lack of on-campus activities, an almost rite of passage for college social interaction. Averett originally planned convocation in August but has rescheduled that for Tuesday. 
"Unlike the usual jam-packed Pritchett Auditorium, this year's ceremony will be held on Daly Field on our North Campus," Jones said. "Chairs will line the field, spread out for social distancing, and for those unable or uncomfortable to attend in-person, the event will be livestreamed."
Averett also announced this week that homecoming, traditionally a multi-day extravaganza, will be online this year with a week of activities themed as the Roaring '20s.
"I do wish that we could have more in-person events on campus, but I also understand everything the school is doing for us right now is for our safety," Carelock said. "I want everyone on the campus to be safe so that we can have a good year despite what's going on around us."
Get local news delivered to your inbox!
Subscribe to our Daily Headlines newsletter.