When Dorothy Turner's son, Mark, drops by to visit now, he must sit outside the window.
Typically he will bring a Wendy's Frosty for his mother and one for himself, and they'll chat on the phone while remaining on either side of the glass that must keep them separated.
"It works out very well for us," said Dorothy, 100, who is a resident at the Brookdale Danville Piedmont assisted living facility.
These pseudo in-person visits will have to do the trick for now, as family members still have a little while to wait until they can have more traditional visits with their loved ones in area nursing homes and assisted living communities.
While the rest of Virginia seemingly eases the restrictions on capacity limits and public gatherings amid the coronavirus pandemic, these facilities remain under strict guidelines to help prevent the virus from spreading among a highly vulnerable population.
As other industries prepare to welcome more guests under the Phase 3 guidelines that went into effect last week, nursing homes and assisted living facilities must abide by a separate set of reopening guidelines than the rest of society.
Residents in these communities have by and large been without guests in the traditional sense for more than three months now, and the staff members can see how difficult of a time it has been for everybody involved.
"We want to update the families as often as we can, but you do see that the residents are a little disappointed that they can't see their family," said Cheryl Motley, head of nursing at Roman Eagle Rehabilitation and Health Care Center. "The FaceTime visits have helped those residents who can understand that. When a resident has some dementia, it makes it a little more difficult."
According to the Virginia Department of Health, all staff members and residents at nursing homes or skilled nursing care entities, like Roman Eagle, must test negative before the facility can enter Phase 1, which allows no visitation. These facilities must remain free of positive coronavirus tests for two weeks before advancing to the next phase, which allows for socially distant outdoor visits or window visits at the home's discretion. Typically the only exceptions to these guidelines are in end-of-life situations.
In Phase 3, visitation is allowed as long as guests are screened beforehand and wear masks or face coverings.
In the event a resident tests positive for the coronavirus, however, the facility must regress back to the beginning stages and start testing all over again.
As of Tuesday, Roman Eagle was halfway through Phase 1. Motley said the facility had no positive cases among residents or staff, allowing them to work toward reopening.
Adam Wiley, the administrator at Riverside Health & Rehab Center, confirmed in an email that they are still in the process of testing before being cleared to enter into Phase 1.
Wiley noted the staff has gone to great lengths to keep residents in high spirits during this time with no in-person visits, including arranging video calls and a drive-thru parade of loved ones in May, among other things.
"Additionally, we have been very creative in providing individual activities, finding new and unique holidays to celebrate, and setting up special surprises for our patients and staff to keep everyone engaged," he wrote.
At Piney Forest Health and Rehabilitation Center, Administrator Kyle Swim also confirmed in an email that they have not yet entered Phase 1 of reopening. Swim also added that virtual visits have become far more common recently, aided by the purchasing of iPads to facilitate the calls.
"We know this has been a challenging time and we look forward to reconnecting our patients with their loved ones face-to-face," Swim wrote.
Assisted living facilities do not have the same focus on traditional nursing care, so the guidelines there are a little different.
On June 23, the Virginia Department of Social Services released recommendations for assisted living communities looking to reopen — guidelines that include daily monitoring of residents and staff, along with physical distancing measures. Visitation and personal grooming services are generally discouraged but can occur at the facility's discretion and with appropriate safety precautions.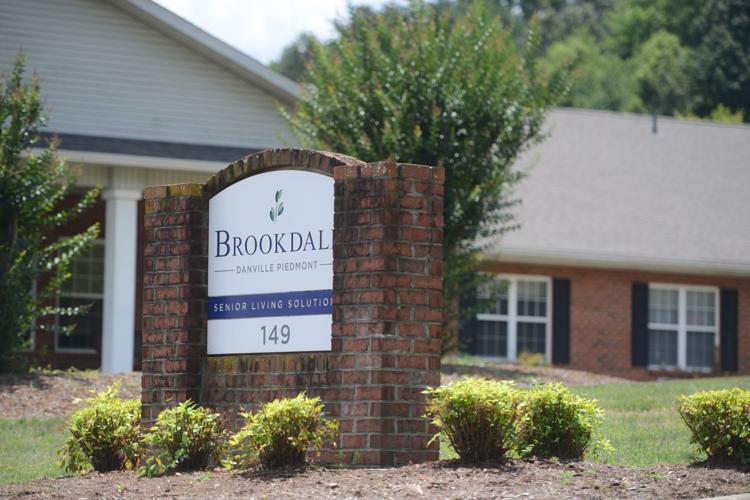 Brookdale Danville Piedmont, which confirmed a coronavirus outbreak in April, has been free of the virus since then. The Brookdale Senior Living chain, which is headquartered in Brentwood, Tennessee, and operates more than 740 senior living communities in 45 states, also has corporate guidelines that dictate when its facilities can reopen.
That criteria includes, among other things, the entire community testing negative and the county having a downward trend of cases of a specific period of time. Brookdale Danville Piedmont has met all of the corporate stipulations except for the downward trend of cases in the county.
So, in this period without visitors, staff members have been modifying the normal activities to make them more socially distant. For example, cooking demos with the dining services director now take place in the large front foyer, and the wine and cheese nights have gone mobile, with a cart going from room to room, Executive Director Darlene Chapmon said.
Still, the lack of visitors has been a notable difference for the last three months.
"We've always been family to them, but now we're even more so because they can't come in and celebrate birthdays," Chapmon said. "We've had residents who have lost brothers, sisters, and we've had to be that person that grieves with them. We've cried with them, we've laughed with them."
She also said they've been able to help celebrate life's happier moments, like birthdays and births of great-grandchildren. For Dorothy Turner's 101st birthday on Aug. 8, there will be a cake and a small celebration.
She looks forward to when her son can visit inside again, but Turner said the staff has worked tirelessly in making the most of the current situation.
"They couldn't be any better," she said. "They're very thoughtful and very caring."
Parker Cotton is a sports reporter at the Martinsville Bulletin and Danville Register & Bee. You can reach him at (276) 638-8801 ext. 215. Follow @ByParkerCotton. 
Get local news delivered to your inbox!
Subscribe to our Daily Headlines newsletter.