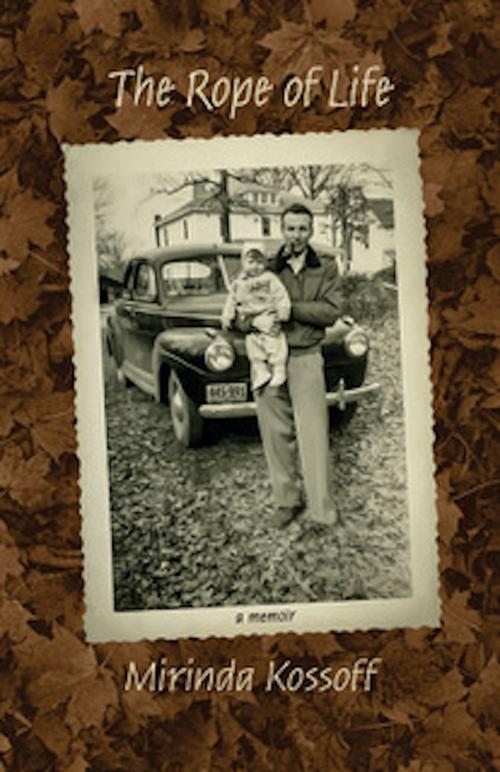 Mirinda Kossoff knows all about being an outsider. 
She was shunned while attending Forest Hills Elementary School in the 1950s. 
Her father was born Jewish but had converted to Christianity, so she grew up Southern Baptist in Danville. 
Though her father — a local dentist — would become a deacon at West Main Baptist Church and would go on to help found North Main Baptist Church, a lot of people in town referred to the New York native as "that Yankee Jew," she said. 
Kossoff's book, "The Rope of Life: A Memoir," recounts not only her years coming of age in Danville during the Jim Crow era, but tells the story of her trying to understand her father, who killed himself at 56 in 1980. 
"Writing the book was a huge catharsis for me," Kossoff, 72, said during a telephone interview Thursday morning. "Writing the book helped me put all the pieces of the puzzle together through childhood and early adulthood, which was extremely emotionally difficult to write."
Her father, Hugo Kossoff, enlisted at 19 in World War II in what was then the Army Air Corps. He flew B-17s and was a turret gunner and flight engineer. 
Kossoff flew 21 bombing missions over Germany. The death rate for Army Corps airmen was more than 50%, she said. 
"It was a harrowing experience," Kossoff said of her father's service. "His experience in World War II was so vivid."
He met the woman who would become Kossoff's mother just before he shipped out overseas. She was a "dyed-in-the-wool Southern Baptist," Kossoff said. 
Hugo Kossoff asked her to marry him, but she said "no," fearing he might not return from the war alive. 
When he came back from service, the couple picked up where they left off and married in 1945. By then, he had converted to become a Baptist, Kossoff said.
Despite his Baptist faith, Kossoff faced anti-Semitism. Though he had earned his qualifications, he was disallowed from practicing dentistry in North Carolina. 
"They [the state dental board] didn't want another Jew practicing in North Carolina," she said. 
He spent a year as a public health dentist and opened up his own practice in Danville. 
"He was the only dentist I knew of who treated Black people," she said, referring to the systemic racism in Danville under Jim Crow.
He treated them in the morning before he began seeing his white customers, she recalled. 
Later in her life, Kossoff would take a plane ride with her father over Smith Mountain Lake in his Cessna. She was about 30, had graduated college and was married at the time. Her dad was in his early 50s. 
Hugo didn't seem like his old self. 
"He was nervous," she recalled. "He didn't instill confidence in me, the way he was flying the plane."
It was the first time she noticed how he had diminished from the more self-assured, optimistic father she knew growing up.
"It was kind of emblematic for me of the beginning of his decline into serious depression and suicide," Kossoff said. 
Three years later, he would take his own life. 
Besides depression, Kossoff's father suffered from severe back pain, she recalled. 
A deeply conflicted and troubled man, he not only suffered the indignities of anti-Semitism, he had rejected Judaism. 
"The pain, the depression, the turning away from his heritage, it was like a big bundle," Kossoff said. "It was hard to separate one from the other. Those things combined to contribute to his suicide."
As for her experience growing up in Danville, Kossoff felt isolated. She was shunned by her classmates at Forest Hills Elementary School after transferring there from another school. 
"I faked being sick so I wouldn't have to go to school," she said. "It was a pretty cruel place if you didn't start first grade there with the other kids."
Raised as a Southern Baptist, Kossoff said she's not considered a Jew because her mother was not Jewish. 
However, she was once asked by a Sunday school teacher to explain Judaism.   
"I remember feeling ambushed by that question," she recalled.
Barry Koplen, who grew up Jewish in Danville, remembered a similar instance from his childhood when a Bible teacher would come to his elementary school to teach about Christianity.
"When I was about 9 or 10, the Bible teacher asked if I would explain what it was like being Jewish," said Koplen, 75. "Here I was, a little boy ... as you might imagine, I wasn't exactly sure what to say."  
Koplen also recalled one incident while he was a football player at George Washington High School. 
"I'll never forget, I was going down the steps to the practice field," he said. "Two teammates were behind me on the steps, one of them said to the other, 'are you going to let that Jew take your girlfriend?'" 
Koplen and one of those teammates were dating the same girl. 
"It was really very provocative," he said. "It was meant for me to hear. It was an insulting remark. The guy who made that remark was trying to needle me."
About 30-35 years later, that former teammate apologized to Koplen. 
"After that, a remarkable friendship evolved," he said. 
As for Kossoff, she struggled with depression, just like her father. It started in high school. 
"It was hard to get excited about things," she said. "I was shy and withdrawn."
Though she was in Danville during the civil rights demonstrations and Bloody Monday on June 10, 1963, she and her friends knew nothing of what was going on because newspaper coverage of the unrest had been suppressed by what was then the Danville Register. 
"It wasn't talked about," she said. 
Her family had a Black housekeeper, whom Kossoff calls "Cora." 
"I loved her more than my mother," Kossoff said. 
Kossoff became aware of racism when she, her family and Cora went to Nags Head, N.C., for two weeks during the summer. 
"We would stop for lunch on the way and she couldn't go into the restaurant," Kossoff said. 
The restaurant would not allow Cora inside because of segregation, so Kossoff ate in the car with her. 
Kossoff started noticing separate water fountains for whites and Blacks, as well. 
"That sort of opened my eyes that something was not right," she said.
Also, two neighborhoods in Danville had covenants barring Black people and Jewish people from living there, she said. 
Her real knowledge of it all did not hit her until the mid-1980s, she said. 
Once she graduated from GW, she couldn't wait to get out of Danville. After graduating from the College of William & Mary, she went to Japan with the American Red Cross, working on a U.S. Naval Base as head of the Red Cross operations in the Naval Hospital. 
"I was very young and wet behind the ears to have so much responsibility there," she said. 
She later lived in England. Throughout her life, Kossoff has worked a variety of jobs. She has been a medical social worker, assistant managing editor at the Raleigh News & Observer, communications director in academia and nonprofits, freelancer, metalsmith and jewelry designer. 
She has also been a newspaper columnist, and a commentator on North Carolina Public Radio. Kossoff also taught essay writing at Duke University continuing studies.
She began writing "The Rope of Life" in 2000, but stopped because she didn't want to upset her family. 
But in 2017, she started again and wrote the book in about two years. 
"I dedicated the book to all those who've experienced being marginalized for who they are," she said. "That includes people of all faiths, colors and creeds. We have a way of being tribal and othering someone who is different in some way and sometimes making the other a bad person or the person we don't want to associate with."