MITCHELLS — Coffeewood Correctional Center, just south of Culpeper, is tucked away from the picturesque wineries and horse pastures that line the drive there.
It is the northernmost prison within the Virginia Department of Corrections and primarily holds offenders nearing their release dates.
As a Level 2 security facility, Coffeewood offers modest conveniences to its roughly 1,000 inmates: satellite TV, access to landline phones and, for some, email. There is also a popular basketball league. 
Among Virginia correctional facilities during the past nine months, the COVID-19 pandemic has hit Coffeewood particularly hard. The DOC dashboard this week showed more than 700 cases among offenders and nearly 20 among staff members since March. 
The multipurpose space where inmates used to play basketball was quickly converted into a place for more beds.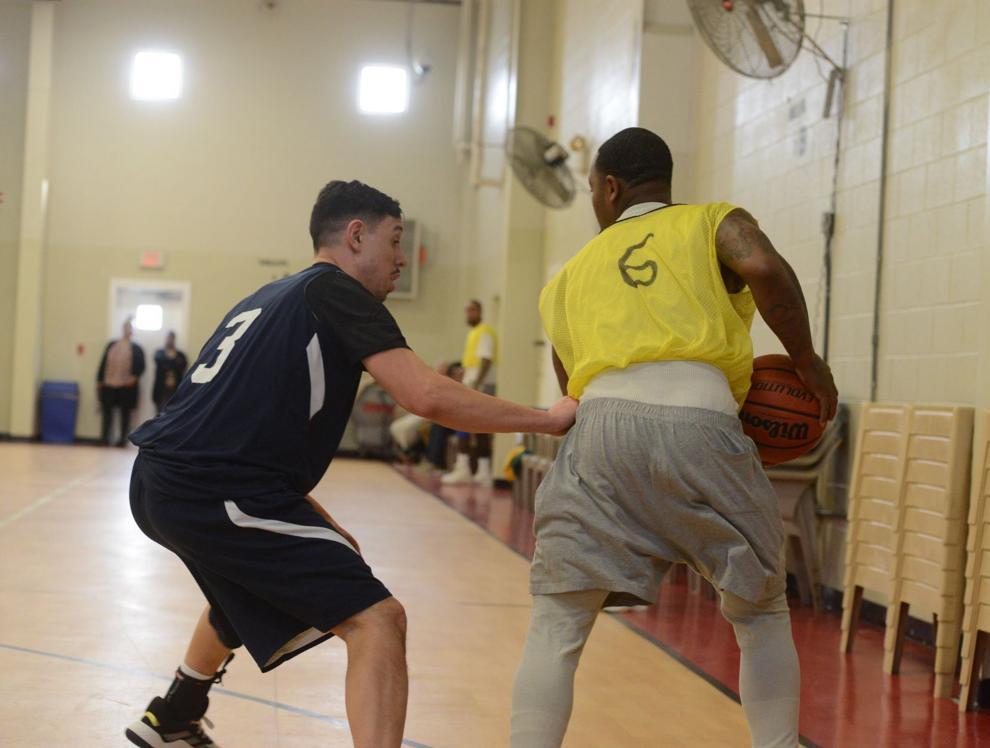 During the first week of March, before the pandemic forced prisons to restrict visits from family members or reporters, the DOC and Coffeewood offered a glimpse of how meaningful a game of basketball can be in a prison setting.
More than just a means for physical exercise or to pass the time, the benefits of basketball covertly extend into an offender's rehabilitation efforts.
Further, basketball can allow for a sense of creativity, improvisation and fluidity that is otherwise absent under a prison's normal operations. In an environment where so many aspects of inmates' lives are restricted, basketball can provide a sense of freedom and normalcy.
"It's a way of having a positive outlet, you know, make the best, because it gets stressful in here," said Clifton Bradshaw, 41, imprisoned following assault and disorderly conduct offenses in July 2018. "It gives us peace of mind to have that free time."
Under normal circumstances, the Coffeewood staff works to prepare inmates with vital skills before their release day comes — a process that can involve vocational, educational and behavioral programs.
In addition to welding and small-engine programs, among others, inmates can earn an associate degree from nearby Germanna Community College or work toward a ServSafe certification by learning how to properly handle and prepare food in Coffeewood's kitchen.
"Guys can take those skills, those certifications, so when they get out hopefully they won't have to revert to old behaviors," said Frankie Lewis, the recreation supervisor.
Kimberly Soutter, Coffeewood's institutional operations manager, said not every offender will respond the same way to formal rehabilitation efforts, though. Some will leave and commit crimes and end up back in prison.
"We're here to make sure they serve their time and end up better in the end," Soutter said. "The way that I've learned to look at it is everyone is worth your best effort."
To a certain extent, even the inmates admit prison is what they make of it.
"Prison can be the devil's playground. It can also be a school of higher learning," said Edward Sparrock, who earned a 3.97 GPA at Germanna CC on his way to an associate degree.
The sports and leisure activities play a pivotal role in rehabilitation, according to both staff and inmates, who also refute the notion the competition could lead to ugly confrontations.
"We can come out here and compete within a structure and be aggressive within a structure and at the end of the day shake each other's hands," said Sparrock, 40, who's been at Coffeewood since February 2014 as part of a 15-year sentence for various sexual offenses. "Basketball really helps in this environment to show you where you've grown while you've been incarcerated."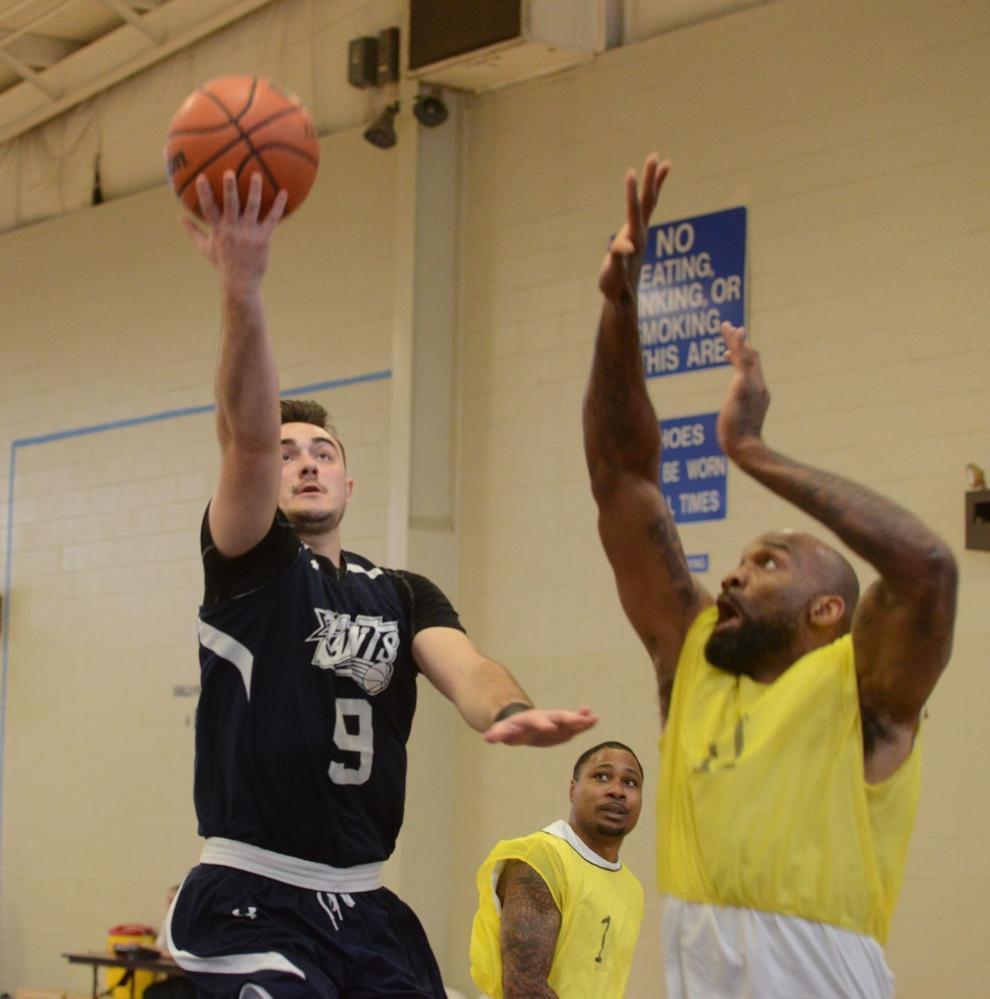 Basketball is among the most popular programs available at the facility.
There's a winter league played in the gymnasium and a summer league played on courts outside, where the hoops are regulation height but double-rimmed. Players organize team drafts, and just like any other league, there are stars and role players with varying levels of prior experience.
At 58, Clifton Barrett is past his playing days, but he sticks around the game to referee.
"I get a kick out of it. I get joy out of doing it," said Barrett, who is serving a five-year sentence following a conviction for grand larceny in 2016. "It kind of builds rapport with some of the guys."
Once the teams are decided, each player usually contributes a couple cans of soda as an entry fee to the league. Whichever team wins the championship gets to enjoy the soft drinks on ice as its prize.
Game after game and season after season, basketball serves as a reprieve from the reality of daily life in Coffeewood.
"It allows you to physically or mentally escape while you're in prison," Sparrock said, "and you forget all about being locked up until it's time to go back in the building."
On the first Thursday in March, the inmates were looking forward to a rare game against outside competition.
The players and coaches of the visiting Saints Prison Ministry team, fresh off a five-hour drive from Moorestown, New Jersey, entered the facility and placed their sweatshirts and neon-colored Adidas and Nikes into plastic bins. They opened the zippers on their bags to reveal basketballs and small, handheld copies of The Gospel of John.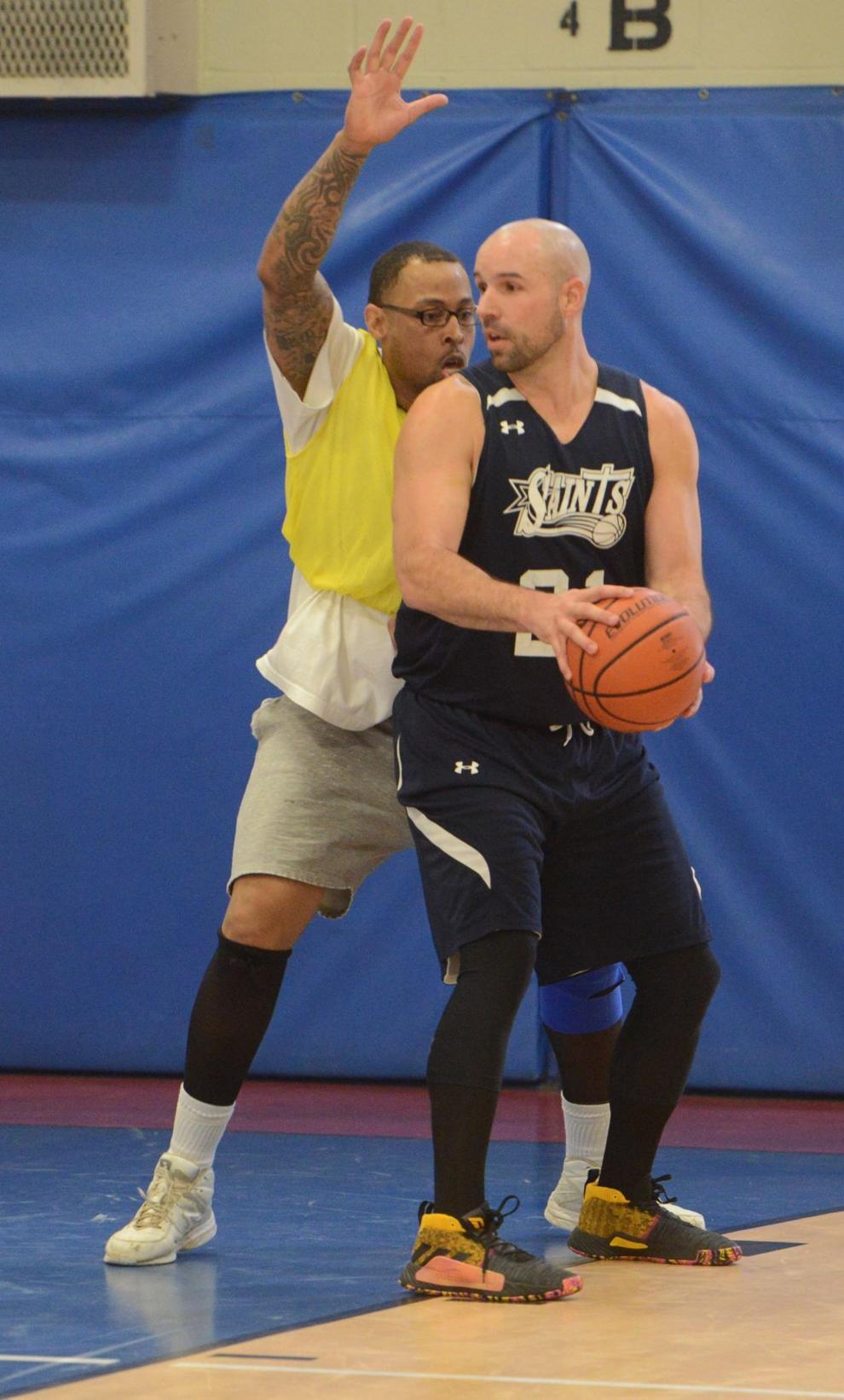 As their gear rode through a metal detector, the players handed over their driver's licenses and walked through the security checkpoint.
The traveling party of nine made its way past two sets of motorized gates, encrusted by barbed wire, that only allow groups of five through at a time, per the facility's policy.
Once they were in the gymnasium, they noticed the rims were a little higher than 10 feet, but nobody knew why.
Members of Coffeewood's team slowly trickled into the gym. They clipped off their ID badges, replaced their standard-issue black boots with all-white New Balances and began running layup lines.
Before tipoff, Coffeewood's players joked about being more rested than their visitors.
The Saints Prison Ministry team left New Jersey early that morning and was cramped in a bus. The prison, conversely, had been on its quarterly lockdown just two days before the game, so inmates could hardly go anywhere, they said.
Nevertheless, the Saints scored first on a bucket by Ethan Kennedy, who played one year of professional ball in Australia after college.
Quorshonn Thompson, another Saints player, hit a short jumper and then a 3-pointer for an 11-6 lead.
The inmates kept it close, using a series of pick-and-rolls to bend the Saints defense and create driving angles to take advantage of their superior athleticism.
Kennedy hit all three free throws after being fouled on a 3-pointer, helping the Saints take an 18-14 lead into halftime.
During the break, players from both sides gathered in one corner of the court to sit on beige plastic lawn chairs and listen to Thompson speak about why the ministry was there and what it could offer — from Bible study worksheets to birthday cards.
Thompson said he didn't have anybody present religion to him when he was younger and could have used it. He has volunteered with the Saints since 2009 in hopes of being that guide for somebody else.
"Basketball was just to get your attention," he told the group. "Jesus Christ is something that's a gift for the rest of your life."
The Saints distributed copies of The Gospel of John and briefly read aloud before play resumed.
The Saints took a 25-16 lead after buckets by Kennedy, Mytchell Parmer — a 20-year-old playing in his first prison game — and Sam Rempel, who showcased the versatility from inside and outside that allowed him to rack up a school record 1,979 career points at Lancaster Bible College in Pennsylvania.
Coffeewood posted three defensive stops in a row, along with three straight scores, to narrow the lead to 25-22.
The teams traded runs — the Saints extending their lead, Coffeewood drawing closer again — for much of the rest of the second half. Coffeewood ultimately got within three points, at 38-35, but the Saints closed the game on a 19-4 run to earn a 57-39 victory.
Despite the loss, Coffeewood's players were in good spirits following the game. The teams exchanged hugs and took photos together.
A visit from an outside group was still worth celebrating.
"I don't take that for granted," Barrett said, "someone sacrificing their time with their family, their work and whatever else they like to do to come in here and bring us some type of joy and happiness."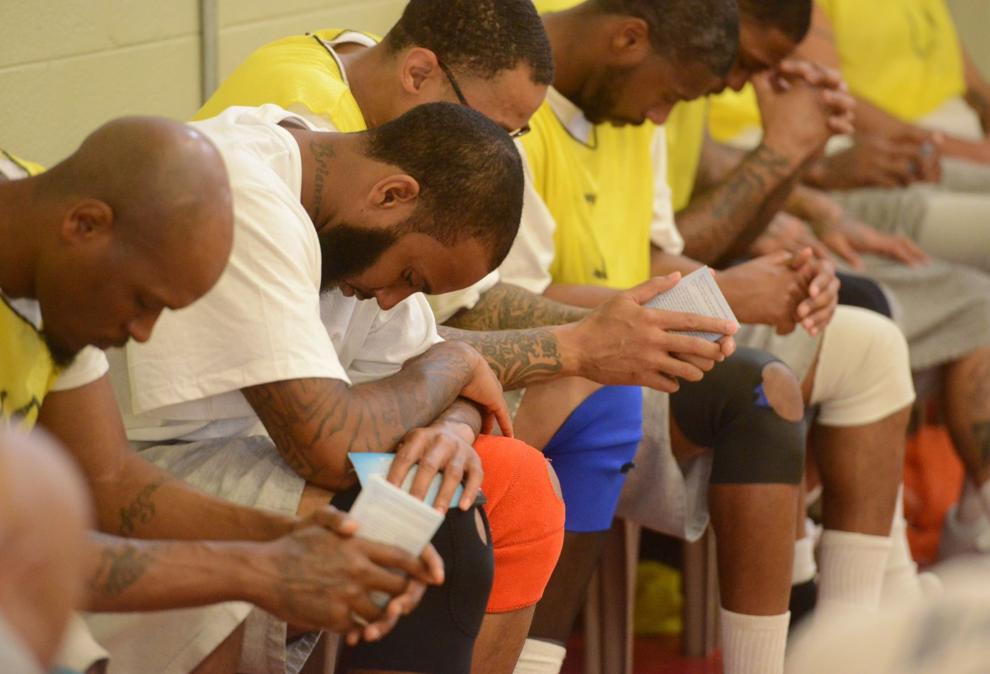 The visit to Coffeewood was the first of four games the Saints would play in a span of two days at correctional facilities across Virginia. It would be a quick and physically taxing trip but equally rewarding.
Due to the pandemic, the ministry had to cancel summertime visits to other facilities in the state to play softball.
Some of the Saints players are pastors or are otherwise involved with their churches at home, but they rarely have the opportunity to present religion to people for the first time. In that sense, volunteering with the Saints serves as a different sort of evangelistic outlet.
"I think a lot of these guys love church, they love being men of faith, but we want to do something more," said Jay Thatcher, the director of ministry relations. "We don't just want to be churchgoers. We want to be used. And we love ball."
Parmer, the rookie, almost immediately felt like he was in the right place to do some good.
"I love basketball and I've been in ministry my whole life, so I figured I'd give it a shot," he said. "I loved it, so I'll probably end up doing it again."
Rempel graduated from LBC in May 2001 and played his first game with the Saints Prison Ministry the next month.
Earlier that spring, he said he received a Saints shirt in the mail, along with some information about the ministry. He never knew who his mystery recruiter was, but he didn't need much convincing.
"As a senior coming out of college with no real direction, this was heaven sent," Rempel, 41, said.
Rempel has since been on about a dozen of these athletic crusades. Sometimes his church schedule at home doesn't allow for him to attend, but he'll always try.
"There's something about sports and being able to connect," he said. "Once you play ball with someone, you're bonded in some way."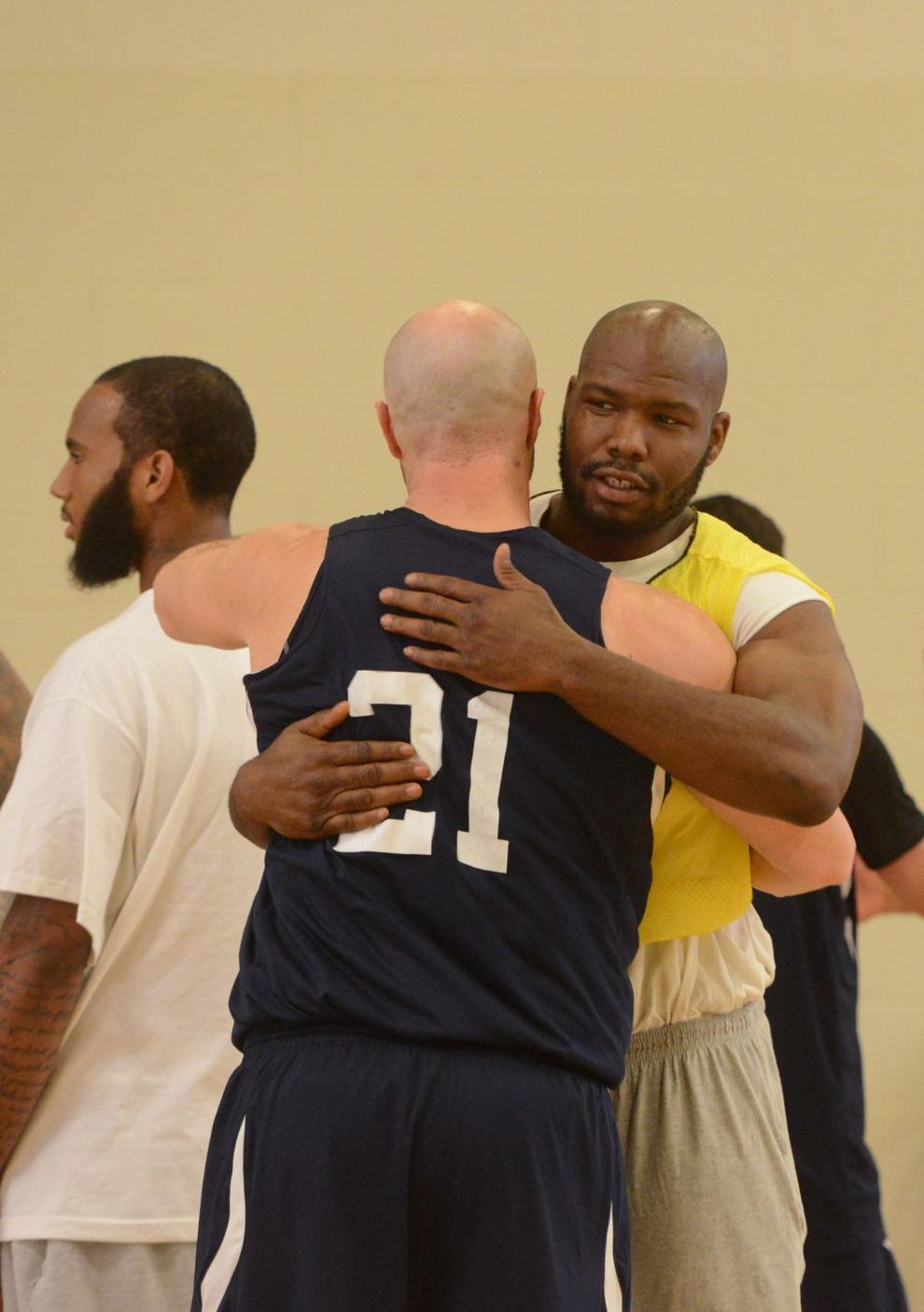 Bradshaw, who was released in April, elected to keep in touch with the Saints.
He said he was grateful for their visit because he felt seen as a person and as a basketball player but not as a criminal.
"It's like because we did time or we got in trouble or made wrong decisions, [people] kind of tend to stereotype us instead of getting to know us," he said. "It's like judging a book by its cover. It means a lot to know there's people out there that still care and still look at us like human beings."
Sparrock is scheduled to be released in June 2022. He's confident he will leave as a better person than when he entered. He credits sports as one of the reasons why.
"I had become a toxic individual," he said, "and through exercise, through my journey through the different belief systems, through self-motivation, through reading different books, I've gotten to a place where I can reflect back on myself and say, 'OK, you were bad. You were a piece of crap, but you don't have to stay a piece of crap. That's not who you are. You can grow from that.' And I chose to grow."