RINGGOLD — After having been canceled last year due to the pandemic, the Danville-Pittsylvania County Fair is back this year.
The excitement starts on Friday and runs through the next Saturday, Sept. 25.
"We did not have the fair last year due to the COVID restrictions on the number of people allowed by the government, but when we found out the restrictions were lifted, we knew we would have it," said Bonnie McDarmont, spokesperson for the fair.
She is the daughter of Larry Burnette, who owns it along with his brother, Ray. The family-owned fair was begun by their father Willard Burnette and will be celebrating the 30th anniversary this year.
"The fair will absolutely be as big as it usually is, and there are lots of exciting things," McDarmont said.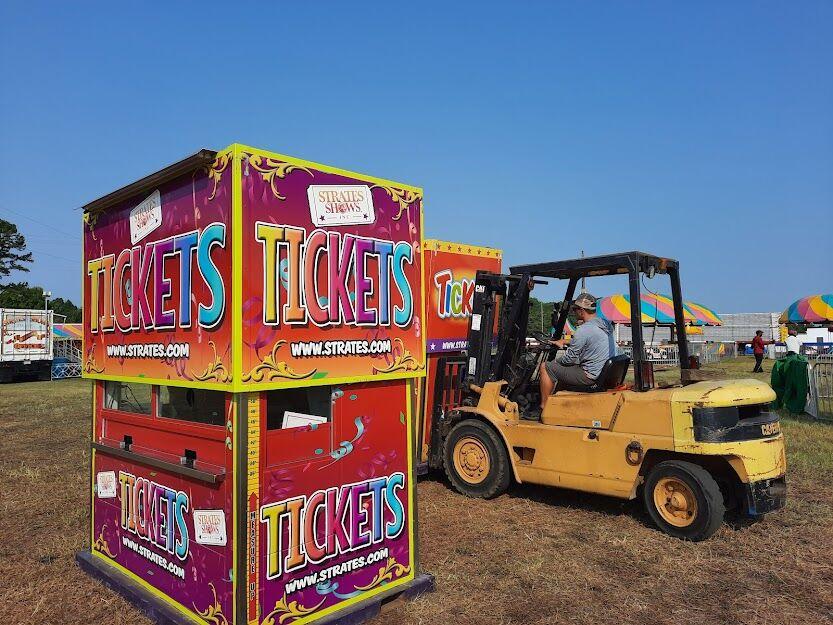 But, COVID-19 still looms large. McDarmont said additional hand sanitizing stations have been installed throughout the fairgrounds and all Centers for Disease Control and Prevention protocols are being followed.
"We recommend masking and social distancing when possible, and employees will be behind partitions in the ticket booth," she said.
The opening night of the fair will feature bull riding, magic by Lance Gifford and the Human Cannonball, both of whom will perform every night. Other events include Figure 8 car racing the second night and a demolition derby the last two nights.
McDarmont explained the car racing is similar to a demolition derby, though, with cars racing in a figure 8 and "running into each other a lot."
Monday night is half-price admission night for students, and Tuesday night is Senior Citizen Night with free admission for seniors 65 years old and above. A military discount is half off every night, and Wednesday and Thursday are $2 admission.
"The rides vary from year to year, but there will be 32 to 35 rides. The entertainment is free every night and is staggered so everyone can see every show," she said.
The food won't disappoint either.
"There is always great food," McDarmont said. "We'll have cotton candy, funnel cakes, corn dogs and food from local vendors, such as O'Kelly's and Nana Karen's."
There will also be a petting zoo with cows, horses, chickens, goats and other animals. The five-legged cow, Cinco, will also be there again.
"She is a normal cow, except she has an extra leg growing out of her back," McDarmont explained.
Based in Orlando, Florida, Strates Shows, Inc., is a family-operated carnival that provides the rides and games for the Danville-Pittsylvania County Fair and others throughout the U.S.
The Burnette family owns the fairgrounds at 1863 Milton Highway in Ringgold, as well as the administration, gates and entertainment.
For more information and for specific times of the entertainment and ticket prices, go to dpcfairgrounds.com or call the office at (434) 822-6850.