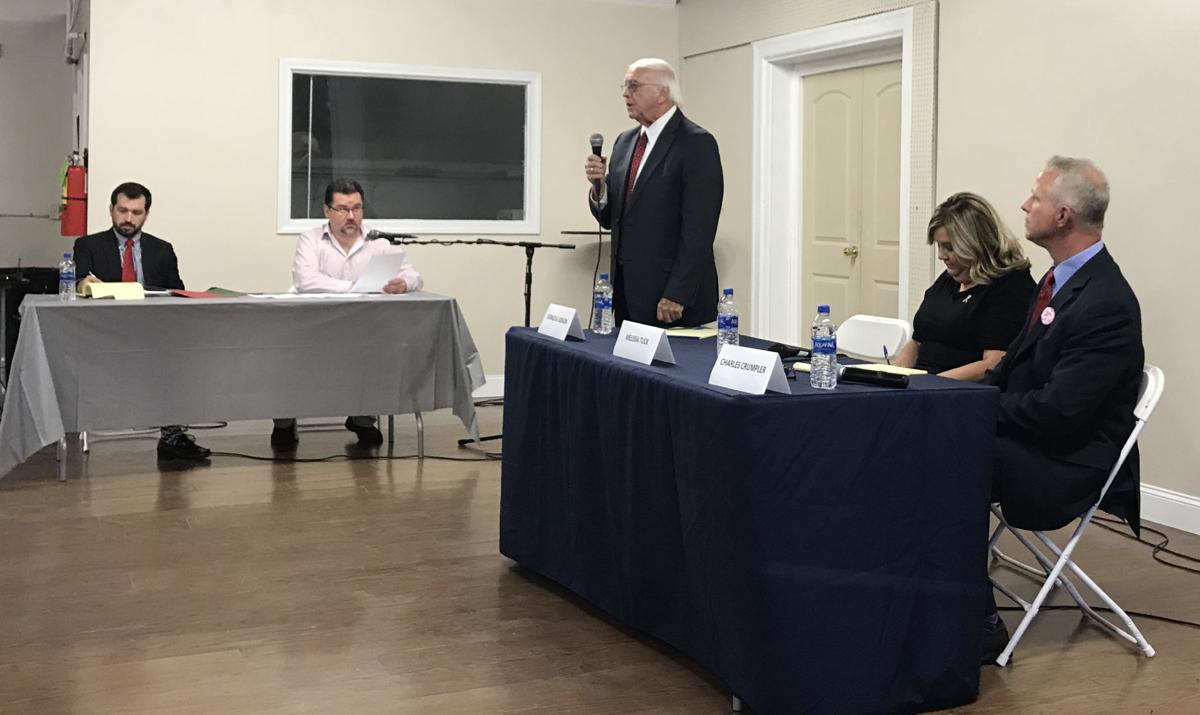 Sitting before an audience of public defenders, attorneys and local residents at Wednesday night's public forum, the candidates for Danville clerk of court highlighted their experience and discussed their priorities for the position.
Three candidates are running for the spot: incumbent Gerald Gibson, who has served in the post for 40 years, as well as challengers Melissa Tuck and Charles Crumpler.
The public forum was hosted by the Danville Bar Association.
One of the night's themes was customer service and each candidate's position and goals when it comes to working with residents.
As it stands, the Danville Circuit Court is open 9 a.m. to 4 p.m. Gibson said his staff uses the extra hour to prepare for the next day and complete paperwork, but both Crumpler and Tuck said one of their first priorities if elected would be to extend the hours of operation.
"If that means staying over or getting there early, that's what you're going to expect from me," said Crumpler.
Tuck said providing excellent customer service will be one of her main goals.
"Whoever walks in the clerk's office, I want them to be treated like my mom walked in," she said.
"All those individuals walk through that door on an equal footing," added Gibson.
In terms of experience, each of the candidates offer something different. Gibson has served as the clerk for the past 40 years.
"On the job training is the best that you can get and there is no substitute for that," he said.
Crumpler has worked with the Department of Corrections in various capacities for 25 years and serves on the board for the Danville-based House of Hope homeless shelter. Tuck has worked in multiple positions with the Danville Public Defender's Office for 15 years.
If elected, Tuck said she would have three primary goals: expand office hours, add additional training programs for deputy clerks and create internship programs for local students.
"Continual training will help us in providing better service to the community," she said.
Crumpler said his goals would be to expand office hours, "ping-pong around" to learn different jobs in the office and move his own office toward the front of the clerk's office.
"I'm going to work side by side with each and every one of my deputy clerks," he said.
Another topic addressed by the candidates was the capability of the office's technology to meet the client's needs.
Gibson, who stressed protecting private information as critical, said his office does all it can with the financial resources at its disposal. Crumpler said he wants to streamline the website, allow for easier access to common questions and requests and improve its functionality.
In her closing statements, Tuck said she wants to help those who don't have friends in high places.
"I'm here for the people who feel like they don't know anybody. ... I will help you get stuff done," she said.
Crumpler pointed to a need for change and increased diversity and inclusiveness from the clerk's office.
"You're going to have someone who's completely embracing the diversity of this community," he said.
Conversely, Gibson focused on his experience and the understanding of the job he has developed over the past 40 years.
"I think if you really examine it, and no disrespect to either of my opponents ... I have the background, on the job training, experience and knowledge," said Gibson.
Along with sheriff, treasurer, commissioner of the revenue, and commonwealth's attorney, circuit court clerk is one of five constitutional offices. Elections for circuit court clerk occur every eight years.
The circuit court is in charge of court documents, marriage licenses, concealed carry permits, estates, and real estate transactions.
The election for Danville Clerk of Court will take place Nov. 5.
Ayers reports for the Register & Bee. Reach him at (434) 791-7981.
Ayers reports for the Register & Bee. Reach him at (434) 791-7981.
Get local news delivered to your inbox!
Subscribe to our Daily Headlines newsletter.