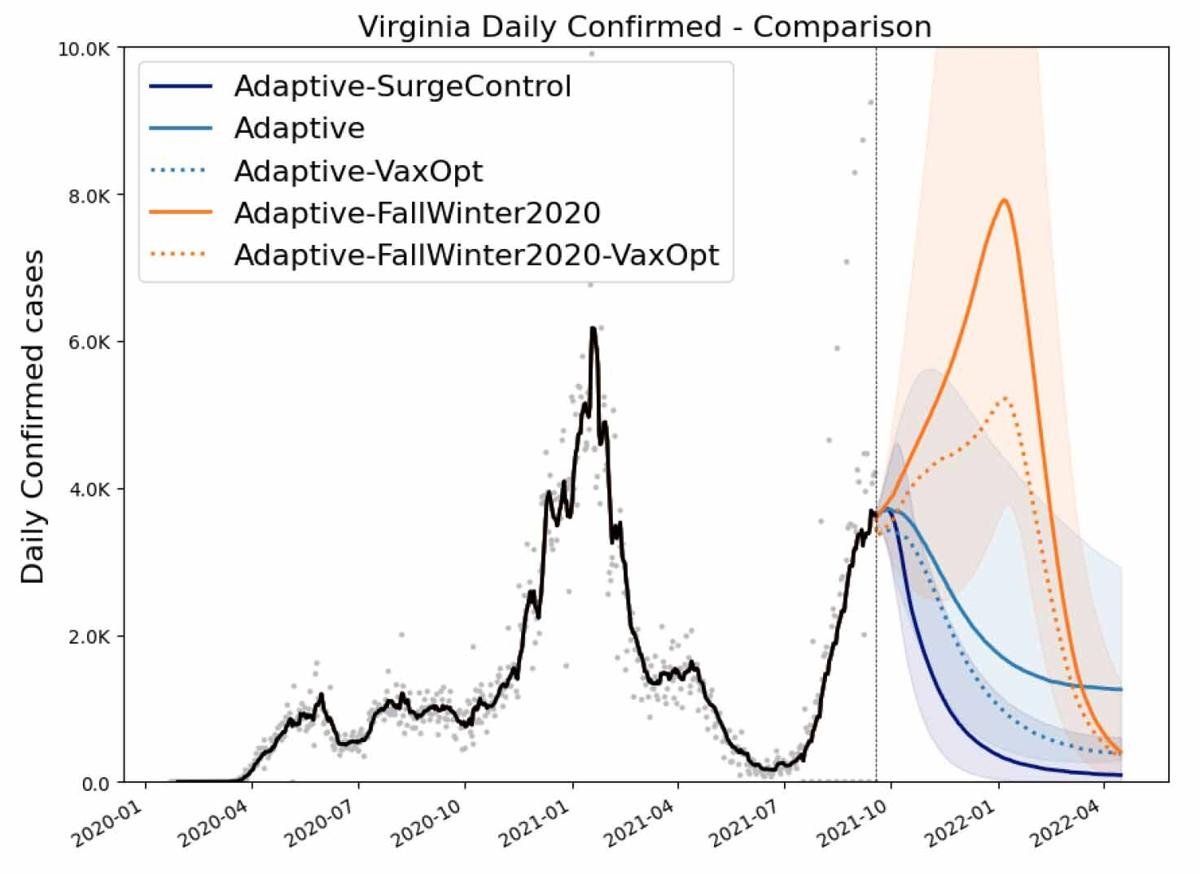 Across the state and locally, cases have stopped the stair-step increase of recent months. While a downward movement is positive, it's not yet time to celebrate. What happens next will be heavily influenced by behavior, Friday's report from the University of Virginia's Biocomplexity Institute reports.
"Current models suggest we may have reached a peak with a likely drawn-out plateau, but uncertainty and data lag also provide for the potential of a continuing rise in cases as information is processed," said Chris Andrews, an epidemiologist with the Pittsylvania-Danville Health District. "Our local and regional numbers are continuing to grow in excess of our investigation capacity."
Simply put, even though official numbers may show a drop in infections, it's likely many more are going undocumented, a situation noted in a recent Virginia Health Department blog post.

And not all parts of the state are following the same path. For example, caseloads are still surging in Southwest Virginia where hospitals are strained over an influx of patients.
Some Southside health districts, including Danville and Martinsville, are experiencing a decline in cases. In areas like Halifax and Mecklenburg counties, the case rates are holding steady without an up-or-down movement.
Even amid a slight decline, nearly all parts of Virginia are still in a high-risk category for COVID-19 transmission, according to the Centers for Disease Control and Prevention. Cases and positivity rates remain far too high to nudge areas out of the top-tier warning level by the federal agency.
Projections
UVa has one scenario to factor a continued strong practice of mitigation — wearing face masks and socially distancing — that shows a 25% drop in rates over the next few months.
But another important part of prevention includes self-isolating when sick. As an example, health officials are learning some people were sick with signs of COVID-19, but still attended the Blue Ridge Rock Festival in Blairs that drew crowds of about 33,000 a day, Andrews said.
These festivalgoers "chose to stay due to mild signs," he told the Register & Bee on Friday.
Another scenario is modeled after what happened last year heading into the holidays with a tweak to add in enhanced transmissibility with the delta variant. That particular path projects Virginia could top 8,000 cases a day by January, easily topping the historic surge earlier this year.
"We can still influence the course of this pandemic," researchers said in Friday's report, acknowledging no one knows for certain what the fall and winter will hold.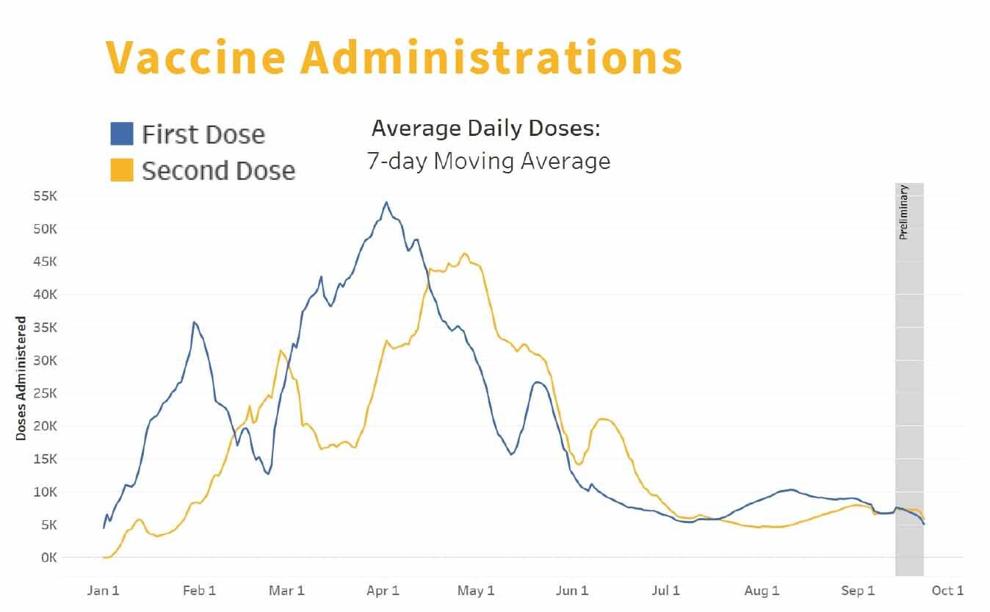 Vaccines hold the power to significantly alter the course. One model shows if vaccinations reach about 85% of adults, caseloads could dramatically drop. If that were to happen, about 220,000 cases could be avoided.
That would require many more Southside residents rolling up their sleeves to receive doses of protection. In Danville, about 53% of those 18 and older are fully vaccinated. Only 47% of Pittsylvania County adults are at that level.
"Vaccines are very effective at reducing hospitalization and death rates," the report stated. "Moreover, though breakthrough cases are possible, and immunity wanes, vaccines are still effective at reducing transmission."
People can get a vaccine first dose next week could be fully protected by the time Thanksgiving rolls around.
Last year
Caseloads started climbing in October last year and reached a peak around January. UVa officials believe a combination of weather, travel and holiday gatherings converged to create the pandemic storm.
When accounting for the delta variant — a more potent strain of the novel coronavirus — "this path takes us to a far higher peak than we've ever seen," Uva researchers said.
Masking, social distancing and self-isolating when sick are the best ways to tame another surge, Friday's report said.
"In the short-term, this is the best way to relieve hospital congestion and protect our healthcare workers, frontline workers, and first responders," researchers wrote.