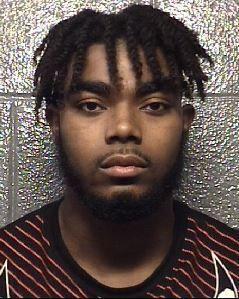 A judge found Antoine Juwan Jefferson, the man accused in the death of his 3-month-old son, guilty of second-degree murder and felony child abuse Thursday afternoon.
Judge James Reynolds' decision came after a 5-hour bench trial in Danville Circuit Court.
"There is certainly no happy ending in a case of this nature," Reynolds said just before finding Jefferson guilty.
It was on Aug. 9, when "the parents drove the infant to the hospital for treatment because the child was unresponsive," police wrote in a news release at the time. Sovah Health-Danville medical staff notified the police and an investigation began.
The infant, Deandre Jefferson, was transferred to Duke University Medical Center where he died Aug. 12.
Antoine Jefferson's 3-month-old son was brought to Sovah Health-Danville after falling out of a baby bouncer two days prior, according to search warrant documents for the family's residence at 2116 Robin Hood Drive. The document reports the child was vomiting and that the parents had administered Tylenol as treatment.
Police responded to Sovah Health-Danville on Aug. 9 in reference to suspected child abuse.
The search warrant states that "preliminary reports from the medical provider revealed the child was bleeding from the brain."
The officers who initially responded to the local hospital spoke with the doctor and registered nurse providing care, the search warrant stated, and both "advised the brain injuries to the child were consistent with child abuse."
During Thursday's trial, Dr. Lindsay Terrell from Duke University Medical Center testified that Deandre Jefferson was unresponsive and clinically dead on arrival at Sovah Health-Danville.
He had no pulse and he was not breathing, she said.
"It was very concerning that his brain was not in a good state," said Terrell, a child abuse and neglect pediatrician.
He was extremely cold, with his temperature at 90.8 degrees Fahrenheit, Terrell said.
Shaken
Testimony and evidence presented in court revealed the infant had died as a result being shaken by Jefferson after the baby would not stop crying on Aug. 9.
Danville police officer B.N. Jones testified that Jefferson told her it was around 1:30 p.m. Aug. 9 when Jefferson was getting ready to pick up his wife from work at Bojangles on Piedmont Drive in Danville.
"The baby was in a bouncer and started crying," Jones said she was told.
Jefferson changed his son's diaper and put him in a car seat. The baby sounded like he was crying in a strained manner, she said she was told.
The baby then went limp and Jefferson performed CPR, put the baby back in the car seat and then took Deandre and two other children with him to Bojangles, Jones said she was told.
Antoine Jefferson claimed the fatal injuries to Deandre occurred when he rolled out of his bouncer seat in the living room and that he had fallen out of bed at his godmother's home about a month before his death.
Jefferson, 23, testified he got up at 5:30 a.m. Aug. 9 to take his wife to work. All five family members went to Bojangles to drop her off, he said.
When Jefferson and the kids went back home, two of the children returned to sleep in their rooms while Jefferson kept Deandre with him in the car seat in the living room.
At one point, Deandre woke up and Antoine had to make him another bottle of formula at around 11:30 a.m., Jefferson testified.
"I tried to feed him," he said. "He drank two to four ounces and didn't drink any more and he sat there and kept looking at me and the TV. "
Deandre had a dazed look and kept staring at the television, Jefferson testified.
He took Deandre out of the car seat and put him back in the bouncer to see if that would cheer him up, Jefferson testified. Deandre kept staring, he said.
While Jefferson was getting ready to pick up his wife from work at Bojangles, Deandre started crying hysterically, he said, adding that he picked Deandre up and laid him on the couch to change his diaper.
Jefferson tried to feed him again, but Deandre wouldn't take the bottle, he testified.
"His crying got louder," he said.
When he picked him up, Deandre "wasn't looking straight," he said.
"He wouldn't open his mouth to cry," Jefferson said.
When Jefferson put Deandre back in the car seat, he tensed up and went limp, Jefferson said.
The prosecution pointed out that though he did perform CPR, he never called 911 and he took a long, out-of-the-way route to pick up his wife from Bojangles while a fatally injured Deandre was in the car with him. He had also passed several shortcuts to the hospital on the way.
Experts
Experts testified that Deandre's injuries did not indicate he fell out of a bouncer seat just inches off the floor.
"His injuries we saw were not consistent with with a short fall," Terrell testified, adding that Deandre had a subdural hematoma (bleeding beneath the skull but outside the brain, usually the result of a severe head injury).
Terrell later added that "his injuries are most consistent with significant head trauma."
He also had three fractures to his ribs.
Dr. Donna Boyd, forensic anthropologist at Radford University, said, "It took quite a lot of force to fracture those ribs."
Graphic pictures were shown of Deandre's brain after the skull cap had been removed for an examination of his injuries.
"There was evidence of bleeding on the brain," said Assistant Chief Medical Examiner Dr. Gayle Suzuki during testimony.
She said the cause of Deandre's death was blunt-force injuries to the head and battered child syndrome. She compared the severity of his injuries to those sustained in a car wreck.
"I would not be surprised to see these types of injuries in a car-crash scenario," Suzuki said.
After Reynolds found Jefferson guilty, a woman in the audience got up and yelled, "Y'all did this to him!" before leaving the courtroom bawling.
Jefferson is scheduled to be sentenced at 9 a.m. Aug. 23.