CHATHAM — A judge tossed out a lawsuit against a member of the Pittsylvania County Board of Supervisors on Friday morning.
County resident Jim Scearce filed the lawsuit last month in Pittsylvania County Circuit Court accusing Tunstall District Supervisor Vic Ingram of violating open meeting laws.
The board of supervisors was also a defendant in the lawsuit.
According to Scearce's lawsuit, Ingram failed to give the required three-day public notice of a meeting of the board's naming committee that dealt with the naming of a future jail that has not yet been built. Ingram had proposed naming the jail after the late former Pittsylvania County Sheriff Taylor McGregor.
Scearce was at the board's Dec. 20 regular meeting when members discussed naming the jail. Ingram, who was board chairman at the time, made a motion during the meeting to name the future new jail after McGregor.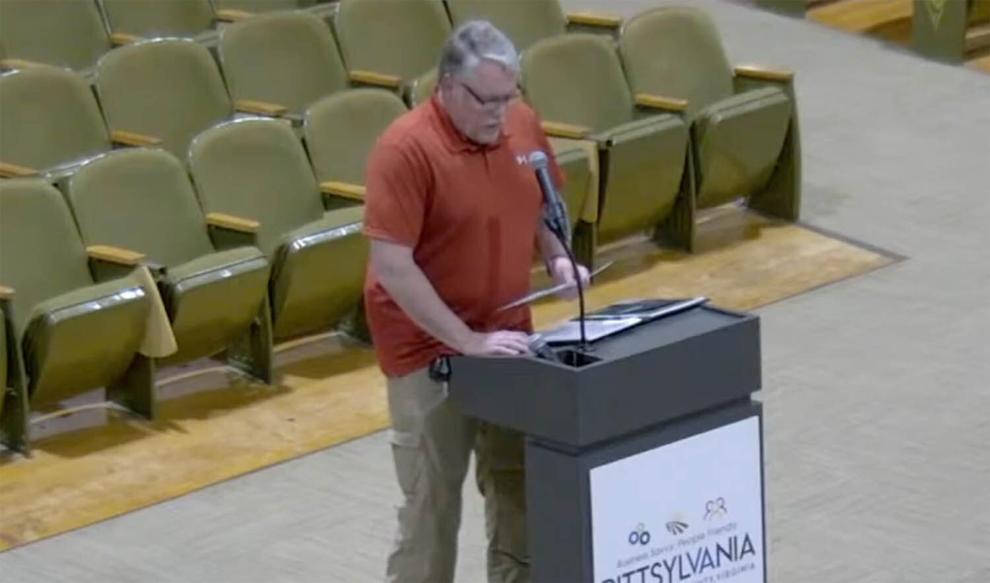 Chatham-Blairs Supervisor Bob Warren said he would second it, but added that a vote to name the jail would be premature and that a future board could decide giving the facility a different name when it is being built.
"My concern is if we take action now on this, we can't bind a future board," Warren said in a video clip of the meeting shown in court.
Banister Supervisor Robert Tucker agreed that the move to name it now would be premature and said the matter should be decided by citizens. He made a motion to table the issue to a later date.
Warren brought up the idea of taking the matter to the naming committee, but Ingram indicated that the it had already been to the committee.
"It's already been there," Ingram said during a clip of the meeting aired Friday.
Scearce, brother of Westover Supervisor Ron Scearce, testified in court how he reacted when Ingram said those words. Scearce said there was no notice of such a meeting.
"When I heard that statement, I was puzzled," Scearce said.
Warren, Tucker and County Attorney and Interim County Administrator Vaden Hunt said they didn't know a naming committee meeting was held.
The full board ended up voting to table the matter during the Dec. 20 meeting.
Jim Scearce's wife, Vanessa Scearce, was also at the meeting and testified that Ingram looked over at Callands-Gretna Supervisor Darrell Dalton after he said the matter had already been to committee, and Dalton nodded in agreement. Dalton, along with Ingram, served on the committee in 2022.
Former Banister Supervisor Jessie Barksdale was also appointed to the committee in 2022, but had stepped as supervisor last fall and Tucker was appointed to replace him on the board.
Jim Guynn, attorney representing the board of supervisors, questioned Vanessa Scearce's interpretation of Dalton's nod.
"This is your surmise as to what his body language indicated?" Guynn asked her.
Ingram, who represented himself in the case, asked her whether she was a body language expert. Vanessa said she knew the difference between someone nodding and someone shaking their head "no."
Guynn requested the court to strike the evidence against the board and dismiss the case. Ingram made the same move.
"I haven't done anything wrong," Ingram said during opening arguments, adding that his evidence would show "no illegal meeting was ever held."
He also argued that the lawsuit was politically driven and brought with malice.
At one point, Ingram asked Jim Scearce while he was on the stand whether he considered himself a patriot and if he knew the 14th Amendment, which guarantees equal protection under the law. Circuit Court Judge Stacey W. Moreau told Ingram those were improper questions.
During closing arguments, Scearce's attorney, Rick Boyer, said, "We have at least two members saying there had been a naming committee meeting."
He argued the lawsuit should be allowed to proceed.
Moreau ruled in favor of Ingram and the board, saying he misspoke during the Dec. 20 meeting regarding a committee meeting and that subsequent statements by others at the meeting back up Ingram's argument that there was no evidence of a committee meeting.
"The court understands where the confusion lied with Mr. Scearce," Moreau said, pointing to statements made by other supervisors and Hunt indicating there was no meeting they knew of.
After the trial, Scearce and his attorney said Ingram was being dishonest, one way or the other.
"He was either lying then [during the Dec. 20 meeting] or he's lying today," Scearce told the Danville Register & Bee.
Ingram told the Register & Bee his misspoke during the Dec. 20 meeting and that he had a telephone conversation with Dalton about the naming of the jail before the Dec. 20 meeting.
"She [Moreau] ruled correctly because there was no meeting," he said, adding that Scearce's lawsuit had no merit.
"I used a bad choice of words," he added regarding his reference to a naming committee meeting.