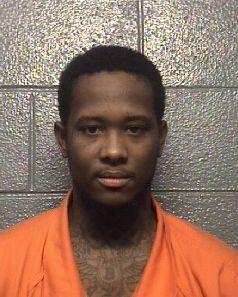 It took less than two hours following a two-day trial for a jury to find Ladarius Tomas Jeffries guilty of first-degree murder in the March 4, 2020, fatal shooting of 40-year-old Melvin Wayne Smith on Summit Road in Danville.
The jury recommended a 33-year prison sentence for Jeffries — 25 years for first-degree murder, five years for shooting from a vehicle and three years for use of a firearm in commission of a felony.
"It's time to bring the curtain down," Danville Commonwealth's Attorney Michael Newman told the jury during closing arguments Thursday afternoon in Danville Circuit Court. "It's time to bring the curtain down on the defendant."
Newman was referring to a text Jeffries sent out that said "Showtime!!" shortly before he shot Smith on the morning of March 4, 2020.
And bring the curtain down they did, after the trial's second day — which consisted mostly of what Newman apologetically referred to as a painstaking presentation of cellphone and vehicle location tracking data to prove Jeffries' guilt.
The prosecution also presented messages sent to and from a cellphone used by Jeffries just before and after the murder.
Rah'shia Jones, the mother of a child of Jeffries, said the cellphone Jeffries is believed to have used belonged to her. She allowed Jeffries, who had been in jail previously, to use her phone to contact his probation officer, Jones said.
Jeffries, 30, had stopped at her house at around 3 or 4 a.m. on the morning of the shooting, Jones said.
"He woke me up ringing the doorbell," she said.
She testified she saw him leave in a truck at around 6:30 a.m.
"Before he left, he kissed me and told me to lock the door," Jones said, adding that she didn't see whether he was driving.
Jeffries' attorney, Joseph Sanzone, cast doubt on whether Jeffries was ever in possession of the phone or was the driver of the rented Hyundai Elantra that was driven to Smith's house, where he was shot seven times.
Sanzone argued six of 13 messages on the phone could not conclusively be traced back to Jeffries.
"That means they [those messages] were from someone else," Sanzone said. "So somebody else was using that phone."
But there was "no evidence, zero evidence" that anyone else was using the phone, Newman said.
"If you stick to the evidence, it's proof beyond a reasonable doubt that the defendant committed this murder," Newman said, pointing out the evidence at the scene that included 45-caliber bullet casings and glass from window of the car Jeffries was driving.
Also, Ariel Hicks, who had rented the car Jeffries drove to Smith's house, said Jeffries was the last person she saw driving it before the murder, Newman said.
Sanzone also tried to convince the jury that Hicks, who drove the Hyundai — which had its front passenger window busted out after Jeffries shot Smith from the vehicle — to Greensboro, N.C., to have the window replaced may have been "using Jeffries as a pawn."
"Maybe she was protecting some other man [who committed the crime]," Sanzone said.
He also called Smith's actions into question.
"We don't know why he was there, what he was doing," Sanzone said, adding no one knows what sort of disagreement there was between Smith and "this other person."
In his rebuttal, Newman said, "It's Melvin's house! How in the world is this Melvin's fault?"
Jeffries will be sentenced by a judge at a later date.