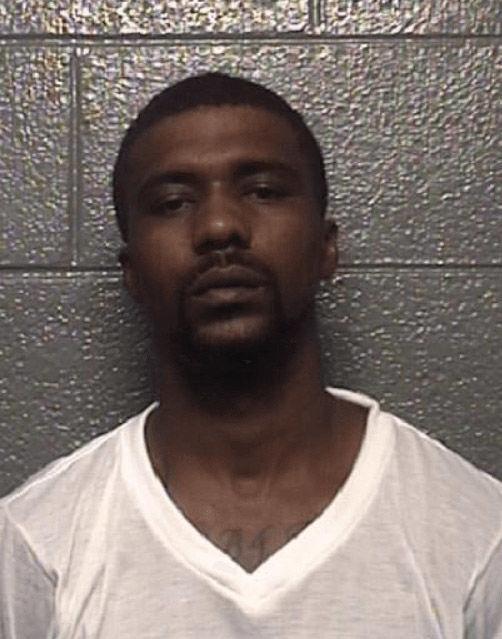 A jury found a Danville man guilty of first-degree murder and, after hearing testimony from the victim's 9-year-old son, recommended he go to prison for the next 45 years.
That jury in Danville Circuit Court deliberated for more than an hour Thursday afternoon before finding Antonio T-Quan Terry, 31, guilty of first-degree murder, use of a firearm in commission of a felony and five counts of maliciously shooting into an occupied vehicle and recommended a sentence of 45 years in the shooting death of Keenan Cunningham. 
Then they heard from 9-year-old Zion Cunningham how he and his dad used to go to the park together, wash Keenan's car and walk the dog.
"I felt like I died when he died," Zion Cunningham said during the sentencing hearing, when several members of his family testified.
The jury considered that for another 90 minutes before returning with its recommended sentence.
Terry faces a 32-year sentence for the murder charge, which carried a minimum of 20 years, three years for the use of a firearm charge and two years each for the five counts of maliciously shooting into an occupied vehicle. His formal sentence will be handed down at 9 a.m. Feb. 24.
"We've proven beyond a reasonable doubt that the defendant, Mr. Terry, murdered Mr. Cunningham," Danville Commonwealth's Attorney Michael Newman told the jury during closing arguments before Terry was convicted. 
The jury was convinced that Terry shot Cunningham multiple times on the early morning of July 26, 2019, while Cunningham was sitting in the driver's side of a Chevrolet SUV on Hughes Street in Danville.
The incident was reported at about 3:30 a.m., after Terry, Cunningham and a third man, Lateze Barnes, had returned from a sweepstakes gaming facility in Ruffin, N.C.
There were 18 bullet casings at the scene, 14 bullet fragments removed from Cunningham, 17 wound paths in his body, a 9-millimeter weapon used to commit the crime, with all of the bullets shot from one gun, Newman said.
But defense attorney Jason Eisner argued that there was no malice or premeditation before the shooting and that Terry likely was terrified or panic-stricken after Cunningham had driven recklessly on the way back from Ruffin that night. 
"You could find that the heat of passion happened here," Eisner told the jury.
Eisner also tried to pin the blame on Barnes. 
"The police didn't know Mr. Terry was the shooter," Eisner said. "They decided that Mr. Terry was the shooter. The police could have just as easily decided that Mr. Barnes was the shooter." 
Later, Eisner added, "What if it was Mr. Barnes? It has not been established that Mr. Barnes didn't do it."
Barnes testified Wednesday that he ran from the vehicle as soon as he heard gunshots, glanced back and saw flames going into the right side of the vehicle from where Terry was standing. 
Newman pointed out that a video showed a figure — believed to be Barnes — running away from the scene while shots were fired into the right side of the vehicle. 
Also, Newman asked, if Barnes committed the crime, why did he go to the police? Terry was apprehended while fleeing the police later on the day of the incident as a search warrant was being executed at a residence he was known to frequent, Newman pointed out. 
"Who came to the police? Who ran from the police?" Newman asked rhetorically, referring to Barnes and Terry, respectively.
During testimony, relatives of Cunningham tearfully recalled how the murder devastated his loved ones. 
"It totally destroyed my family," his father, Elijah Cunningham Jr. told the court.
He added that he was amazed how Keenan, a father, raised his kids by himself, had a job and went to school. 
Keenan's kids, who have been staying with their grandparents, have been crying and having nightmares, his relatives testified. 
"It has killed me inside," Keenan's brother, Elijah Cunningham III, said of his brother's death. "It hurts so, so bad every day."
Keenan was all his kids had, since their mother is not there for them, he said. 
Terri Cunningham, Keenan's mother, said he would call her every day. She warned him about who he was hanging out with, she added. 
"He liked his friends and thought those people were his friends," she said. "I tried to tell him that they weren't."
As for Terry, his mother also testified and talked about giving birth to him at age 14. 
"I raised him the best I could, being a young mother," April Terry testified, adding that he graduated high school and was a good father to his kids and loved his friends.
"He was wonderful to his friends," she said. "I don't know what happened."
She expressed sympathy for Cunningham's family and asked for mercy from the jury. 
"My heart aches for them," Terry said. "I hope you find it in your heart to be lenient towards Antonio."   
Danville Assistant Commonwealth's Attorney Bo Palmore helped prosecute the case. He would not comment on the jury's recommended sentence and referred questions to Newman. 
"We are satisfied Mr. Terry was held accountable for this terrible murder," Newman said Thursday afternoon. "I would like to thank the Danville Police Department in working with my office to get some closure for the victim's family and holding the defendant accountable. It was a team effort to both solve and convict the perpetrator of this crime."