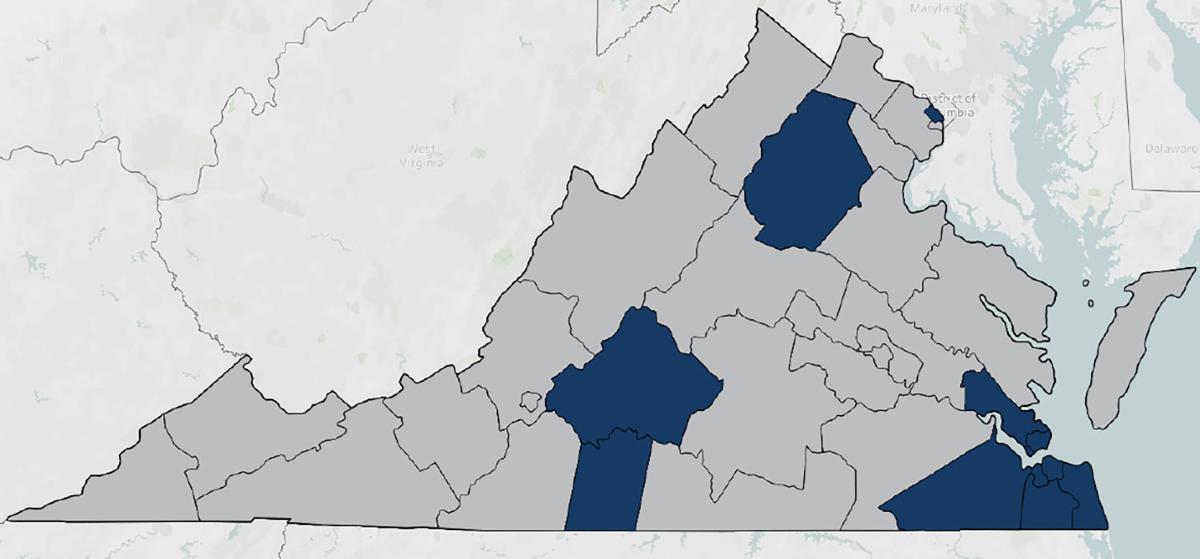 Danville added four deaths from COVID-19 this week and maintains the designation as a surge area, according to data from the Virginia Department of Health.
A death was recorded each in Wednesday's and Thursday's reports, and two more were noted in Saturday morning's update. The health department updates online data by about 9 a.m. each day based on information received by 5 p.m. the previous day.
It's not clear when the deaths occurred as health department officials have said there's often a lag in entering data, especially with deaths.
For Danville, the death toll from the illness caused by the coronavirus is seven. Two people have died from COVID-19 in Pittsylvania County.
In demographic terms, of the nine total deaths in the district, five were residents 80 and above, two were 60-69, one was 70-79 and one was in the 40-49 age range, according to the health department data. Seven of the deaths were women.
For the third straight week, the Pittsylvania-Danville Health District is classified as a surge area by the Virginia Department of Health's weekly update. New surge areas have emerged in Central Virginia and continue in the Hampton Roads area where Virginia Gov. Ralph Northam this week tightened restrictions there.
As of Saturday morning, there were 643 total cases of COVID-19 in the local district. Of those, 314 were in Danville and 329 in Pittsylvania County. Three of those cases are classified as probable, meaning someone is showing the signs of COVID-19 and had contact with someone else who's tested positive.
In a two-week period — a time frame health officials generally use to determine active cases — the Pittsylvania-Danville Health District has added 238 cases. In the month of July, cases nearly tripled. There were 209 cases on July 1 and 616 on Friday.
While no new outbreaks have been reported in about a week, associated cases have increased. Across 13 outbreaks in the district, 78 cases are linked to those outbreaks. In addition, 24 health care workers have tested positive.
An outbreak at Chatham's Green Rock Correctional Facility is growing. As of Saturday, 11 staff members had active infections along with five offenders.
Riverside Health and Rehabilitation Center and Roman Eagle Memorial Home, both in Danville, still have active outbreaks, according to online data. 
The percent positive — a calculation of the number of positive results weighed against the overall tests administered — has dropped in the local district, but remains high at 10.5%. By comparison, the statewide figure is 7.2%.
A model by the University of Virginia suggests on the current track the local district could add about 241 cases per week by Sept. 6. With a surge, that figure could be as high as 412. The model also notes on a worst case scenario a possible 2,300 cases per week may occur by fall. While providing a possible forecast, the models are in no way a crystal ball into the future. Instead, officials use data updates to spot possible trends in cases.
Virginia is expected to have about 13,000 weekly confirmed cases by early September, according to the model. That's a slight decrease from predictions a week ago. 
The UVa model summed up the coronavirus and likened it to a race. "Beating COVID-19 is a marathon, not a sprint," Friday's report stated. "It requires all of us to do our part to stop the spread."
Concerned about COVID-19?
Sign up now to get the most recent coronavirus headlines and other important local and national news sent to your email inbox daily.