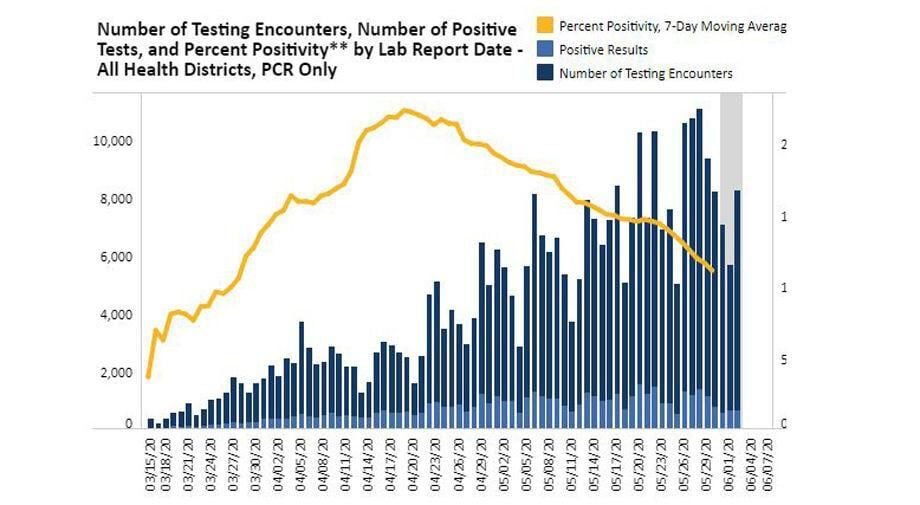 The Virginia Department of Health reported Wednesday that the statewide total for COVID-19 cases is 46,905 — an increase of 666 from the 46,239 reported Tuesday.
As overall case numbers increase with more testing, VDH data show the percent of positive results are continuing a decline that started in the middle of April.
The 46,905 cases reported Wednesday include 44,715 confirmed cases and 2,190 probable cases. Also, there are 1,428 COVID-19 deaths in Virginia — 1,322 confirmed and 106 probable. That's an increase of 21 from the 1,407 reported Sunday.
The VDH defines probable COVID-19 cases as people who are symptomatic with a known exposure to COVID-19, but whose cases have not been confirmed with a positive test.
Danville added another case of COVID-19 with Wednesday morning's update for a total of 58. Pittsylvania County stayed steady with 45 cases.
Henry County is seeing significant increases each day and now stands at 145.
VDH data shows most cases (79.8%) are occurring in adults between the ages of 20 and 69, with people in their 40s accounting for the largest percentage of cases (18.6%). The majority of deaths (76.9%) are among Virginians over the age of 70.
Fairfax County, the state's most populous locality with more than 1.1 million people, has the most cases with 11,596 and 396 deaths.
VDH said there are 375 outbreaks in the state, 217 in long-term care facilities. These facilities also account for 811 of the state's deaths attributed to the virus.
State health officials have said there's a lag in the reporting of statewide numbers on the VDH website. Figures on the website might not include cases or deaths reported by localities or local health districts.
Concerned about COVID-19?
Sign up now to get the most recent coronavirus headlines and other important local and national news sent to your email inbox daily.