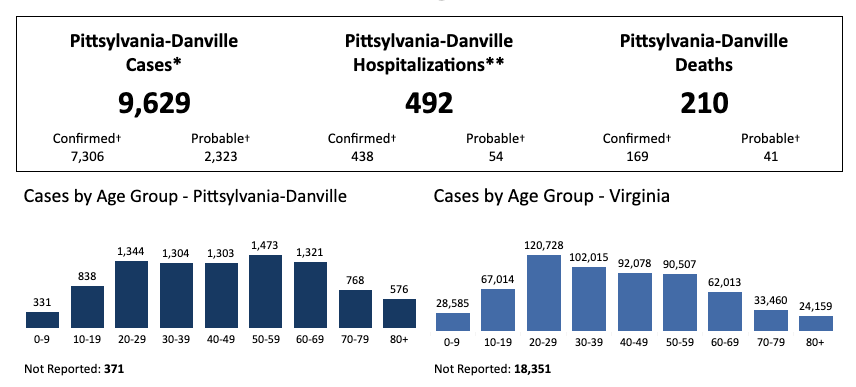 Danville added five new COVID-19 deaths to the record books Tuesday morning, the same day the state surpassed 2,000 new infections for the first time in nearly a month.
The fatalities appeared in an update from the Virginia Department of Health based on data received by 5 p.m. Monday.
All five of the city residents — one woman and the other men — were 80 or older. It's not clear when the deaths happened since the health department conducts a methodical process to verify a fatality was related to COVID-19.
Health officials wait to receive the official death certificate — sometimes that process can take weeks or more — listing COVID-19 as the cause before adding it to a database. The review process can also take time, depending on a backlog.
The department notes all data are preliminary and could change. That's happened when a death may be reclassified with another area. Health officials assign deaths and cases to a person's official place of residence.
Beyond simple demographic details, little else information is known publicly when someone dies of the illness caused by the novel coronavirus. Between Danville and Pittsylvania County, 210 residents have lost their lives to COVID-19 since the first fatality was recorded March 25, 2020.
The local health district added 19 new infections Tuesday morning, bringing the 7-day rolling average to a dozen cases. That's the lowest level since early July.
Last week, three new outbreaks surfaced. One was likely at the Danville Adult Detention Center. The other two were in a health care setting and a long-term-care facility. The health department wouldn't divulge details on any of the outbreaks, referring the Register & Bee to a statewide outbreak website updated weekly. As of Friday — the latest update — no active outbreaks were listed in Danville. In previous outbreaks, data were delayed appearing on that site.
Virginia recorded 2,048 new cases Tuesday, the first time since March 18 of nearing such a figure. That jump brought the 7-day average for the commonwealth to 1,615, comparable to the rate in mid-November.
The percent of people testing positive has dropped again in the Pittsylvania-Danville Health District. The positivity rate was 6.3% Tuesday for Danville and Pittsylvania County combined. A week ago that figure was at 7.4%. The rate calculates the number of positive results against the overall number of tests administered.
The rate is far better than January's surge of 20% but still higher than the 5% threshold the Centers for Disease Control and Prevention recommends to show the virus is under control in a community.
The CDC currently lists both Danville and Pittsylvania County as having an substantial risk of community spread. The designation is the second from the top-level in a four-tier system.