Danville has added another COVID-19 fatality after three deaths from the novel coronavirus went into the record books last week in the Pittsylvania-Danville Health District.
Also, a new outbreak in a congregate setting has emerged, marking the second in less than a week.
Both points of data were revealed in a Virginia Department of Health update on Monday morning. The city death — a man 80 or older — was recorded Saturday, however the health department only updates dashboard information on weekdays.
So far this month, the Pittsylvania-Danville Health District has added six deaths blamed on the virus, bringing the toll to 229. It's never clear when a fatality occurred because health workers wait for the official death certificate to verify COVID-19 was a factor. That process often takes weeks.
The health department is quick to note data are preliminary and can change through routine review processes.
Beyond simple demographic details, very little is known when someone dies of COVID-19. Also, the health department doesn't comment on individual fatalities.
The new outbreak also is a mystery. Since an emergency declaration from the state has expired, the state health department isn't required to disclose details. Data indicate it happened in what's known as a congregate surrounding, a category that includes a wide range of places like businesses, churches, public gatherings and day care centers.
It takes two or more positive cases before an outbreak is declared.
Cases associated with outbreaks increased by 13 on Monday morning, and outbreak deaths also grew by one. It's not clear if that death was the same city fatality reported.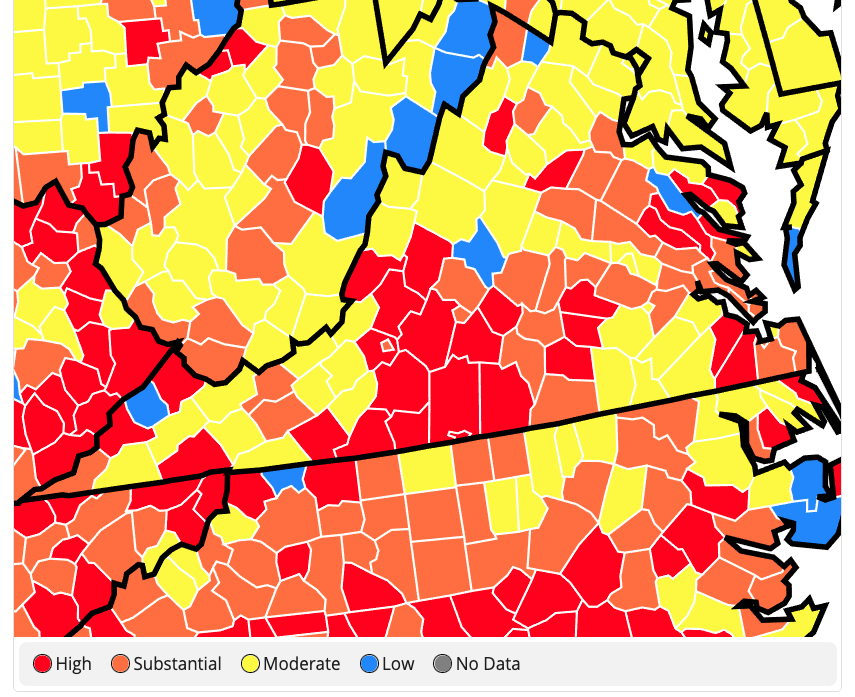 No new COVID-19 cases were reported Saturday or Sunday, but it's not known if there really were no new infections or if the department's lack of weekend updates is a factor. Even with zero caseloads both days, Danville and Pittsylvania County combined are averaging about nine new cases per day, their highest level since April.
The increase in infections is happening around the state and nation with a more potent delta variant circulating and low vaccination rates. Areas in Southside Virginia have less than half of the adult population fully vaccinated against COVID-19.
Another indicator of a worsening pandemic is a rising positivity rate — 22.98% in Pittsylvania County and 12.91% in Danville — which is a measure of positive results against overall tests administered. Virginia's rate is now up to 4.3%, a steady incline since a record low of 1.3% in mid-June.
The Centers for Disease Control and Prevention continues to have Danville and Pittsylvania County in the highest category for virus spread.