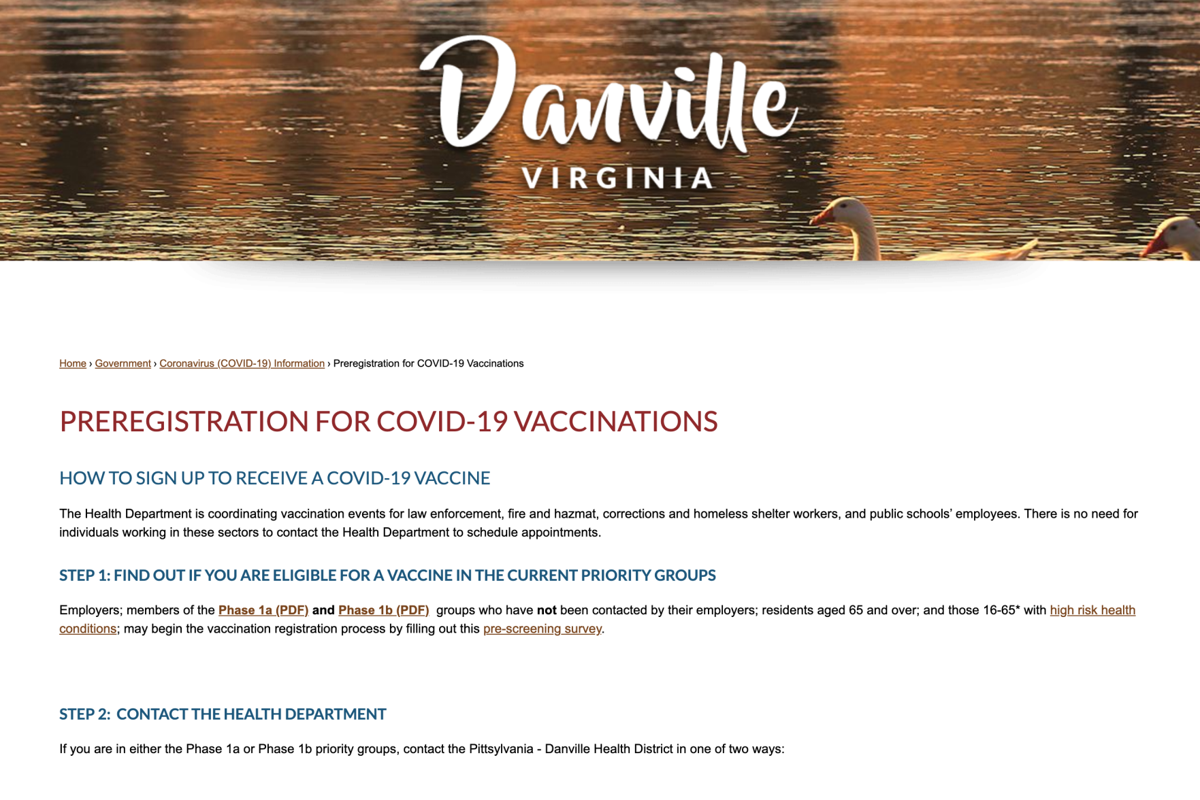 Following an overwhelming response for the COVID-19 vaccine that bogged down phone systems, the city of Danville teamed up with the local health department in an effort to make pre-registering easier via an online portal.
The website announced Friday does not reserve a vaccine or actually create an appointment, the Pittsylvania-Danville Health District stressed in a news release. However, it does collect the contact information necessary for the health department to reach out to residents to make an appointment when a vaccine is available. 
Currently, the demand for the vaccine outweighs the limited supplies. Resident who provide information by way of the portal may not get a return call or email for days or weeks. It's also highly possible residents may not be scheduled for a vaccine appointment for weeks or even months.
"We all are being overwhelmed with phone calls," said Dr. Scott Spillmann, director of the local health district. "It is critical that as many residents as possible use the online portal."
Those who aren't computer savvy are advised to see if family or friends can help with the online portal.
"The purpose of the portal is to get contact information for those ready and willing to get their vaccine, so that when a new clinic is open, we can quickly notify them to make an appointment," Spillmann explained. "It will be a two-step process."
The local health district is in Phase 1b, which includes residents 65 and older and select essential workers. Vaccinations for those workers are being coordinated through employers, the health department has previously reported.
Officials urge residents to be patient after pre-registering online by not calling or emailing to check on a status. Residents will be contacted as soon as possible.
"I am pleased that we are able to partner with our local Department of Health to create this portal for our citizens to get prescreened for upcoming vaccination clinics," Danville City Manager Ken Larking said in the release.
"I am happy that many of our citizens are eager to get their vaccine," Danville Mayor Alonzo Jones said. "Your City Council and I are receiving many calls from people wanting to know how to get their shot."
"Meanwhile, precautions remain important in our fight against this pandemic," Spillmann stressed. "Please continue to practice the three Ws: Wear your mask, Wash your hands and Watch your distance."