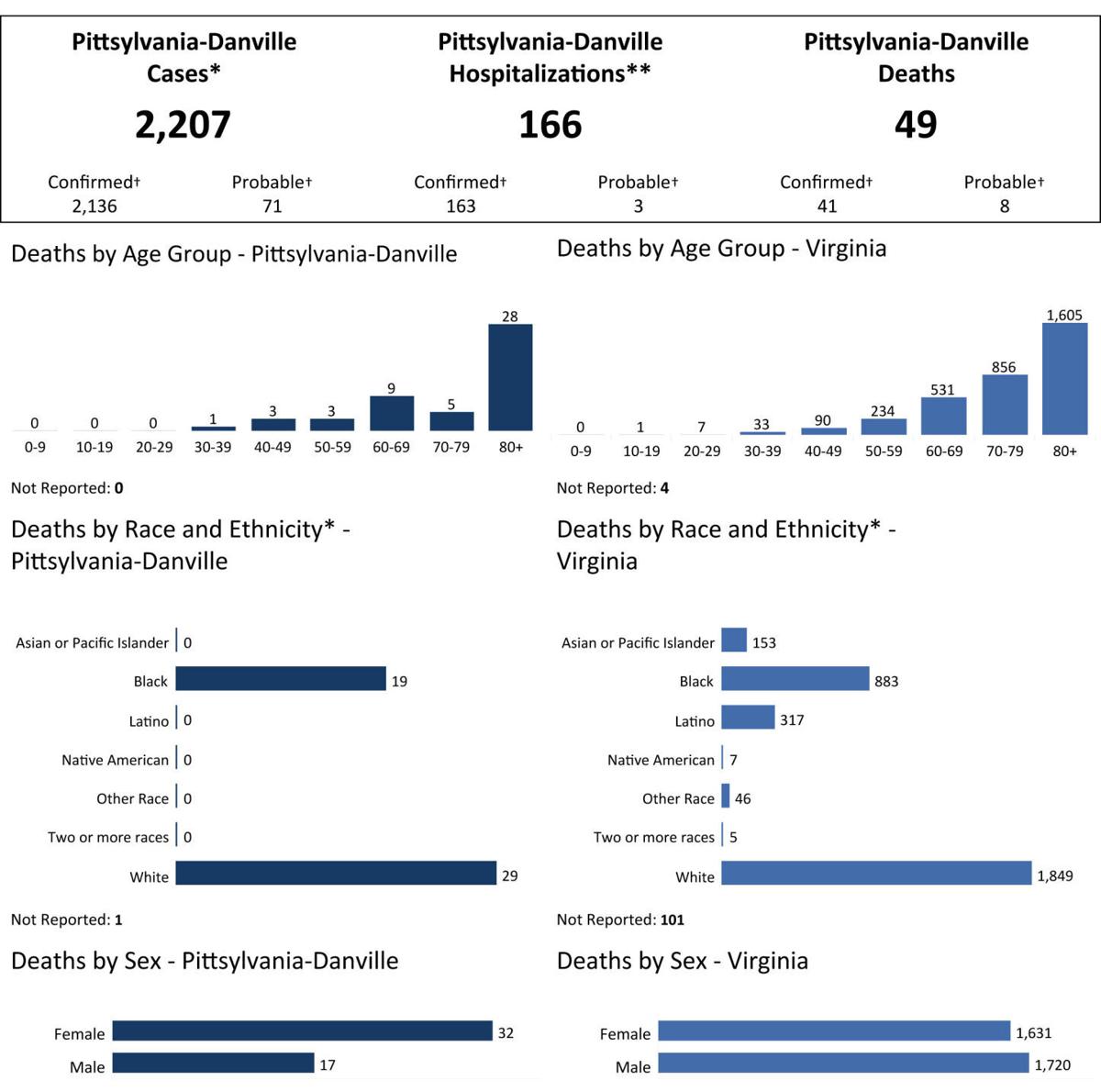 A Danville man in his 30s has died from COVID-19, marking the youngest area resident to succumb to the illness and the 11th death recorded so far this month.
The latest fatality — one of only three statewide — was revealed in Monday morning's daily data update from the Virginia Department of Health. The death may have occurred weeks earlier because health department officials must verify with a death certificate.
Dr. Scott Spillmann, director of the Pittsylvania-Danville Health District, said this process takes time "as some physicians are delayed in signing, or refuse to sign the death certificate."
Health officials do not comment on individual deaths which are assigned to a person's official place of residence.
Only basic demographic data is available online from the health department, such as age, gender and race. On Monday morning, the new death appeared in the 30-39 age group, and the deaths by men increased by one to 17. The number of local women who have died from COVID-19 is almost double that, at 32.
In Danville and Pittsylvania County, 49 residents have died from the illness caused by the novel coronavirus. The vast majority of those — 28 — were older than 80. 
When breaking down the deaths by race, 29 were white, and 19 were Black.
The Pittsylvania-Danville Health District added 15 new cases on Monday for a total of 2,207. Pittsylvania County has about 100 more cases than the city, at 1,155. Danville's caseload — driven up recently by an outbreak at Danville City Jail — was at 1,052.
Jail outbreak
Danville Sheriff Mike Mondul reported Monday that 87 inmates and 14 staff members have tested positive in an outbreak at the city jail that was first noticed on Sept. 28. 
With at least 100 cases, the outbreak has yet to reach the data portal on the health department's website. The reason, according to Paige Bordwine, an epidemiologist with the Virginia Department of Health, is a lag time during an investigation.
"The data for outbreaks follows appropriate case investigation activities and each 'case' assigned to an outbreak must be investigated to determine whether it fits into the outbreak," she said.
These investigations are time-consuming, especially with a large number in an outbreak, she said.
Testing
Since late September, the local health district's percent positive rate has inched upward to 10%. The rate is a measure of the positive results against the amount of overall tests performed. The figure is generally a key metric to determine if the virus is under control in a community — a low rate is the overall goal. The state average is down to 4.5%.
The percent positive goes down when more people are tested, according to the Centers for Disease Control and Prevention. However, expanding testing may not always reduce the percent positive rate when there is widespread transmission in a community. 
An average of 235 tests are performed each day in the local health district, down from an average of 300 in mid September.  
Get local news delivered to your inbox!
Subscribe to our Daily Headlines newsletter.