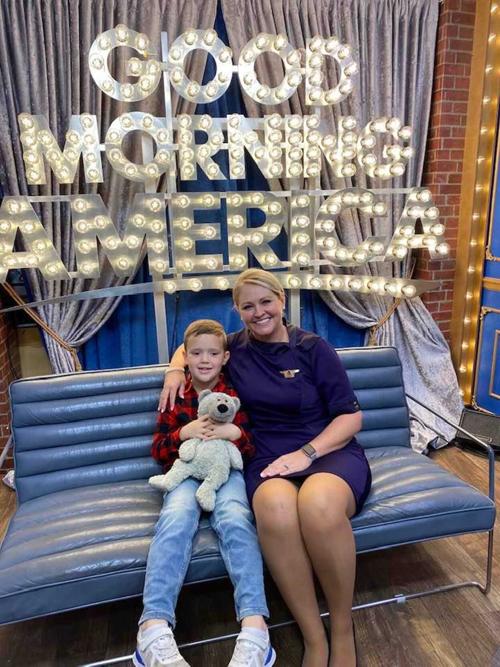 Teddy, the much-loved teddy bear of Danville 8-year-old Austin Robinette, has had a busy fall.
First he flew all over the South, practiced flying a jet and hung out with flight attendants. Then he flew to New York City to film a segment for Good Morning America on Thanksgiving Day.
Austin left Teddy on a Delta flight Oct. 15 from Greensboro, North Carolina, to Atlanta. Luckily, a kind flight attendant, Kerri Brown, found him and contacted his mother, Chelsea Robinette, through Facebook to assure them Teddy was safe.
Teddy subsequently traveled to Greenville, South Carolina; Atlanta; Panama City, Florida; Houston; and Washington, D.C., with Brown.
"We took pictures along the way of his adventures, and my crew thoroughly enjoyed having him with us," Brown said in a previous Register & Bee article.
Then she packed Teddy up with a Delta pin on his chest and sent him home to Austin.
The story doesn't end there, however.
"A friend from high school works for ABC, specifically for GMA 3rd hour, and she saw my Facebook story and sent me a message that she wanted to do the story," Brown said.
GMA — Good Morning America — contacted the Robinettes towards the end of October and asked them to hold two dates open, Nov. 17 and 18.
"We got an email from the producer, and we thought it was too good to be true," said Chelsea.
To New York
But it was true. GMA flew the family up to New York and paid for them to stay in a hotel for two nights.
They got to New York City on the 17th and recorded the segment the next day. Finished about 1 p.m., they were able to fit some sightseeing in before flying home.
Austin and Chelsea, along with Brown, were interviewed by T.J. Holmes, one of the hosts of GMA3. The hour-long spinoff of the morning show is a "news, health and lifestyle program that also highlights the incredible human stories of personal triumph," according to the website.
"T.J. had the sweetest personality. He was so kind," Chelsea said.
Brown had not been to the GMA set before and said it was fascinating to see it behind the scenes.
"Everyone made us feel so welcome, and they were incredibly kind and hospitable to us. T.J. Holmes and the producer, Stefanie, were just the best," she said.
Famous Teddy
Chelsea said that Austin made sure to keep a tight hold on Teddy this time.
"Austin loved going and was super excited," his mom said. "He told everyone Teddy was famous."
She added that this was one of the top experiences of her life.
"It's a once-in-a-lifetime experience you'll talk about the rest of your life," she said.
Brown said she was thrilled to tell their story and put a smile on someone's face.
"I was also excited to get to see my little buddy Austin again," she said. "Getting to see Austin and Teddy again really solidified in my mind that I am where I am supposed to be and I am doing exactly what I was meant to do.
"His reaction to seeing me walk on stage will be one of the most memorable moments of my life. To know that what I did meant so much to him was really special, and he touched my heart. I have a feeling that I now have a buddy for life and that makes me very happy."
She said the producers asked her what the main message was that she wanted people to take from the story of Teddy and her.
She told them, "Be kind. Be the light. It's a dark world at times, so be the difference for someone else."
Their segment will air on Thanksgiving Day. GMA3 begins at 1 p.m. on WSET.
Elzey is a freelance writer for the Register & Bee. She can be reached at susanelzey@yahoo.com or 434-791-7991.