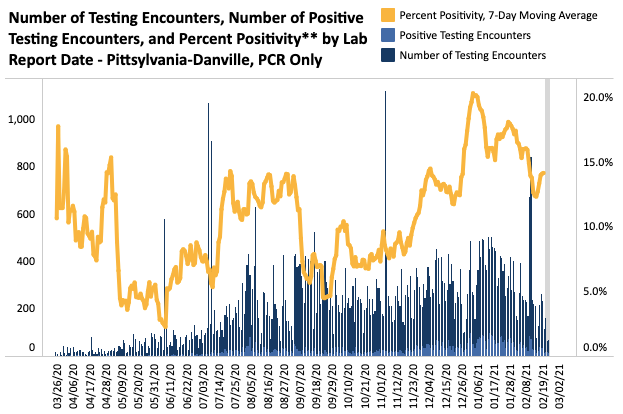 A review of federal data from Danville nursing homes revealed an outbreak that has yet to reach a state website that's updated weekly.
Roman Eagle Rehabilitation and Health Care Center in Danville is experiencing outbreak, Chris Andrews, a local epidemiologist with the Virginia Department of Health, confirmed to the Register & Bee.
"I have contacted the outbreak data team regarding the delay in posting," Andrews said in an email, explaining why it wasn't added to an outbreaks database.
The Centers for Disease Control and Prevention shows about 40 residents of Roman Eagle have tested positive for COVID-19 since Jan. 10. The most recent data were filed the week of Feb. 7.
The deaths of five residents also appear in the federal report that long-term-care facilities are mandated to supply to the CDC weekly. One fatality was noted in the Jan. 17 report, another death came two weeks later and three were reported in the Feb. 7 update.
In all, the CDC reports 18 residents have died since the pandemic began. Roman Eagle also endured an outbreak in July that infected 120 people, the state health department records show.
A total of 27 workers have tested positive for the illness caused by the novel coronavirus dating back to a report on Dec. 13. 
This makes four active outbreaks at long-term-care facilities in Danville and Pittsylvania County, although only three appear on a state website. The most recent — Bright Leaf Place in Danville — appeared in Friday's update. But that outbreak was reported Jan. 28.
The two other current outbreaks are at Piney Forest Health and Rehabilitation and Chatham Health and Rehabilitation.
Andrews said there are so many outbreaks across the state that it takes time to get all of the information loaded.
"There are multiple checkpoints along the path of outbreak reporting, and those involved are also actively involved in responding to COVID cases," Andrews said via email.
Another possibility: The delay was a "result of simple human error."  
Tuesday's data
| Location | Cases | Deaths | Hospitalized |
| --- | --- | --- | --- |
| Danville | 4,240 | 99 | 228 |
| Pittsylvania County | 4,684 | 58 | 159 |
| Halifax County | 2,372 | 58 | 60 |
| Mecklenburg County | 1,947 | 50 | 79 |
| Henry County | 4,140 | 92 | 277 |
| Martinsville | 1,490 | 50 | 125 |
| Virginia | 567,039 | 7,658 | 23,698 |
Another death in Danville
The health department reported Tuesday a Danville woman in her 80s has died of COVID-19, marking 157 deaths in the Pittsylvania-Danville Health District. 
That fatality could have happened at least weeks earlier. The health department uses official death certificates before logging it into a database.
The local district only added 13 virus cases Tuesday, nudging the 7-day rolling average down to 32 cases per day. So far 4,240 cases have been recorded in Danville; Pittsylvania County has had 4,684 infections.
The daily caseloads have decreased from all-time highs in January but remain at the same levels seen in January.
The positivity rate in Danville and Pittsylvania County creeped up to 14.2% Tuesday. That figure measures the amount of positive results are received from the overall number of tested given. This figure often is used as a gauge to show community spread. Anything above 5% indicates the virus isn't under control in an area.
Issue with vaccines
Mother Nature's wrath by way of winter storms — both nationally and locally — has impacted the flow of COVID-19 vaccines in the Dan River Region.
"The weather has greatly reduced the nation's ability to have vaccine supplies, which have been greatly limited thus far," said Dr. Scott Spillmann, the director of the Pittsylvania-Danville Health District.
The state received about 100,000 fewer doses last week because of national delivery woes.
In addition, with last week's ice storm in Southside, vaccination clinics had to be canceled in the name of safety.
"We hope to receive the overdue doses along with the doses scheduled for this week soon so we can resume our efforts to help protect our communities," Spillmann told the Register & Bee.
"Meanwhile, we ask for everyone's understanding and patience; in time we will vaccinate all who want to receive one."
But that could be a long wait. With about half of the population in Phase 1b, it will take several months and perhaps into the summer to fully vaccinate residents in this category. Phase 1b includes anyone over the age of 65, along with certain essential workers and teachers.
"Of course, vaccine supply, vaccinator availability, and the weather will directly impact this timeframe," Spillmann said.
Until then, Spillmann repeated a refrain heard for months: "Meanwhile, Wear your mask, Watch your distance, Wash your hands."