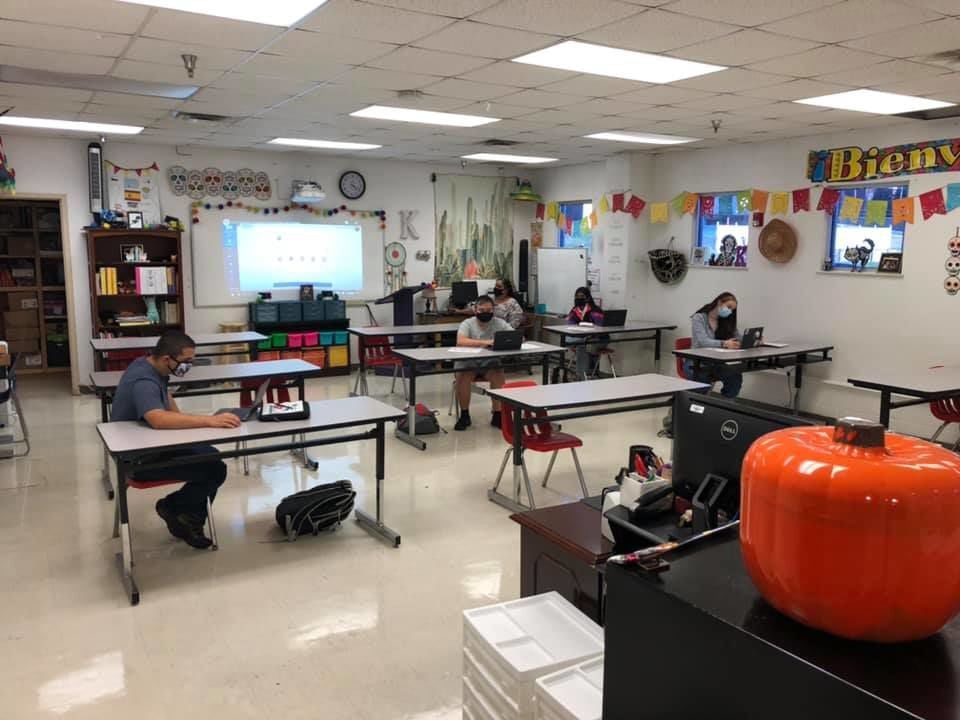 The Danville School Board learned of two new COVID-19 cases on Thursday night, bringing the district's total to nine since school started.
The Galileo Magnet High School community member who tested positive for COVID-19 this week marked the seventh person within the Danville Public Schools system to test positive since school started on Aug. 24, officials confirmed Thursday morning.
William Chaney, the pandemic coordinator and the director of safety and security for Danville Public Schools, said during the school board meeting that one person at Westwood Middle School and one student at George Washington High School learned of their positive tests on Thursday and immediately notified district personnel.
At Westwood, Chaney said that individual was last in the school building on Monday. He added that the GW student was last in that school building on Nov. 10, which drastically limits the likelihood of other exposures in the district.
The individual who tested positive at Galileo this week was last in the school building on Monday and learned of the positive test on Tuesday, said Anne Moore-Sparks, the district's community outreach and business partnership specialist. She was unable to say whether the positive test was recorded by a student or a faculty member. The district learned of the positive test on Wednesday and sent a press release early that evening about the situation.
The new cases this week gives DPS four total for all of November so far. In addition to the aforementioned cases, another DPS employee tested positive on Nov. 5, Moore-Sparks.
The first five cases within Danville Public Schools occurred in September and October. There was one positive case in September at the Danville Alternative Program at Langston and two unrelated cases at Schoolfield Elementary in October. Additionally, one faculty member at GW and another at Park Avenue Elementary tested positive in October.
Galileo Magnet High School operated normally on Thursday.
Chaney confirmed through email on Thursday the school system's response to any positive case.
After making contact with the individual who tested positive, Chaney makes a list of people to contact for contact tracing purposes. If the positive case is from a student, Chaney determines if that student arrives at the school in a car or a bus, as that will help determine the scope of who needs to be contacted.
Chaney then sends an alert to all parents and staff at the school "once contact tracing has been completed or as soon as possible if the contact tracing is complex," he wrote. He also notifies the Virginia Department of Health, which assists with contact tracing.
Finally, he makes a determination, based on social distancing, if the incident is contained and then takes further appropriate steps from there.
Chaney added that portions of school buildings will also receive immediate extra cleaning if it is deemed necessary.
DPS students in grades K-three, six, nine and 12 returned to in-person instruction on Nov. 9 if they elected that option at the beginning of the school year. The K-three grades attend school four days per week, and the other grades attend on an A/B schedule that allows for two days of face-to-face instruction. All other grades in the school division returned on an A/B schedule starting Monday of this week.
Pittsylvania County Schools update
Pittsylvania County Schools currently has five active cases of COVID-19, Assistant Superintendent for Administration Steven Mayhew confirmed on Thursday.
The school system has seen 32 total positive cases since Sept. 28, when students who requested in-person learning in grades K-3 returned to schools four days per week. Students in the remaining grades returned to receive in-person instruction on an A/B schedule starting on Oct. 12, if they chose that option.
The Pittsylvania County Schools system has a very similar response process once a positive case is found among a student or a staff member.
"You have to make sure that you activate contact tracing and see what individuals are involved with it," Mayhew said. "If it's an isolated case, that makes it much easier. But of course if there are others who have been identified as potential exposures, the nurses at the schools notify those individuals if they need to quarantine."