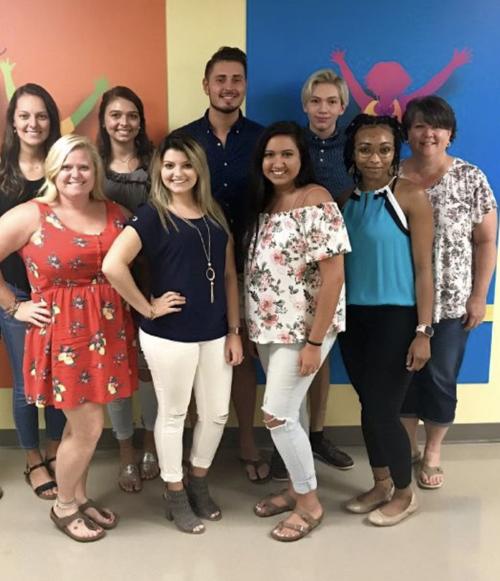 Senior nursing student Andruw Cain is blunt about what it's like to care for patients who have tested positive or are under investigation on the COVID floor at Sovah Health-Danville.
"The fear, the scare — it kind of goes away when you realize how rough these patients in the hospital have it," the Averett University student said.
Even though the disease is highly contagious, he said his focus has been on the patients, who are isolated and alone.
Health care workers on the front lines in the battle against the novel coronavirus are facing a unique set of challenges, experts said.
Even without an international pandemic placing a sudden extra burden on the American medical system, they already have higher rates of burnout, depression, substance abuse and suicide than the average person, said Jessica Gold, an assistant professor of psychiatry at Washington University School of Medicine in St. Louis. She is a clinical expert in physician mental health.
"This is just compounding it," she said. "It's not like it's starting from zero."
One of the most notable challenges for health care workers during this time is knowing that they are vulnerable to contract the disease and could just as easily spread it to their family.
"We're very aware that that's something that we can get and transmit to our friends and family," Gold said.
Many health care providers working COVID-19 patients have elected to isolate themselves from their families and friends.
Another unique element of this pandemic on the American health care system has been the duration, said Charles Figley, a professor of disaster mental health and social work at Tulane University who studies trauma, compassion fatigue, and stress and coping.
"Typically when you have a surge … it lasts a relatively short amount of time and there's backup for it," Figley said, referencing the military as a similar example. "But I don't think the American health care system has ever been stretched in the way that it is now."
When asked about interviews with nurses, doctors or physicians at Sovah Health-Danville, spokeswoman Kelly Fitzgerald said that the staff are currently too busy.
"We are in the midst of responding to COVID-19 in our area where our priority and focus remains on patient care. Therefore we are unable to schedule interviews with our staff at this time," Fitzgerald wrote in an email.
On the COVID floor, health care providers have to take extra precautions "to limit the exposure from one patient to the next," Cain said. Between each isolated patient, providers have to take off and clean all their gear before they can reapply it and enter the next room, which more than doubles the time it takes to go into the rooms.
"We are trying our best to prevent any kind of cross-spreading," specifically referring to the possibility of spreading the virus between a patient who has tested positive and another who is awaiting test results but may end up not having it.
As of Thursday morning, the Virginia Health Department has reported 19 cases of COVID-19 in Danville and five in Pittsylvania County. Fitzgerald said the hospital has treated "a few patients" who have tested positive, but said exact number will not be provided since it changes daily.
Even though the virus has not slammed the health care system in the Dan River Region as it has in many other areas, there is "this foreboding sense of impending turn," like the region is waiting for its turn to get hit with an onslaught of cases, said Micah Pacifico, family nurse practitioner and owner of GoDocs, located in Danville.
"I think that can take a toll on a person," he said. "We have certainly seen a lot of smoke, but we haven't seen the fires yet like we're seeing in New York, in Detroit and New Orleans."
Knowing what is happening in those other places, where the situations are much worse and health care professionals have contracted the virus and even died, can cause a sort of "anticipatory stress," Gold said.
"We know exactly what happened in China. We know exactly what happened in Italy. And we know exactly what's happening in New York," Gold said.
Local health officials, while imploring residents to stay at home and practice good hygiene and social distancing, have repeatedly warned that the number of COVID-19 cases in Danville and Pittsylvania County will rise.
"I'm not going to sugarcoat it: there will be more cases," Scott Spillmann, health director for the Danville-Pittsylvania County district said during a virtual news conference on April 1. "Some people, unfortunately, will have to be in the hospitals. Some on ventilators. And some, I'm sad to say, will not make it."
GoDocs has administered between 50 to 60 tests for the coronavirus.
"I would say probably 90% of the tests we've done have been employer-initiated," he said.
All of the tests so far, which are sent to one of two private labs for results, have come back negative. The tests results, Pacifico said, come back in as little as 36 hours.
Cain sees his role with coronavirus patients and other nurses and physicians as "their family or friends while they're in the hospital."
"It's definitely an emotional toll on everyone as well as health care providers," Cain said. "We see the struggles on the patients' side."
Ayers reports for the Register & Bee. Reach him at (434) 791-7981.
Ayers reports for the Register & Bee. Reach him at (434) 791-7981.
Concerned about COVID-19?
Sign up now to get the most recent coronavirus headlines and other important local and national news sent to your email inbox daily.