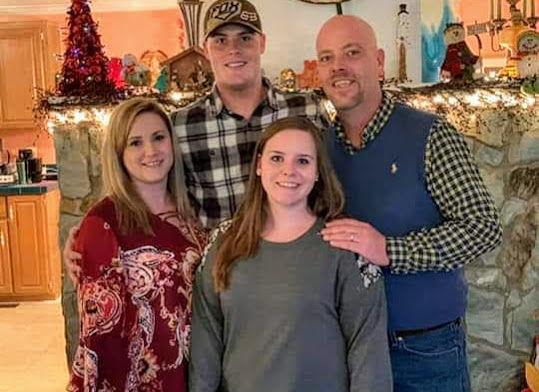 Eric Goff II had bought an engagement ring for the woman he loved. He had a job that seemed to suit him. He lived in his hometown and talked to his parents pretty much every day. By all accounts, he was as happy as a 22-year-old could be.
So why on Nov. 18 did Goff, a police officer for just less than a year with the Danville Police Department, take a gun and kill himself at his home in Patrick Springs?
Goff was a self-proclaimed "mama's boy," the pride of Eric and Amy Goff, of Patrick Springs, the brother of Erica Falls, apparently very much in love with Hannah Helbert … and he was gone, dead.
Details are scant about why on this day and in this way he decided to take his own life.
We know he had been planning to propose to Helbert. He recently had bought a set of rings. He had talked about asking her father for her hand in marriage.
He didn't leave a note, and no one said they had any indication he might be thinking of ending his life.
We don't know who found the body and the circumstances of that discovery.
We do know that the manner of death was listed as suicide, according to Tracie Cooper, district administrator for the Medical Examiner's Office in Roanoke.
And we know this happened one evening in a series of events no one can quite figure out.
"He had been drinking," Amy Goff said. "He wasn't a drinker, I mean, what 22-year-old hasn't had a time when they might try and drink too much?"
She said he was at his home and that, sometime between 7:30 and 9:30 p.m., he was gone.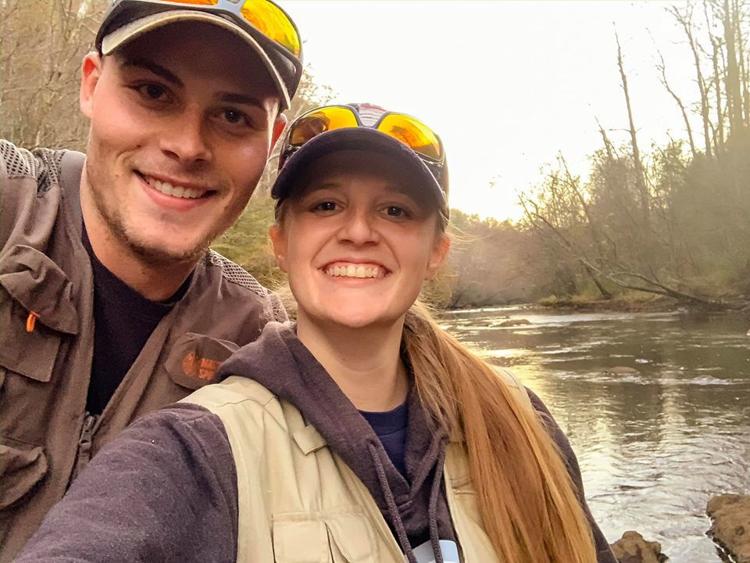 "Eric was an amazing young man. He had the biggest servant's heart I have ever witnessed and he was always looking for ways to help others," Helbert said in an email. "He was happy, witty and caring. He was the kind of person that took time to enjoy and value the little moments just as much as the big moments.
"Eric loved being the one to make others smile and would do just about anything to make it happen. He was a proud son, brother, friend, fiancé and officer. He is irreplaceable. I will miss him always."
That's why Goff's parents sat down to talk for about an hour less than a month after their son's death, saying as difficult as it was to talk about this at all, they wanted people to remember Eric Goff II for how he lived and not how he died.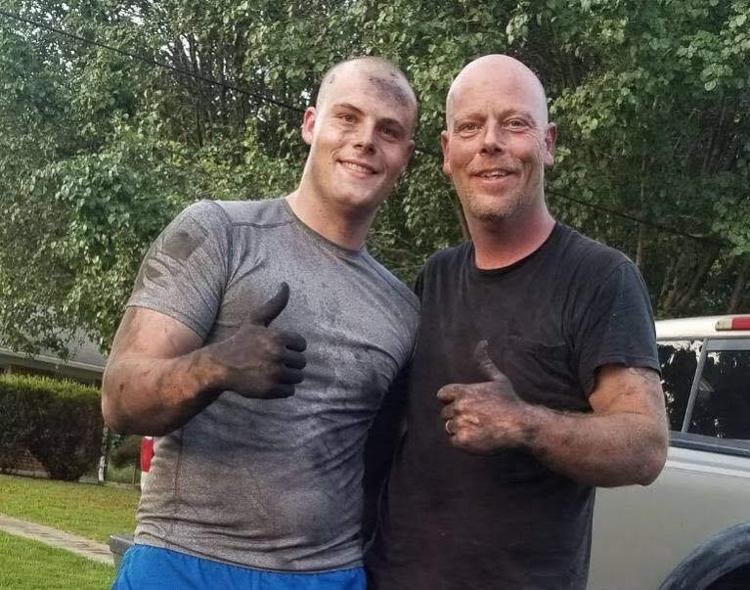 "We talked every day," Amy Goff said. "We are a very close family, and he was a mama's boy. He didn't mind saying it, either. If anyone asked him, he would own up to it: 'Yeah, I'm a mama's boy.'"
Goff was active in the JROTC program at Patrick County high school and intended to join the Marines after graduation, but a knee injury forced him to change plans.
"He joined the Danville Police Department because they let him start early," Eric Goff said.
"They let him work in the office when he was 20. He became a patrol officer right out of the academy."
Goff graduated from the Piedmont Regional Criminal Justice Training Academy in Martinsville in January. He was assigned to DPD's patrol division.
"Eric loved to make people happy and make people laugh," Amy Goff said. "When his patrol unit sent him out to get some drinks, he came back with one super-sized cup and four straws.
"Instead of everyone having their own Coke, he came back with four straws," she said while showing a video on her phone of her son and three of his Danville police brothers laughing and drinking from the same cup.
"It was his first night on duty. … He was just that way … with everybody."
'How Eric affected people'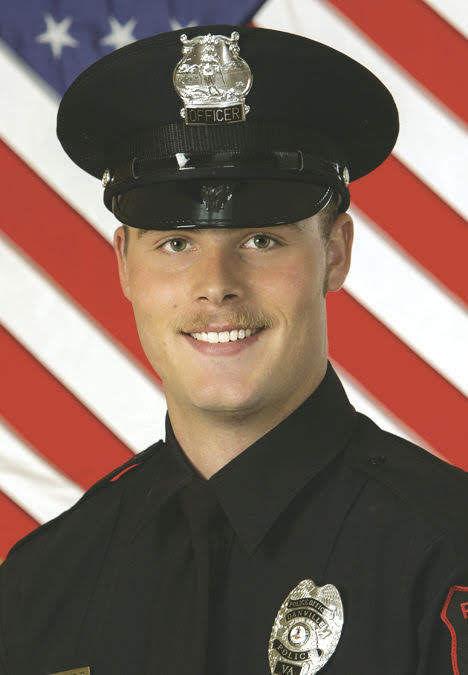 The Danville Police Department along with police departments all across the United States have training programs designed to teach young police officers the importance of camaraderie, but Goff's personality and his genuineness instilled a sense of love and care with nearly everyone he met.
"Right after he died, one of his buddies [a police officer] was dispatched to a domestic call, and the guy [alleged suspect] came out of the house and said the only one he wanted to talk to was Eric," his father said.
"When the officer explained he couldn't talk to Eric, and then what had happened, the man sat down with the officer on the curb by the road for 20 minutes and helped the officer deal with what had happened.
"That's how Eric affected people. Just the news of Eric [his death] changed this man's attitude completely, and here he was helping the police officer that had come to help him."
The Goffs talked about the time their son saw a stranded vehicle by the side of the road in Patrick County and stopped to help. He stayed with the woman and her car until her husband and help arrived.
"We could talk all day about the things he did for people," Amy Goff said. "We are twice his age, and he did more for people in his life than we've done put together."
Said Eric Goff: "Of course we're proud of our son, but people that hardly knew him were impressed with the way he treated people, like Chris at Eden Jewelry."
'The tragic news'
Chris Hyler is the owner of Eden Jewelry in Martinsville. He met Eric Goff II when he came in to buy a ring and wedding bands for himself and his future bride.
"He was just an admirable customer," Hyler said. "He told me he had been to the beach with his girlfriend a month prior, the size rings he needed … yes sir and no sir… just a respectable young man.
"On the day of his passing, he called me and talked about how nervous he was to speak to his girlfriend's father, to ask for his permission to marry his daughter.
"I told him, 'You'll be fine.'
"Then I get a call from his girlfriend the next day, and she told me the tragic news. We had just gotten these blue line watches [law enforcement watch], and I decided I wanted to give one to the family."
Goff's father came to the store to pick up the wedding rings and Hyler gave him the watch as a gift along with a second wedding band Goff wanted to go with the engagement set.
"I wanted to give him that," Hyler said. "I was just so impressed with Eric and the family too."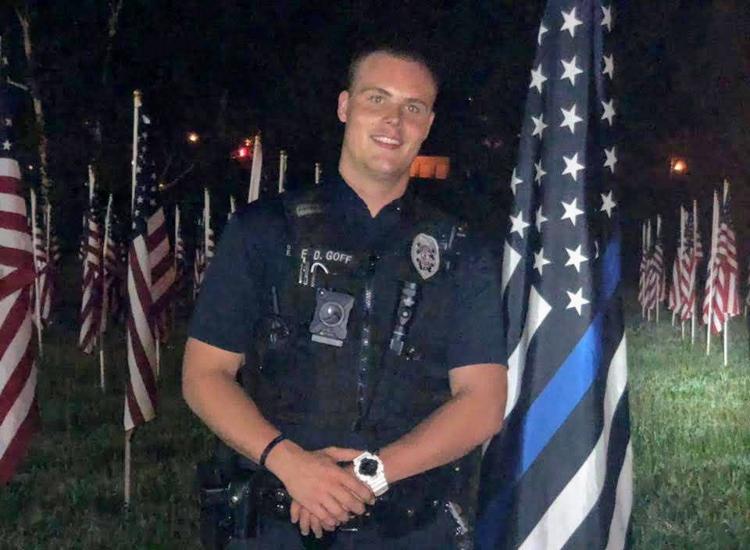 A Danville Police Department statement on the death of Goff noted that "Eric distinguished himself as an officer and was recognized as the department's July 2019 Officer of the Month. He is best remembered by his friends and fellow officers as someone who was light-hearted and could make you laugh."
Chief Scott Booth said he was saddened by the unexpected death. "The Danville community mourns the loss of one of our officers. Officer Goff was a great police officer and an important member of our department — he will be missed," Booth said.
According to the FBI Report of Offenses Known to Law Enforcement, in 2016 the violent crime rate in the city of Danville was almost 270% higher than the average rate in Virginia. The 2012 FBI Uniform Crime Report listed Danville as having the 11th highest number of murders and the 14th highest number of violent crimes per person in the state.
"Law enforcement officers respond to and witness some of the most tragic events that happen in our communities," according to the National Alliance on Mental Illness website. "On-the-job stress can have a significant impact on their physical and mental well-being … many officers struggle with alcohol abuse, depression, suicidal thoughts, post-traumatic stress disorder and other challenges."
Goff was in his eighth month as a patrol officer when he ended his life.
The stress of the job
The local critical incident stress management team arrived at the Danville Police Department on Nov. 20, two days after Goff's death.
"They met with us for 30 to 60 minutes, depending on the need," Lt. Richard Chivvis said. "They include a group of peers … that deal with stress management … someone we can talk to after incidents occur — debrief after the fact about something we recognize [as stressful]."
The Virginia Law Enforcement Assistance Program serves law enforcement officers who have undergone traumatic critical incidents in the line of duty or in their personal lives.
"We cover the entire commonwealth," Operations Director Kit Cummings said. "We have peers in most every part of the state."
The National Alliance on Mental Illness says nearly one in four police officers have thoughts of suicide at some point in their lives and that the suicide rate for police officers is four times higher than the national average.
In 2017 there were an estimated 140 law enforcement suicides, more than three times the number of police who died in the line of duty.
"We see a pattern of poor mental health outcomes among our heroes in blue," said Mariam Heyman, a lead researcher and co-author of a study by the Ruderman Foundation. "In one survey of 220 corrections officers, researchers identified a depression rate as high as 31%, compared to 6.7% in the general population [according to the National Institute of Mental Health, 2017].
"We should celebrate the lives of those lost to suicide … in the media, and within police and fire departments around the country. Also, departments should encourage or require first responders to access mental health services annually. This will enable our heroes to identify issues early, and get the help that they need. It will save lives."
The release from the Danville Police Department said its employees were "actively working to support Eric's family during this time of grieving." Officer's badges were shrouded until the day after Goff's funeral.
"I cannot say enough about the police officers and first responders and that entire community. They have just been…" Amy Goff said, unable to complete her sentence.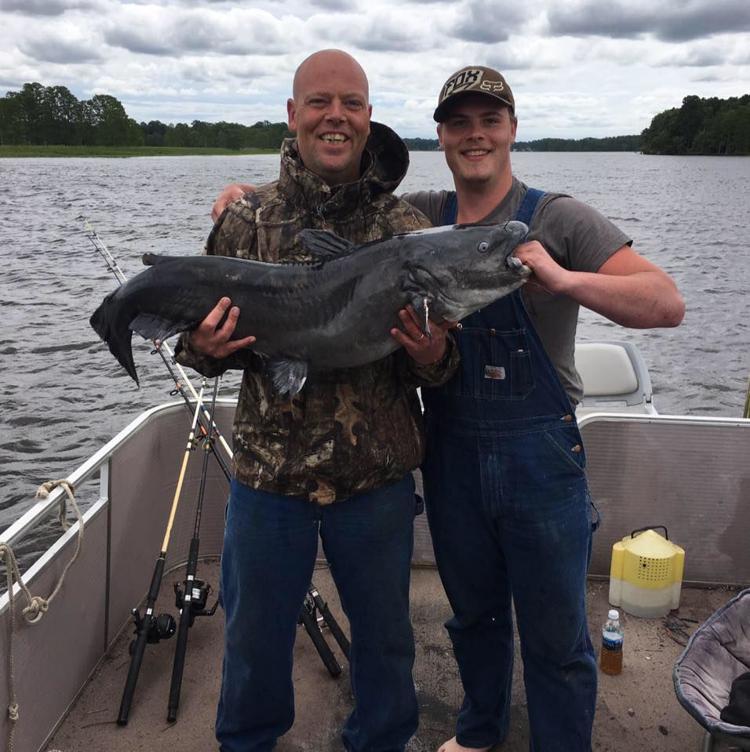 She said "there was nothing — I mean nothing — that would indicate to us that he was suicidal. There were no signs, nothing. He was himself up to the very day he died."
She told the story about the night before Goff died, when he came to his parents' home after they had gone to bed.
"He didn't want to wake us, but he wanted us to know he had been by, so he mooned our security camera and then turned the camera around backwards," she said. "The next day we were trying to find out what had happened to the camera, and that's when we saw the video. It was just like him."
She told how in her role as a bank teller at a drive-through window that her son would appear at her window.
"He would just show up with something to give me, let me know he was thinking about me. We would start a conversation through the window and a customer would drive up behind him. He would leave, and after I waited on the customer, the next car would be his, and we would continue the conversation," she said.
Helbert posted on Facebook four days after his death:
"Mental health needs more awareness, but so does mental health plus alcohol. It makes people do things they would NEVER do sober. It turns them into someone they aren't. If you are struggling, PLEASE talk to a professional. There is NOTHING wrong with that. It does not make you weak, it does not make you crazy. Never underestimate speaking to someone about what's in your mind. Getting lost in yourself can be a very dangerous thing. Trying to take care of it yourself can be a very dangerous thing. Trying to use vices like alcohol or drugs to help can be a very dangerous thing. Alcohol is a depressant. It can cause you to black out and in those moments you won't be aware of what you're doing until it's too late. You will make decisions without thinking. You will do things you would never normally do. This is not a joke. Don't drink about it, go talk about it."
Amy Goff said she thought about the last day her son was alive and about how he had been drinking.
"I am absolutely confident he wouldn't have made the decision he did if he had not been in the state of mind he was," she said.
"He chose a permanent solution to a temporary problem, and the world is smaller without him."
Get local news delivered to your inbox!
Subscribe to our Daily Headlines newsletter.